Ive been reviewing two popular posts on the blog, one on the customs and traditions for keeping Navarathri Golu, and the other for easy Navaratri Naivedyam and Sundals. In the second post I had suggested a different Sundal to be made for each day of Navarathri, with recipes for some of them. Now I am adding a recipe for one of the sundals I had suggested, viz Black Eyed Peas Sundal or Karamani Sundal. This is a traditional recipe as followed in Tamilnadu, and has a minimum of seasoning and ingredients.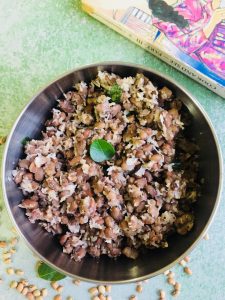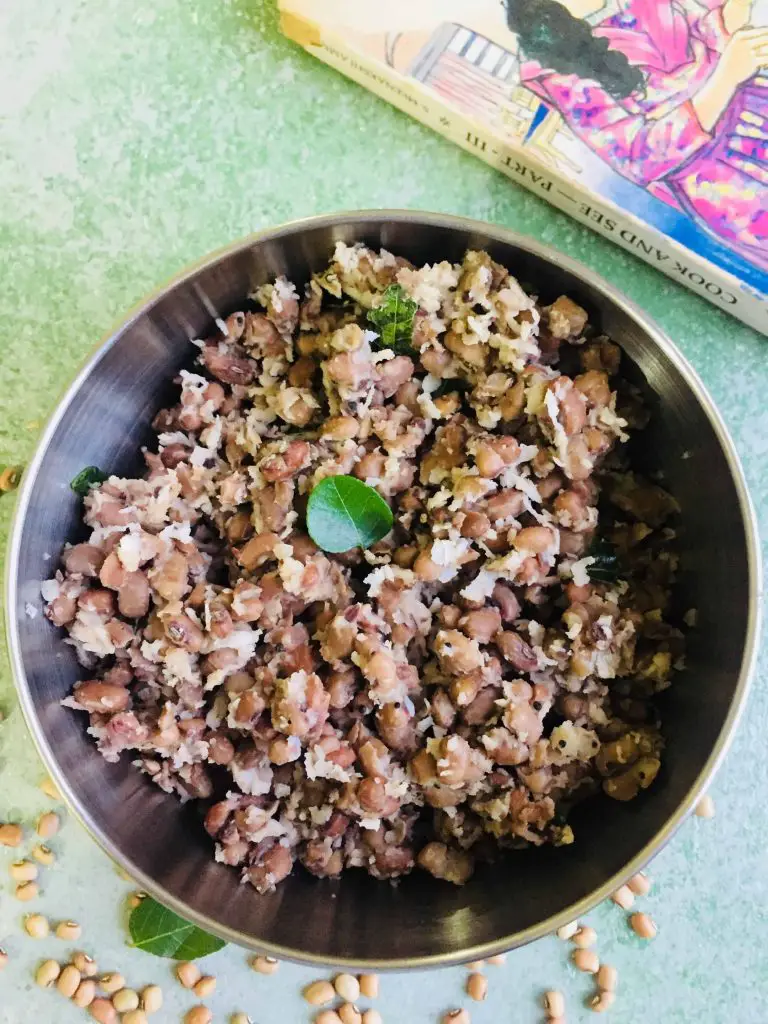 You will find the recipe for Black Eyed Peas Sundal simple and easy to make. Just take the time to soak the karamani the previous night so that it cooks just right when you need it the next day. If you plan to make the Sundal in the evening, set it to soak in the morning so that it gets about 7-8 hours of soaking time.
As I had said earlier, this is a traditional recipe with few ingredients and depends on fresh coconut for flavour. For a change in taste, substitute fresh chillies for dry red chillies and add coriander leaves and freshly squeezed lemon juice. Lemon juice may be used in addition to or instead of the coconut.
The Black Eyed Peas Sundal adds to the varieties of sundals offered as naivedyam for Navaratri Pooja and served to guests who visit the Navaratri golu. It also serves as a quick to make and nutritious snack as well as a tasty addition to the tiffin box for school or office.
This legume is known by various names across the world – black eyed peas, lobia, cowpeas, string beans etc. The black eyed pea, along with most legumes, is rich in fibre, iron, vitamins, minerals and protein. Studies suggest that regularly consuming beans and peas may lower blood pressure, cholesterol and blood sugar levels, as well as reduce belly fat. However it may cause digestive issues for some people, and hence is not suggested as a staple food or to be taken frequently or in large quantities. Soaking or fermenting the bean before cooking and consuming them when well cooked would help alleviate digestive distress. Portion control may be considered as the black eyed peas contain a fair level of carbs. Ref: Healthline.com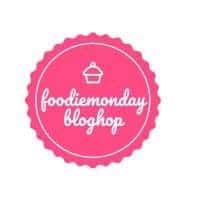 The theme for the FB Group where I am a member, FoodieMondayBlogHop, is 'Navaratri Special', and this post fits right into the theme!