This easy, 6 ingredient (counting salt, pepper and oil, each as ingredients) Tomato Basil Sauce for Pasta or Pizza is a very basic and simple sauce. I make it about once a month and then freeze it in separate small portions so that there is always a little packet of sauce ready whenever I want to make pasta or pizza.
You need ripe red tomatoes for a good flavourful tomato basil sauce. I use the zero pesticide San Marzano tomatoes supplied by First Agro Farms, and they give me sauce of just the consistency that I need.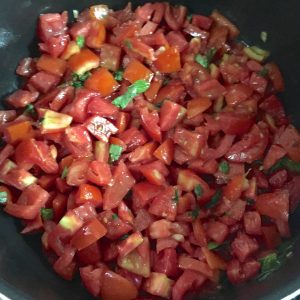 The ingredients below give the quantities of fresh basil to be added for the tomato basil sauce, however if dry basil is to be used, please reduce the quantity by half.
There is very little seasoning in the sauce, so depending on what pasta and other ingredients or which pizza you are going to make, the seasoning can be adjusted at that time. Similarly, sliced olives or sliced sautéed mushrooms or zucchini can be added to the basic tomato basil sauce before mixing it with pasta.
The taste and flavours of the tomato basil sauce depend on the quality of the tomatoes and olive oil used, as well as the slow cooking of the sauce. When you use fresh juicy tomatoes and cook the sauce down as in the instructions, making sure you stir it frequently and watch it so it does not catch or brown, you don't need a lot of ingredients to make a tasty sauce. In fact, less is more in this case.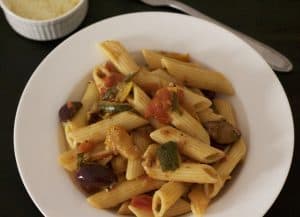 Once the tomato sauce is all ready, either freshly prepared or in the fridge, dinner takes just 15 minutes – cook the pasta, and meanwhile sauté simple sliced zucchini or mushroom, add the tomato basil sauce and warm it up gently. Toss the pasta into the sauce and grate a little cheese on it – and there you are! Dinner fit for a king, with very little effort and with all the goodness of a homemade sauce.