On a recent trip to Sakleshpur with my Book Club (BYOB) friends, one of the side benefits of an awesome weekend was a bag full of the best avocado I have ever tasted. Anand G had got the avocado during an early morning trek and was kind enough to share some with me (as my fear of leeches which were all over the place in the rain, kept me from the trek). Back home at Bangalore, with the avocado (butterfruit as it is called here) just ripe and ready, I quickly set to work to make this delicious fresh homemade guacamole.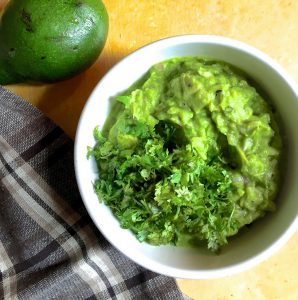 Most recipes for guacamole include tomatoes. Though very tasty, to me it seems to make it more into a salsa, while the guacamole without tomatoes tastes so much fresher and authentic. And when you get these gorgeous avocado like the ones we got at Sakleshpur, I want its true flavours to come through. So this recipe is for a tomato-free fresh homemade guacamole.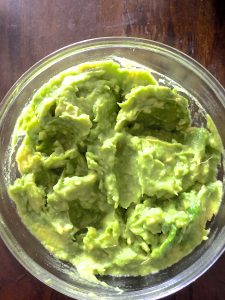 If you want to make the perfect fresh homemade Guacamole, here are my Kitchen Hints:
Choosing the avocado – the first step and very important. The avocado should give in slightly when you press down on it with your fingers. Hard raw avocado would be bitter, and not not have the nutty pleasant taste of a ripe one. Not too ripe too either. Avocado spoils rather fast, so you need to watch out and make sure you use it when it is just right. Once you have cut open the avocado, taste a little to make sure it tastes right.
Keep the sliced avocado from browning. As you would know, once you cut the avocado it is exposed to the air and begins to brown. You want that perfect pea green guacamole, not one with patches of brown. Keep lemon juice ready and sprinkle generously all over the avocado as soon as you slice it.
Keep it fresh. Make guacamole only on the day you wish to use it. If you are not serving it immediately after making it, cover the surface of the bowl of guacamole with cling wrap, pressing the wrap gently to the surface of the dip and making sure it covers it all around so that no air can reach it. Refrigerate till you ready to serve the guacamole. I have occasionally made guacamole in larger quantities than required, because my avocado were going to get spoilt otherwise. At such times I have packed the guacamole closely with cling wrap in a glass jar or box with tightly fitting lid, and kept it in the freezer to use within a week or so.
Use freshly squeezed lemon juice and freshly ground black pepper in the recipe.
Mash the avocado rather than processing the ingredients in the food processor, to get the right texture with a few chunks of avocado and the bite of the onion, instead of a gooey dip.
You might like to try some of the other recipes on this blog: