One more recipe in my series on Cooking for the New Mom. This one is a simple Pathiya Peerkangai Thogayal or chutney, with ingredients suitable for  a healthy balanced diet (pathiya samayal) during the 40 days immediately after delivery. In a traditional Tamil style Peerkangai Thogayal or Turai/ Ridge Gourd Peel chutney, red chillies and tuvar dhal would be added. However as both these are not advisable for a new mother, peppercorns and moong dhal (passi paruppu) are substituted. When properly made, the Pathiya Peerkangai Thogayal is both tasty and nutritious.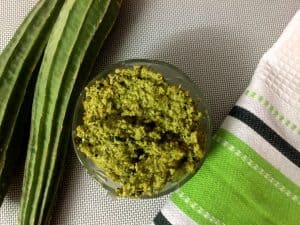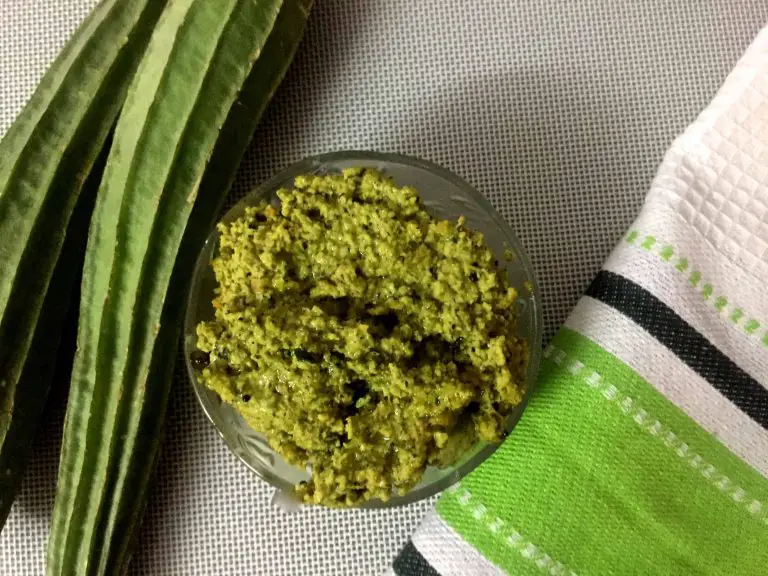 Do check my post for Menu Ideas and for what goes into a Balanced Meal for the first 40 days after child birth, as well as Recipes for this diet in Cooking for the New Mom or Pathiya Samayal, my way.   Cooking without adding onions, chillies, coconut etc and from only a small selection of vegetables considered healthy for this diet, is not easy, so I have tried to capture my experience in cooking for my daughters, in that post.
Check here for the recipe for a Peerkangai Thogayal or Thurai Chutney for a normal diet.
In this recipe for Pathiya Peerkangai Thogayal, I have included a plant that is not commonly known in modern cooking though it was a traditional staple in many parts of India and has been known for its medicinal properties since ancient times. This is the Bone setter Plant or Pirandai (Tamil), also called the Adamant creeper or Devil's Back Bone in English, and as Hadjot in Hindi, Mangaravalli in Kannada. From what I can see online, the Bone setter plant is nor generally seen in urban markets, but is found in vegetable shops as well as in kitchen gardens in rural Tamilnadu as well as in some places in Chennai and other cities. It should be available in other parts of the country too, as the plant is very sturdy and tenuous, does not require much maintenance.
I had known about the plant and its properties, specially its use since ancient times for healing fractures and injuries of the bone, much earlier and had forgotten all about it, until my cousin Srimathi (Seetha Anandam Vaidyam) gave me a cutting to plant at home at Hyderabad, saying it would be good to add to my daughter's diet after her delivery. The simplest use of the plant is to snap off a piece of the tender stem and add it to the Pathiya Peerkangai Thogayal that I am describing in this post. Do you see this cactusy looking plant to the right in the pic below? Thats the pirandai, curtsey Seetha, merrily growing in Mridula's balcony at Hyderabad.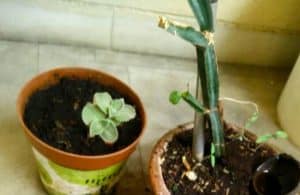 The Pirandai plant has numerous health benefits, however it is a medicinal plant and hence its consumption should be in moderation and should and with due information as to the effects of adding this plant to the diet.
The recipe below also explains how the stem is to be prepared for the thogayal. It is well worth the extra efforts to add the bone setter or pirandai stem to the recipe, because of its great medicinal benefits. I came across some a lot of information on this plant that you could check if interested, on the website called Wild Turmeric
Kitchen Hints for preparing Pirandai in Pathiya Peerkangai Thogayal:
Select only the new tender growth of stem. The stem grows at nodes, and the first two such digits are the most tender. The rest of the stem is more mature and can cause itchiness during handling.  Sesame oil applied to the hands before plucking and while preparing it for the Pathiya Peerkangai Thogayal, would help avoid any itching. I have not personally faced this problem but as several articles online mention this, it is best to take this precaution.
If using some of the older and tougher parts of the stem, wash the stems and peel away the sharp edges from top down.
Add curry leaves and turmeric to the stem slices while sautéing, as in the recipe below, to get the best out of the stem and to avoid any possible itching.
As the Perandai plant is not readily accessible in most places, the addition of the stem to this recipe is optional. The proportions of the remaining ingredients need not change if you are omitting the bonesetter from the recipe. As I could not lay hands on it in Bangalore, I have made the version in the pictures below, without the perandai stem.
SaveSave
SaveSave