Recipe 7 of my 100 Healthy Recipes Challenge: Beat the heat with this refreshing Cold Pink Watermelon Gazpacho with Tomato, Mint and with Basil Oil – Just right for summer. The flavours of watermelon, tomato and cucumber and honey meld together into a mildly sweet soup with just enough tartness added in from the yogurt and lime juice, and a bout of freshness from the parsley and mint.
This is one of my favourite cold soups, the pretty pink Watermelon gazpacho flavoured with home made basil oil and with fresh herbs. Red ripe tomatoes will help to give the pink colour to the Watermelon Gazpacho. I have used heirloom tomatoes of a darker hue, some greenish, some brown, in the image above, and red tomatoes in the image below – and this may give a difference to the colour and the flavour of the soup.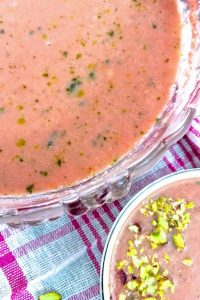 The Tomatoes, Parsley, Cucumber and Basil were all purchased by me from First Agro Farms through their Sakura Fresh division. These zero pesticide vegetables and herbs enhance the health quotient of this delicious Chilled Soup.
For the recipe for my homemade Basil oil for flavouring the Pink Watermelon Gazpacho, check out this link here. It takes just a few minutes and 3 ingredients (including salt) to make the Basil Oil, and it adds a lovely flavour to the soup.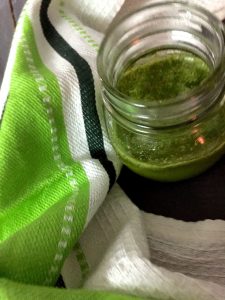 …