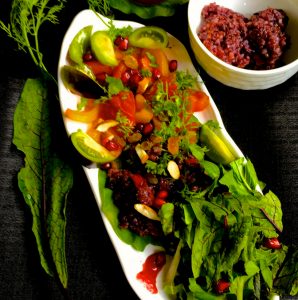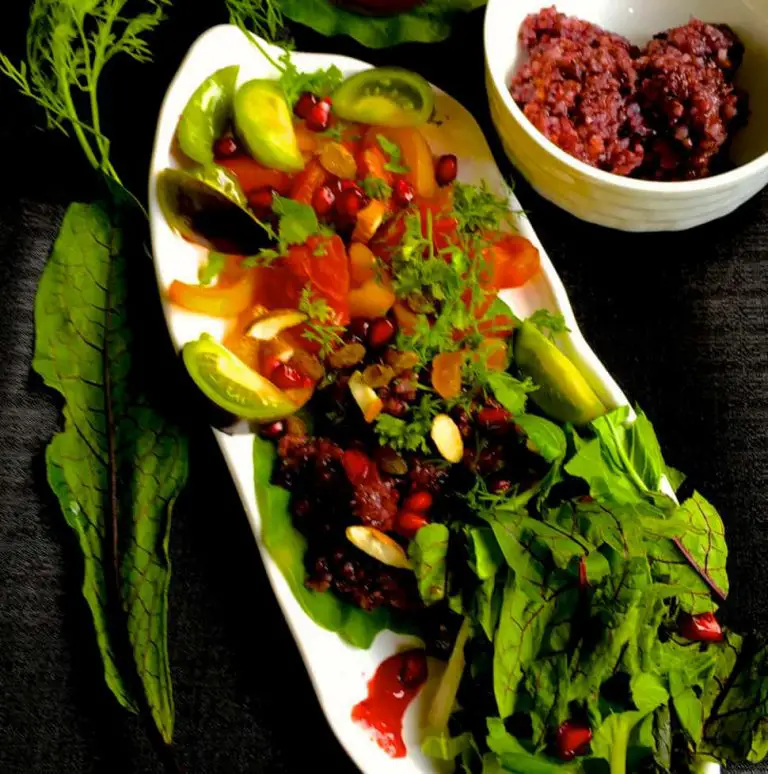 This Black Rice Salad has to be the most fun salad I've made so far. If you've been following my blog, you will know that I use several ingredients in each recipe, to bring together a variety of textures, flavours and colours into one (mostly) healthy package. So when I received a sample of Heirloom Black Rice from First Agro Farms, I wanted to showcase this intriguing grain and bring out its goodness,  and at the same time to have the medley of taste and texture that I'm so fond of in all my recipes.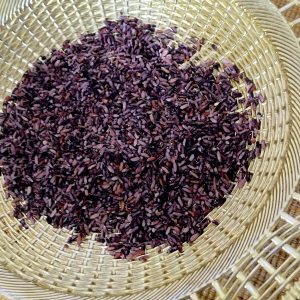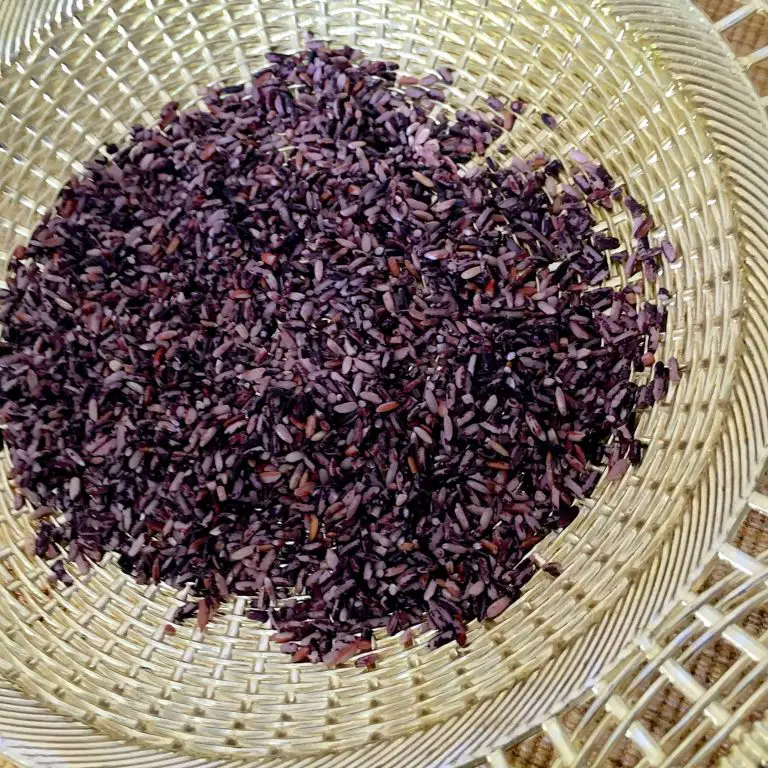 You may ask, what is intriguing about Rice? We in India have rice as a staple and use it in every possible way, so what's new?  Well, Black Rice is new, at least to me. The colour, the texture, the taste, the aroma when its bubbling on the stove….
A little time spent on the net gives interesting information: that Black Rice was first cultivated in China, some Ten thousand years ago, and for hundreds of years was reserved solely for the culinary pleasure of Chinese Royalty and noblemen: hence the name of Forbidden Rice or Emperors Rice, as its consumption was not permitted for the common people. The Rice was grown in limited quantities and the distribution carefully controlled.
Black rice may not be Black, it could be pinkish, brown, purple, grey, or shades in between. And of course, black! When cooked, some varieties may be glutinous and sticky, due to high levels of amylopectin ( a major component of starch, and made up of glucose units). The black colouring is due the presence of large amounts of anthocyanin, which is what makes for colourful purple grapes, blueberries, aubergine .. You get the picture?
Perhaps these ancient Chinese Emperors knew a thing or two: that this Black rice that they reserved for themselves, was considered highly nutritious, fabled to increase both health and longevity, and in fact called 'tribute rice' or 'longevity rice' during the Ming Dynasty. In India this rice is mostly grown in Manipur, and is available in some gourmet stores and on online stores, and if, like me, you are lucky enough to live in Bangalore, then you can get the Zero pesticide, non-GMO variety from First Agro Farms . I'm planning a number of recipes using Black Rice, it is tasty, healthy and different!
Health & Nutrition for the ingredients in this Black Rice Salad :
Like I always say, do check with your doctor for the individual suitability or otherwise of consuming any of these items, however 'healthy' they are said to be, specially when being treated for any illness.
Superfood Black Rice is rich in disease fighting antioxidants, contains vitamins like B1, B2, folic acid;  essential amino acids such as lysine, tryptophan; minerals including iron, copper, zinc, calcium and phosphorus; anthocyanin- said to help lower the risk of heart attacks by preventing plaques from building up in the arteries, as well as to fight cancer; research is going on to support the view that consumption of black rice can prevent Alzheimer's Disease, Diabetes and even Cancer. Low in calories, high in flavonoid phytonutrients, and a rich source of fibre as well as Vitamin E. Reference: Purple Rice Health Benefits
And not to forget the Cranberry Orange dressing, which I adapted from 'Oh She Glows' Blog. Cranberries, Apple Cider Vinegar, Maple sugar, Fresh Orange juice, each with its nutrient benefits.
The rest of the Black Rice Salad is comprised of Red veined Sorrel and Bok Choy. Sorrel leaves are low calorie and low fat, and are rich in Vitamin A. One serving a day can take care of your Vitamin C daily recommendation. Reference: Sorrel
Bok choy contains selenium, a mineral which plays an important role in cognitive function, immunity and cancer prevention. Reference: Healthiest Leafy Greens
Now to stop sounding like my Biology text book and to get back to cooking the Black Rice and dishing up this Black Rice salad.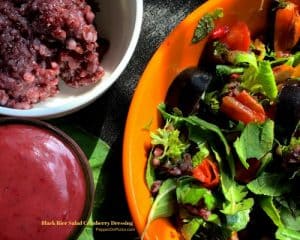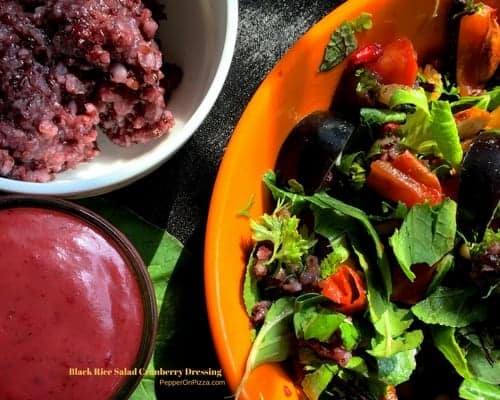 The quantities listed here are indicative, you could adjust the ingredients to your taste while making the Dressing. For the Black Rice Salad, I used gorgeous Black cherry tomatoes (which are green when you slice them), Red tomatoes, Yellow peppers, Bok Choy, Sorrel and a variety of herbs. Any other greens could be substituted. And you could use pine nuts or walnuts instead of the almonds.
I dry the salad greens and herbs in a salad spinner. If you make salads frequently, it would be good to invest in a sturdy salad spinner which lasts for some years. I use an Ikea salad spinner and its been value for money. Its amazing how much water is shaken off the leaves of lettuces and other greens, and my salads are now not soggy at all when I add the greens.
SaveSave
Other Recipes you may like to try on this blog:
Vanilla Apricot Black Rice Kheer – A delicious dessert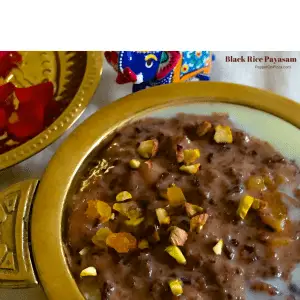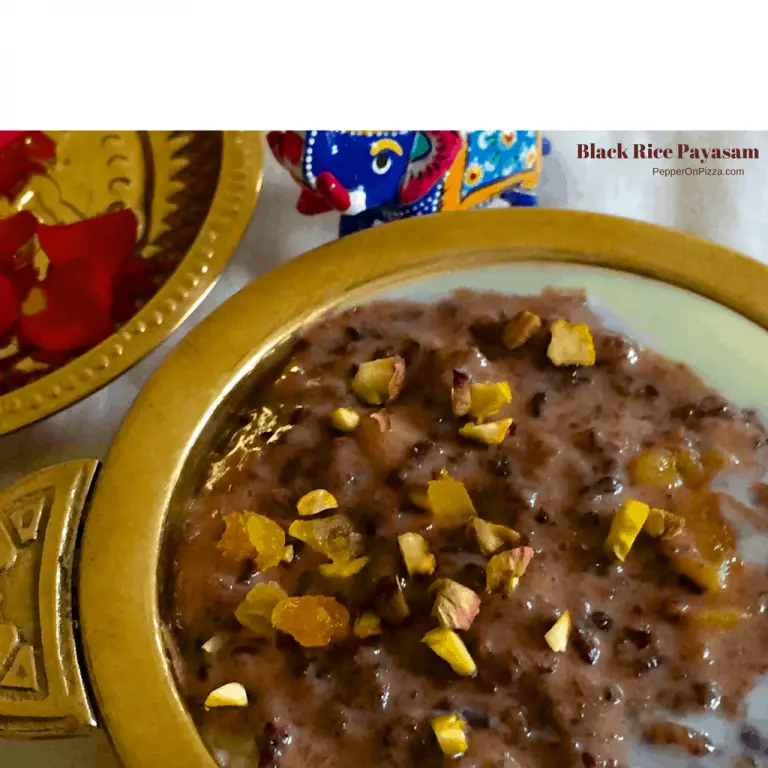 Peruvian Kiwicha Salad – Amaranth and Roasted Figs with Buttermilk Dressing