The Economic Times dated 25th September, 2017:
City-blogger Sujata Shukla, who runs PepperOnPizza.com, features recipes on her blog, some that are created by her and others recreated from cookbooks or recipes of her favourite chefs. Last year, Shukla attended Peerbhai's baking masterclass in Bengaluru. "If I really like the concept of a recipe or if it involves a complex process that I don't understand, I may be willing to pay for downloading and trying it. Paying for something which gives value is something, I wouldn't mind," she says.
Read more at:
The Deccan Herald Metrolife dated 14th September 2016: A Slurp of Sweetness!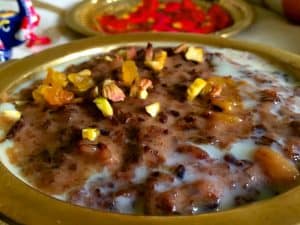 With the love for food and cultural festivities spreading across the country, it's not just Keralites who are celebrating this festival. Sujata Shukla, a chartered accountant by profession and blogger at 'Pepper on Pizza', is from Tamil Nadu and married into a family from Uttar Pradesh. With her interest, she has taken up the challenge to add her own flavour to the 'payasam' and churned out a 'vanilla apricot black rice payasam'. She says, "I was a little concerned at first as I was not sure how the rice would transform into a 'payasam', how long to cook and the consistency. Luckily, it turned out to be delicious and the rice was cooked perfectly!" She has also not used any 'ghee' or oil; pistachio nuts are substituted for the usual cashew nuts and apricots for raisins.
Read More on:
SaveSave