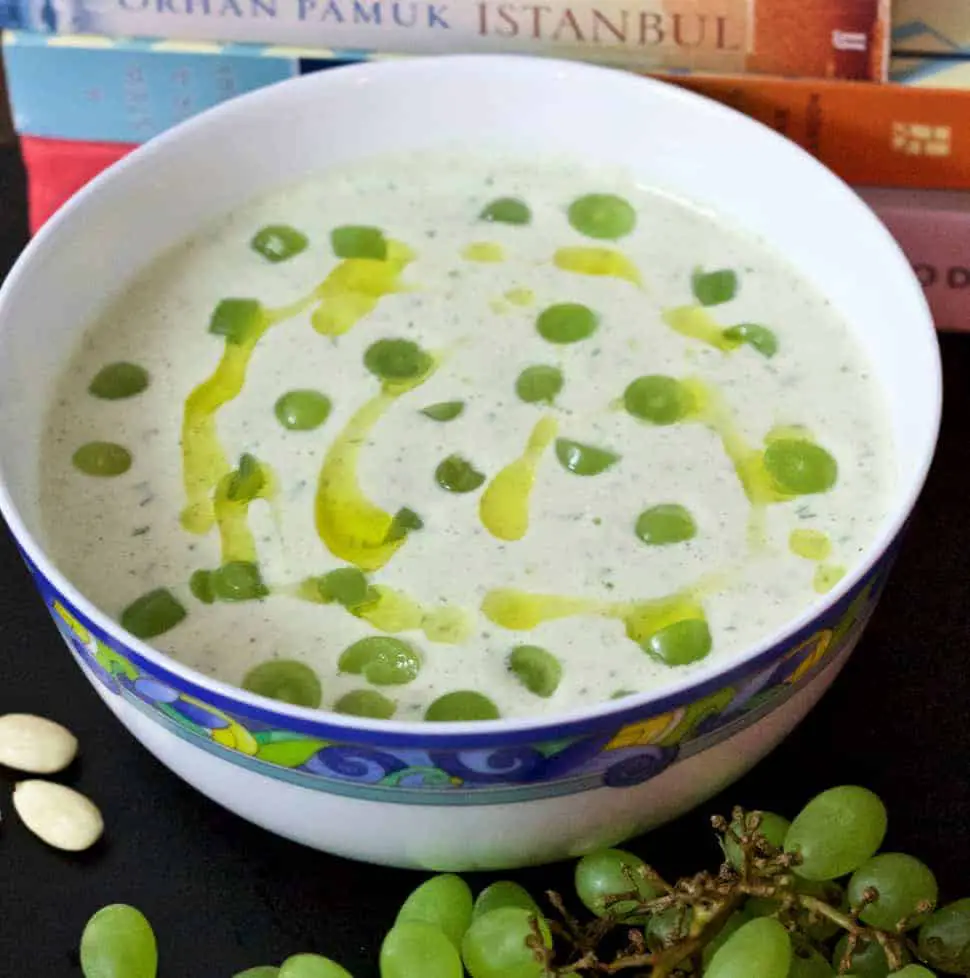 Print Recipe
Ajo Blanco - a No cook White Grape and Almond Gazpacho
Chilled White Grape and Almond Gazpacho: As in the traditional recipes for Ajo Blanco, fresh green grapes, olive oil, day old white bread and garlic are pureed together to make this refreshing soup.
1/2

cup

Almonds

Blanched

1

clove

garlic

1

cup

white bread

(pieces)

1

cup

Grapes

Green seedless

1

cup

cucumber

1

cup

white grape juice

or ice cold water

1/2

cup

olive oil

1

tablespoon

parsley

2

tablespoons

white wine vinegar

1/2

teaspoon

salt

1/2

teaspoon

pepper

Ground

Almonds

for Garnish

Grapes

for Garnish
The white grape juice or water used to make the soup should be ice cold in temperature.

Peel and slice the Cucumber, mince the parsley. Select white bread that is about a day old, remove the crust and tear to pieces. 1 used 2 slices of bread. You may substitute sherry vinegar for the white wine vinegar.

Blanch the almonds (check the link in the notes below and in the introduction above, for How to Blanch Almonds) The almonds must be blanched, otherwise the colour of the soup will change from white to a pale brown and both taste and texture will be affected. Reserve a few of the blanched almonds and grapes for garnish.

Grind the rest of the blanched almonds into a powder.

Soak the bread for about 30 seconds in just enough water to cover it, squeeze lightly and add to the almond powder in the food processor. Add the garlic, cucumber, grapes, parsley and vinegar into the food processor. Run the processor for 30 seconds.

Add the olive oil and half the cold grape juice (or water), the salt and pepper and run the processor till the soup is blended. You may need to blend the soup in batches, as the liquids may overflow during processing. Add the rest of the grape juice (or water) till the soup reaches the consistency you are comfortable with.

I like a little texture in my soups, so that they don't turn out like smoothies, so I added a few grapes and almonds in the end, running the processor for just 10 seconds.

Remove the soup from the processor and chill, covered, in the fridge, for at least an hour, until ready to serve.

Serve cold, garnished with slices of grape, sliced almonds and extra virgin olive oil drizzled on top.
To know How to Blanch Almonds, please

click here

and see my instructions in the first part of the recipe for Almond Jam Sandwiches.