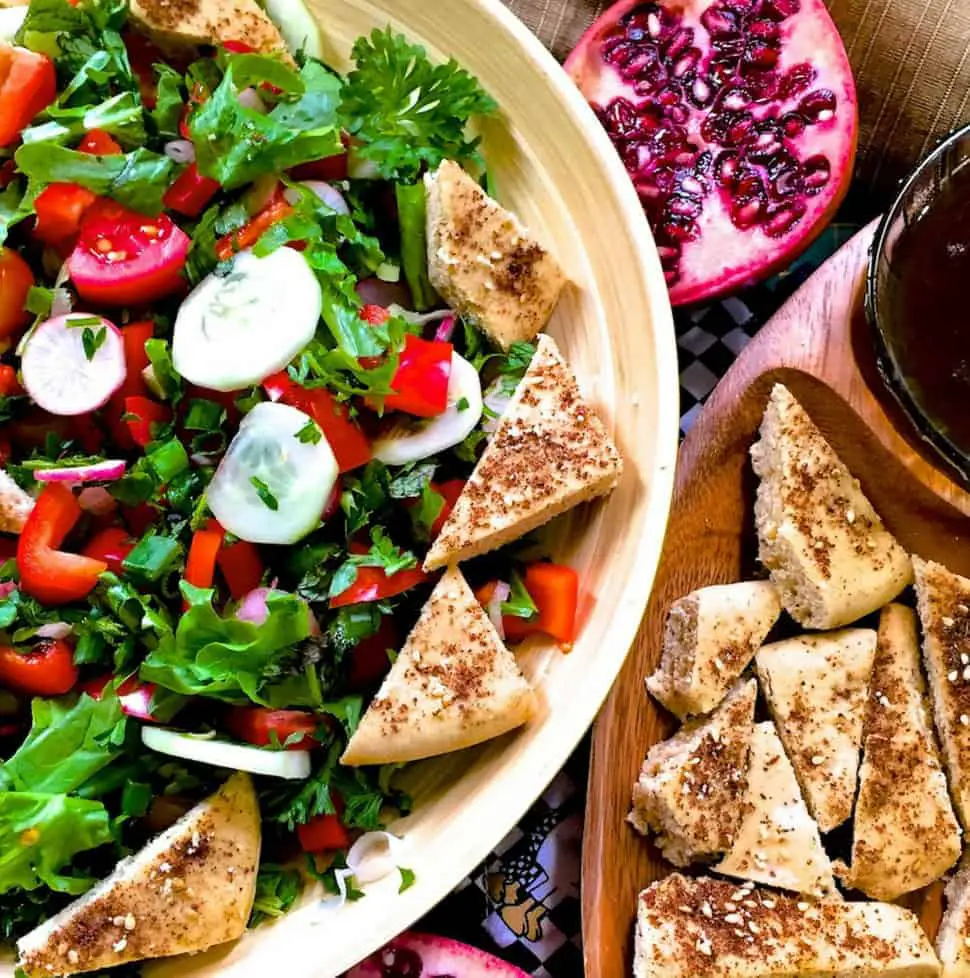 Print Recipe
Fattoush Lebanese Bread Salad with za'atar, sumac and pomegranate molasses, parsley, mint and tomatoes
Fattoush a delicious Lebanese bread salad of pita bread and fresh veggies with sumac and za'atar, homemade pomegranate molasses and herbs and salad greens. 3 traditional Lebanese ingredients are featured - flavouring the pita bread with za'atar, dressing the salad with sumac and extra virgin olive oil
For the Dressing for Fattoush bread salad
2

tbsps

lemon juice

4

tbsps

olive oil

2

tbsps

white wine vinegar

(optional)

3

tsps

sumac powder

3

tsps

water

(warm)

to taste

salt

(crushed) 2

cloves

garlic
For the Fattoush Bread Salad
4

Baby Red Radish

(thinly sliced)

3

Tomatoes

(red, medium ripe)

4

cherry tomato

1

cucumber

(seedless, thinly sliced)

1

white radish

(thinly sliced)

2

tbsps

Scallion bulb

minced

1/2

cup

Scallion leaves

minced

1 1/2

cups

parsley

minced

1/2

cup

lettuce

or Salad Greens (shredded)

1/2

cup

mint leaves

3

tbsps

Pomegranate arils

to taste

salt
For the Bread for Fattoush Salad
4

slices

Pita

or other flat bread

2

tbsps

Za'atar powder

1

tbsp

olive oil
For the Pomegranate Molasses
8

tbsps

pomegranate juice

1

tbsp

sugar

1/2

tsp

lemon juice
To Make the Dressing for Fattoush
Add the sumac to the warm water, dissolve and set aside for at least 15 minutes. (Meanwhile you could get started on slicing and mincing the salad ingredients and set the bread in the oven as in instructions below.)

Squeeze fresh lemon juice, add vinegar, crushed garlic , salt and the dissolved sumac with the water in which dissolved, and whisk. I used white wine vinegar, but red wine vinegar could be substituted, or you could skip the vinegar altogether.

Add the olive oil in a slow steady stream and whisk continuously till the dressing emulsifies and becomes translucent. Set the dressing aside.
To make the Fattoush
Sprinkle olive oil and then za'atar on the pita bread, cut into small triangular shapes, and set to bake in a preheated oven at 165 deg C (325 F) for 10 minutes. Remove from the oven and set aside.

Wash the salad greens, parsley, mint, minced scallion greens, and dry in a salad spinner or with kitchen napkins. I used red veined sorrel, however you could use romaine lettuce or gem lettuce or other salad greens instead. Set the greens aside. Slice the tomatoes into uneven chunks. Thinly slice the radishes (white and red) and the cucumber

Mix the sliced veggies together: the thinly sliced radishes, red and white, tomatoes, scallion bulbs, cucumber slices. Set the sliced vegetables on a bed of greens. Sprinkle salt and mix gently. Add the pieces of baked bread flavoured with za'atar. Sprinkle pomegranate arils.

Serve the salad and dress individual servings with 1 tbsp of lemon olive oil dressing (shake the dressing before using) and 2 tsps of pomegranate molasses. Sprinkle a little sumac and serve.
To make Pomegranate Molasses
Prepare the pomegranate molasses a short while before serving (read my story in the post above as to what happened when I made them too early). Use a ratio of 8:1 for the pomegranate juice and water.

Refer Ingredients for Pomegranate Molasses above. Heat a pan, add the water, sugar, pomegranate juice and lemon juice and cook on high heat for about 2 minutes (or less) till the sugar dissolves.

Reduce the heat and continue to cook for about 5 minutes till the liquid is syrupy and begins to thicken, becoming jelly like. It will be very very hot at this stage and care is to be taken while stirring. When the molasses begin to look jelly like, you need to quickly turn off the heat. You could keep it warm in a bowl of warm water, as it can become thick and harden as it cools.