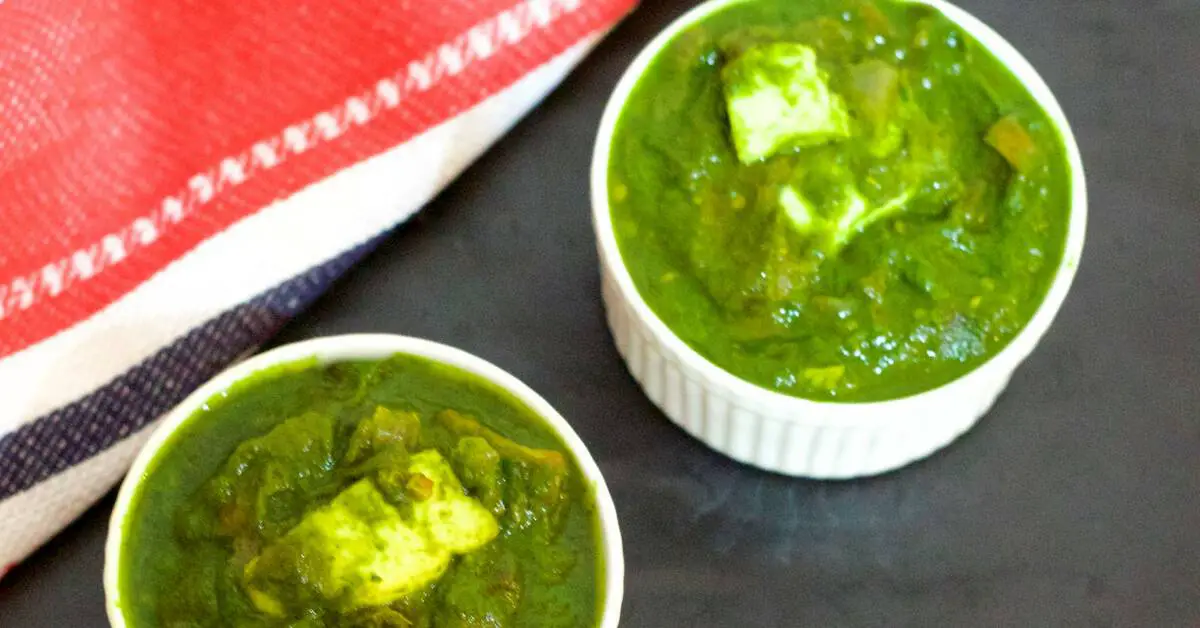 Print Recipe
Homemade Healthy Palak Paneer Capsicum - Pureed Spinach with Cottage cheese and Green bell pepper
Easy Homemade Healthy Palak Paneer Capsicum Curry. Delicious cubes of cottage cheese cooked in soft spinach and onion tomato gravy. Fresh, Green, Nutritious
To prepare the ingredients:
Remove tough stalks from the spinach and retain the tender ones. Chop the spinach, tender stalks and all, into small pieces and wash well till all the grit is removed. Chop the leaves and bulb of the scallion, after washing away any mud or grit.

Mince the onion and ginger. Dice the capsicum and half the tomato into cubes of about 1 cm each, and the other half tomato into larger pieces. Crush the garlic.
To blanch and prepare the spinach:
Bring a pan of water to a rolling boil and put the chopped spinach in. Cover the pan and turn the flame off, leaving the spinach to blanch for 3 minutes. Drain the spinach and quickly put it into a basin of water to which you have added the ice cubes. Drain after one minute. Set it aside for the water to drain well.This procedure helps the spinach retain its bright green colour. Gently squeeze out excess water from the spinach.

Add the spinach and scallion leaves to the food processor and coarsely pulse without making it a smooth puree.
To Make the Palak Paneer curry:
Heat a pan and add oil. When the oil is hot, lower the flame and add the fenugreek (methi) seeds. After letting them sputter (about 5 secs) when they begin to discolour, add the cumin (jeera) seeds. Sauté for 5secs.

Add the chilli ( I like to use fresh red chilli instead of green to give a contrasting colour to the spinach and the capsicum). When the chilli has scalded, add the onion and the slices of scallion bulb and sauté till the onions become translucent.

Add ginger pieces, sauté for 5 secs, add the crushed garlic. Sauté for 20 seconds stirring so the garlic does not brown. Add and sauté the capsicum for 20 seconds.

Add the turmeric powder, sauté for 5 seconds. Add the small cubes of tomato, reserving the larger pieces for the next step.

Add the spinach scallion mixture and stir. Add 2 tbsps of water, stir. Add the larger pieces of tomato, and sauté the curry for 5-7 minutes on a medium flame, stirring frequently till the spinach is cooked.

Add tomato puree, mix it into the curry and sauté for 1 minute. Add salt and then add yogurt, whisking it into the curry till it is well blended.

Dice the paneer and add to the curry. Stir so that the spinach and gravy cover the paneer, and sauté on low flame for 2 minutes.

Remove from the flame and transfer into a serving dish so that the curry does not continue to cook in the heat of the pan. Serve with hot phulkas or naan or with rice and dal. I confess, I like palak paneer with hot rice, ghee and my tomato rasam!