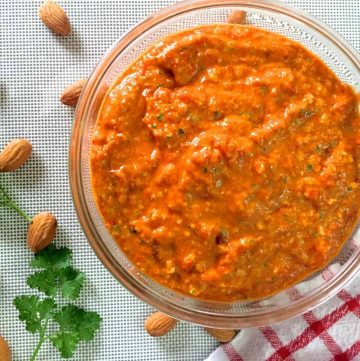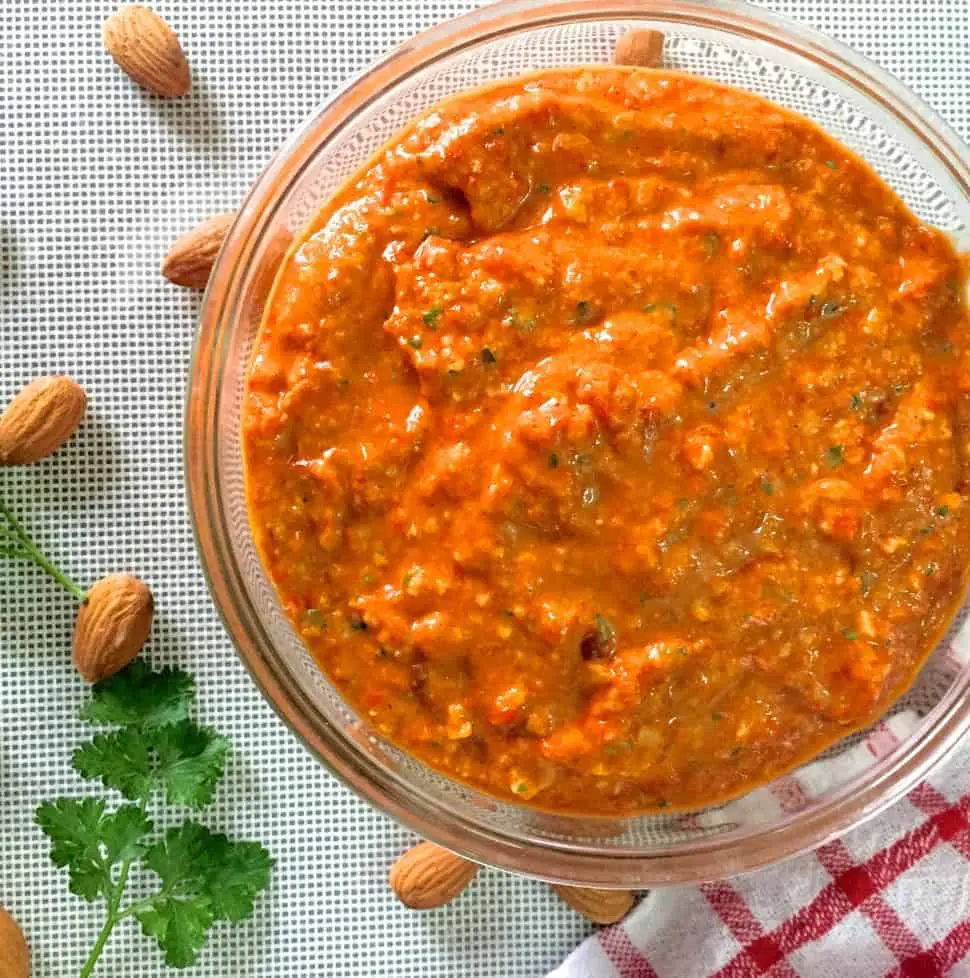 Print Recipe
Spanish Romesco Sauce: Roasted Red Pepper and Almonds
Spanish Romesco Sauce from charred red pepper, tomato and almonds. Easy to make and versatile to use. Serve with grilled veggies or chicken or with fish, or as a delicious pesto, with pasta or as a spread.
For Roasting Red Pepper, Tomato and Garlic
1

cup

Roasted Peeled Red Pepper slices

from 2 large red peppers

1

cup

Roasted Peeled Red Tomatoes

from 2 large tomatoes

2

cloves

garlic

1

tablespoon

olive oil
Other Ingredients for Spanish Romesco Sauce
½

cup

Peeled almonds

Or almonds and hazelnuts

2

slices

white bread

or bread of your choice

½

teaspoon

Red chilli flakes

or to taste - upto 2 teaspoons

½

teaspoon

smoked paprika

or to taste - upto 1 teaspoon

1

tablespoons

parsley

minced

1

tablespoon

red wine vinegar

½

cup

olive oil

½

teaspoon

salt

or to taste

½

teaspoon

Fresh grated Pepper

or to taste
To Roast the Red Pepper, Tomato, Garlic
Preheat the oven to 200C / 400 F. Brush Peppers, and Garlic with a little olive oil Slice tomatoes into two and brush with oil and a light sprinkling of salt. Or make two three slits in the bottom of the whole tomatoes and brush with oil.

Place whole red peppers, sliced or whole tomatoes and garlic cloves on baking trays lined with parchment and place in the heated oven. Sliced tomatoes to be placed cut side up. Peppers to be place lengthwise. Roast for 20 minutes, by which time one side of the peppers and tomatoes will begin to char. Remove the trays from the oven and turn the peppers and tomatoes over so that the cut side faces down. Remove the garlic cloves from the tray and keep aside. Roast peppers and tomatoes for another 15 minutes. Transfer immediately while hot to a flat surface (I used a flat chopping sheet) and cover with an inverted glass or metal bowl with no gaps underneath. The peppers will steam and the skin will begin to loosen.

After about 15 minutes, you can easily peel the peppers and tomatoes. Slice the peppers into two and pull the stem sideways so that the seeds also come out. Peel the skin from the peppers and cut away membranes and remove any seeds left behind. Peel the tomatoes (or leave them if you wish). I don't remove the seeds. Peel the garlic Slice the peeled peppers and tomatoes and crush the garlic.
To Make Spanish Romesco Sauce
Toast the almonds for 5 minutes in the oven or in a pan on the stove, stirring frequently. Brush the bread slices with a few drops of olive oil, and toast lightly. Mince the parsley removing thick stems

Run the nuts and garlic in a food processor.
Add the slices of roasted peeled red pepper, tomatoes, Parsley and blend in the processor.
Add half the chili flakes, smoked paprika, salt and pepper and run the processor.
Add the vinegar and half the olive oil in a trickle while it the processor is running. Add more oil till the sauce reaches a runny but slightly coarse and nutty consistency.
Once blended, taste for seasoning and add a little more of salt, chilli or paprika as required.
Transfer to an airtight container and keep in the fridge till required.
Calories:
843
kcal
|
Carbohydrates:
29
g
|
Protein:
11
g
|
Fat:
79
g
|
Saturated Fat:
10
g
|
Sodium:
1881
mg
|
Potassium:
337
mg
|
Fiber:
6
g
|
Sugar:
6
g
|
Vitamin A:
1447
IU
|
Vitamin C:
38
mg
|
Calcium:
212
mg
|
Iron:
4
mg