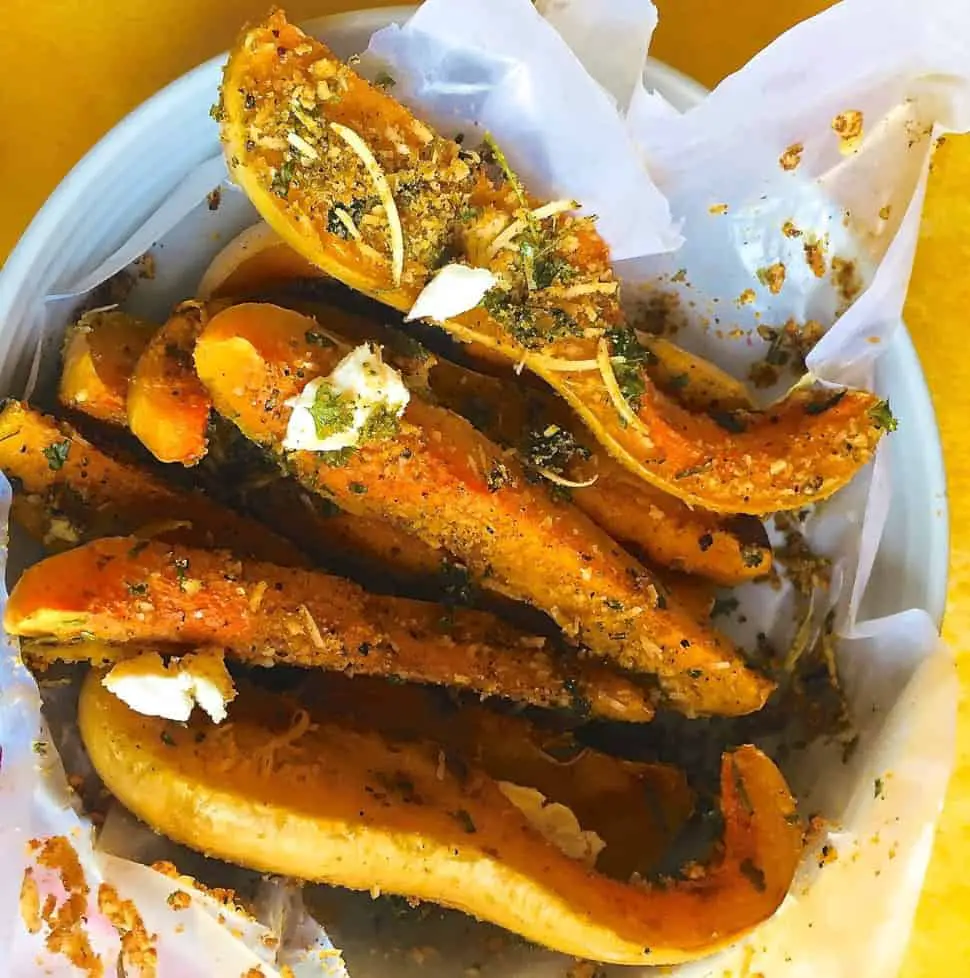 Print Recipe
Baked Squash crusted with Parmesan & Herbs
Parmesan and Herbs crusted Baked Squash, from Yotam Ottolenghi's recipe for Crusted Pumpkin Wedges. Easy to make and uber delicious, on a chill evening or a rainy day.
1

medium

butternut squash

sliced into crescents

2

tbsps

Breadcrumbs

dry

1/4

cup

Parmesan

grated

3

tablespoons

parsley

Fresh (minced)

2

tablespoons

thyme

Fresh (minced)

2

cloves

garlic

crushed

2

tablespoons

lemon zest

1/4

cup

olive oil

1

tablespoon

pepper

(freshly ground)

1

pinch

nutmeg

1/2

teaspoon

salt

1

tablespoon

dill or mint leaves

minced

2

tablespoons

lemon juice

freshly squeezed
Preheat the oven to 190 degrees C ( about 375 F). Line a baking sheet with parchment paper and grease the same lightly.

Mix together the breadcrumbs, grated parmesan, fresh and minced thyme and parsley, crushed garlic, nutmeg and half the lemon zest.

Add salt sparingly and taste for salt, as the cheese is already salted. Add half the ground pepper and mix well. Spread the mixture on a plate so it is easy to apply on the sliced squash.

Retain the peel and slice the Squash into half inch thick, crescent shaped slices. If the squash is evenly rounded, the slices will follow the natural shape and you can cut them out easily.

Brush the slices of squash on both sides with olive oil and dip each side of each slice into the herbed breadcrumbs and cheese mixture. Let the mixture generously coat each side and gently press down for an even and thick coating.

Arrange the herbed squash on the baking tray and place in the oven. Roast the squash for 30 minutes or until the slices have cooked through. Gently stick a fork into a slice to check that the squash is cooked well and is tender.

Remove from the oven. and transfer the slices to a broad serving dish or plate. Sprinkle dill, salt and pepper to taste and lemon juice, as well as the reserved lemon zest, on the squash wedges, and serve hot.