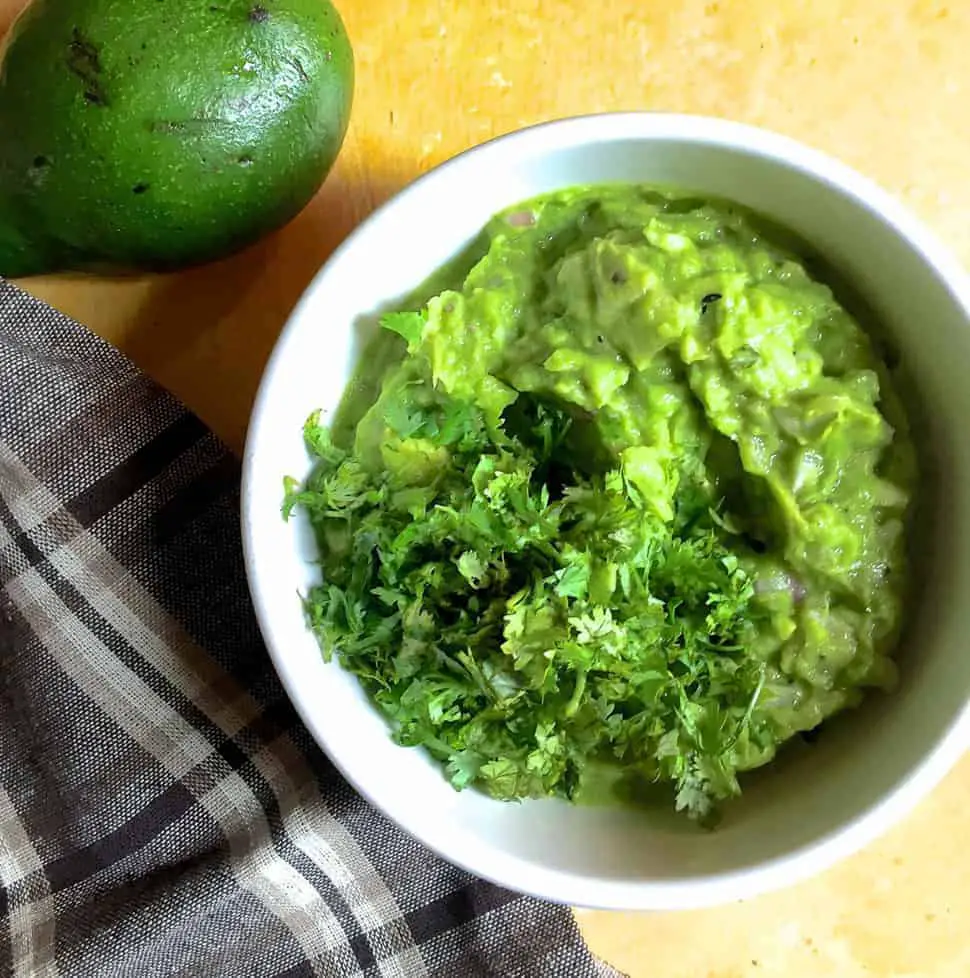 Print Recipe
Fresh Homemade Tomato-free Guacamole
Make fresh Homemade Guacamole without tomatoes, for that authentic taste. Quick, easy recipe with Kitchen hints on how to keep the avocado from browning.
2

tablespoons

Fresh lemon juice

2

avocado

about 1.5 cups

1

cup

Onions

1

teaspoon

freshly ground pepper

or to taste

1/4

teaspoon

salt

or to taste

1

pinch

cumin powder

/jeera powder

1/4

cup

cilantro

(minced)

1

jalapeño

(optional) thinly sliced
Do read my Kitchen Hints in the post above before you start to make the Guacamole. Squeeze lemon juice. The avocado can brown quickly, so I always keep the lemon juice ready to apply as soon as I scoop out the avocado.

Slice onion into small pieces and mince the jalapeño (if using). Mince the coriander leaves just before you need to serve the guacamole.

Cut the avocado at the centre so that you get two halves with the pit in one half. Scoop out the flesh of the avocado with spoon, scraping as near the peel as you can. Discard the pit. Using a fork or a pestle, mash the avocado pulp gently. Keep it chunky instead of mashing the avocado into a paste. Add half the lemon juice and add salt. Mix well.

Add the sliced onion and jalapeño, the ground black pepper and cumin powder. Stir it all in gently without mashing the avocado further. Check for taste and add more lemon juice or salt if required. I used 2 tablespoons of lemon juice for 1.5 cups of avocado.

If serving immediately, add the minced coriander leaves. If not, use cling film to cover the bowl of guacamole as in the Kitchen Hints above, to keep it from browning. Chill in the fridge. Just before serving, remove the cling film and add the coriander leaves.