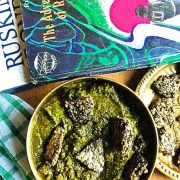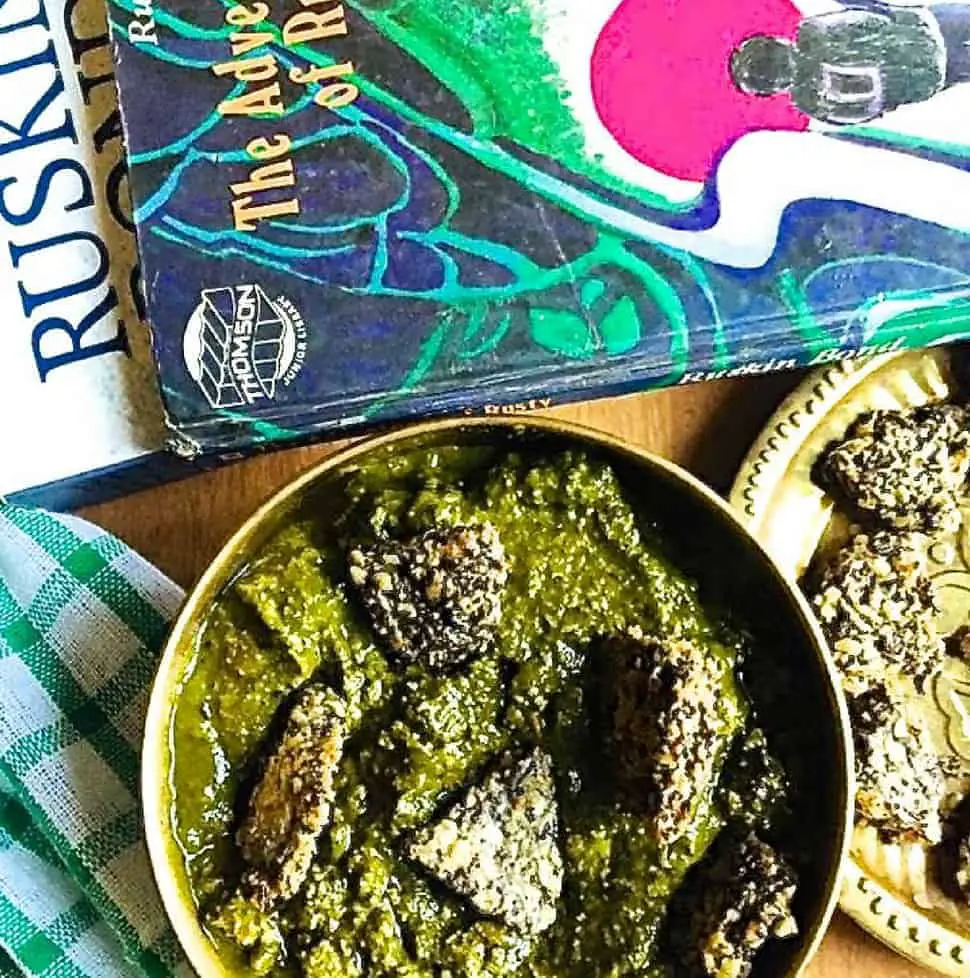 Print Recipe
Himachali Sepu Vadi - Split Urad Dal Vadi In Spinach Gravy
Traditional Himachali Sepu Vadi, split Urad dal vadi in spinach gravy. The vadi /lentil fritters are made from soaked, ground, steamed, split black gram dal, and then shaped, fried, added to a spinach and dill gravy cooked in spices. Enjoy the curry with roti, naan bread or with a simple rice dish such as jeera (cumin) rice.
For Urad dal Vadi / Black gram Fritters
Spices Mix for Grinding
1

Bay leaf

½

teaspoon

Cumin seeds

½

teaspoon

Coriander seeds

¼

teaspoon

Fennel seeds

¼

teaspoon

asafoetida hing

½

inch

cinnamon

1

Black Cardamom
For Sepu Vadi - Spinach curry with Black gram fritters
1 ½ -2

cups

Spinach Puree

Prepared as per instructions below

½

cup

Yogurt/Curd

1

cup

water

1

tablespoon

mustard oil

or Sunflower oil or other vegetable oil

Spice mix

Prepared as per instructions below

1

tomato

Diced into 1 cm pieces - optional

¼

teaspoon

Turmeric Powder/ Haldi

¼

teaspoon

red chilli powder

½

teaspoon

salt

or to taste

1

cup

Urad dal Vadi

Prepared as per instructions below

1

tablespoon

lemon juice

optional
To make the split black urad dal Vadi
Time Required: 8 hours soaking + 5 minutes grinding + 1 hours fermentation (optional) + 15 minutes steaming + 20 mins frying Rinse and soak the split black urad dal (split black gram lentils) in 1 cup of water, overnight. After it is soaked, drain, rinse and again drain the dal. Add all the ingredients listed above for making Urad dal vadi (except the mustard oil) and grind it into a thick paste using as no water or as little water as possible - 1 or two teaspoons only, if required. Set aside for an hour to ferment (optional)

Spread the spiced urad dal batter on an idli plate or other steaming plate, cover and steam over boiling water for 15 minutes. Remove from steamer, spread on a plate keeping the thickness to about ½ cm and slice into small squares or rectangles (about an inch long) Allow to cool Heat ½ cup of oil and deep fry the vadi in batches. Drain and keep aside till required.

To fry the vadi as above, you may find these timings useful: Heat the oil till it is smoking hot. Drop the pieces of batter one by one into the hot oil, taking care to leave some space between each ( and take care while working with hot oil!) Reduce the heat to low. After about 3 minutes, turn (flip) each one carefully with a spatula so that the bottom side is now up. Increase the heat to medium or high. Another 3 minutes, and then again turn the badis. Remove after 1 minute and place in a colander to drain. Heat the oil again for the next batch. Set aside till required.
To Prepare the Spinach Puree
Time: 5 minutes to blanch and drain + 5 minutes to puree Cut away hard stems and dry or rotten leaves from the bunch of spinach. Chop and then wash the spinach well. Heat water in a pan until it is boiling, and add the chopped spinach. Cover the pan, turn off the stove and blanch the spinach for 3 minutes. Meanwhile prepare an ice bath by adding ice cubes to a a basin of water. Drain and quickly put the spinach into the ice bath and drain after 1 minute. Squeeze gently to remove excess water. The spinach will then retain its bright green colour. 2. Rinse and drain the dill, squeeze away excess water and chop it.

Puree the spinach along with the other ingredients in the list above for Spinach puree ie the dill, ginger, chilli and spices, without adding water during the process. Set aside till required.
To prepare the Spice Mix
Time: 5 minutes Pound all the spices as in the Ingredients list above for Spice mix, into a coarse powder. The Black cardamom needs only to be slightly crushed so that it opens up a little. Set aside till required.
To make the Sepu Vadi - Spinach curry with fritters
Time Prep 5 minutes + 20 minutes cooking time Beat the curd / yogurt/ dahi and add to the spinach puree. Add water as in the ingredients list for Sepu Vadi above, and whisk it all in. Set aside. Dice the tomato if using, into 1 cm pieces

Heat the oil (see ingredients list for making Sepu Vadi above) in a medium sized pan. Add the bay leaf and then the crushed/pounded spice mix. Sauté for 1 minute Add the sliced tomatoes (if using) and sauté for 1 minute Add the turmeric and chilli powders, sauté for 30 seconds.

Pour the spinach puree into the pan, stir and bring to a boil on high heat. Reduce heat and allow to simmer for 5 minutes. Add salt, stir.

Add the fried urad dal fritters one by one into the gravy, about 8-10 small vadis should be enough for 1.5 cups of spinach puree without overcrowding the curry. Simmer the curry for 10 minutes, stirring frequently. Serve hot with a dash of lemon juice (if using), with hot rice or chapatis.