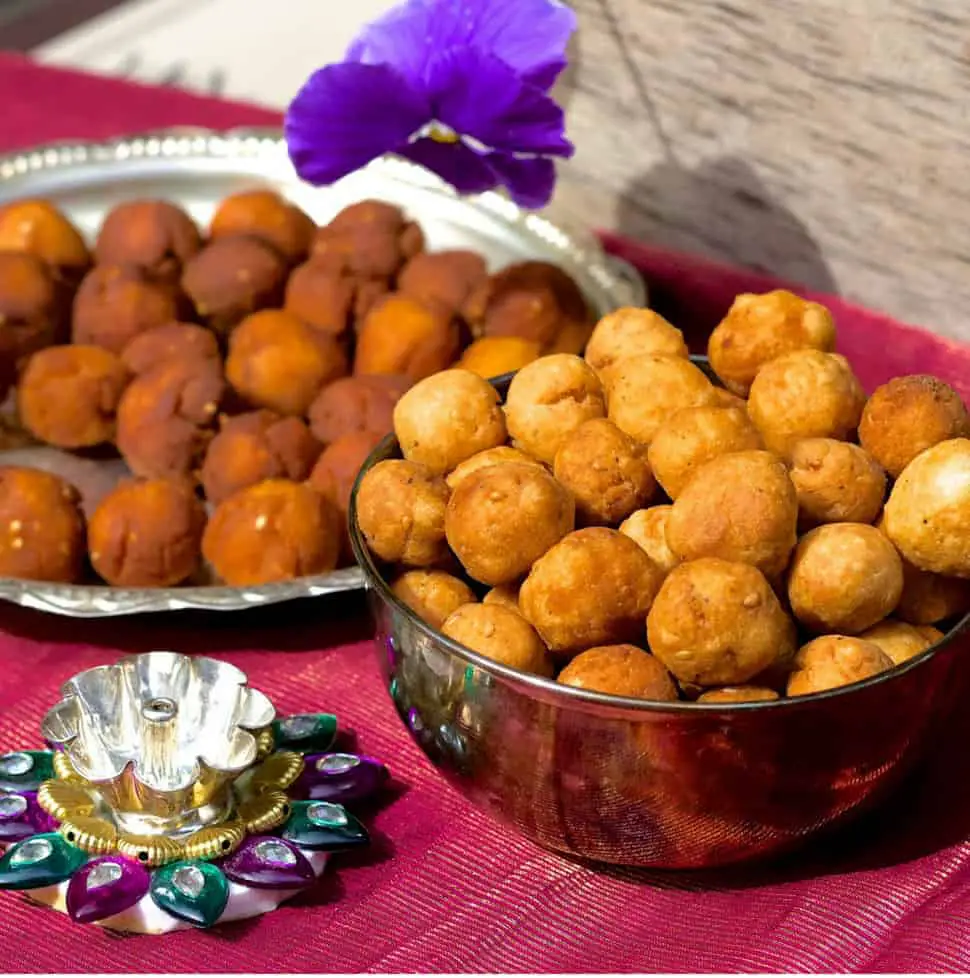 Print Recipe
Easy Uppu Seedai From Store Bought Flour
Simple step by step recipe for making easy Uppu Seedai from store bought flour, for a traditional Tamilian savoury made for Gokulashtami naivedyam
Servings:
2
about 80 seedais
1.5

cups

rice flour

flour should be fine and not coarse

2

tablespoons

black gram/ urad dhal flour

ulutham mavu

2

teaspoons

white Sesame seeds

white ellu / white til seeds

1/2

teaspoon

pepper cumin powder

finely powdered milagu jeera

1

teaspoon

table salt

or to taste

1/4

teaspoon

asafoetida hing powder

peringayam powder

2

teaspoons

roasted grated coconut

or very thin small pieces

3

tablespoons

unsalted butter

or to taste

1

cup

water

as much required for a soft dough that is not sticky or wet

2

cups

oil

or as much required for deep frying the dough
To prepare the Dough for Uppu Seedai
1. Sieve and Roast the flours separately in a hot pan on low heat, stirring frequently, for about 2 minutes. The flour should not brown or catch at the bottom of the pan. 2. Soak the asafoetida (hing) powder in a teaspoon full of water, stir to dissolve it as much as possible. Set aside till required. 3. Melt the butter ( I microwaved it for 20 seconds till is just began to melt) 4. Roast the coconut in a dry pan for 2 minutes, without letting it brown.

In a large bowl, add together the dry ingredients, i.e. the rice flour, urad dhal flour, sesame seeds, pepper cumin powder, roasted coconut pieces and salt (add a little salt, and after the dough is mixed, taste and add more if required). Mix the dry ingredients well together.

Make a well in the centre of the flours, add the melted butter and asafoetida water, mix well. Add water gradually and mix the dough just until you get a soft, pliable dough that is not sticky or wet. Be cautious when adding water and add only as much as you need. Taste the dough for adequacy of salt. Shape the dough into a rough ball.

Set the dough aside onto a clean dry kitchen towel or food grade tissue, and allow it to dry for about 15 minutes.
To make the Uppu Seedai
After the dough has rested, shape it into small odd shaped balls. You must roughly pat the dough between the palms of your hands and not make them smooth or perfectly round or mould them for too long.

Heat oil in a pan. My daughter gave me a small sauce pan so I could fill it to half its height in oil, which gave enough depth for the seedai to fry in a small quantity of oil. rather than a kadai full of oil.

Once the oil is really hot, reduce the flame to low. To test whether the oil is hot enough, add a very small bit of dough to the oil, and if the dough rises immediately and bubbles start forming around it, the oil is hot.

Add some of the dough balls. Do not crowd the pan as the dough should have space to fry. The oil will tend to splash when you add the dough even gently, so keep away and use a ladle as I did, to add the dough balls to the oil.

If the seedai is going to burst, you will know soon enough. If it stays stable for 3 minutes, you know its going to be fine! If it does burst, add a very little dry roasted rice flour to the dough to reduce the moisture. It may help. And keep a distance from the pan when the seedai is frying, to be safe.

After 4 minutes, gently turn the seedai in the oil with a slotted ladle, so that it cooks uniformly. The colour will begin to darken. When it reaches a golden shade and then begins to brown (for me it took about 6 minutes on low flame) remove the seedai after draining the oil and remove to a dry colander or to a kitchen towel to drain. Add the next batch, which will normally get done faster as the oil would have reached the right temperature.

Transfer all the seedai to a dry container (avoid plastic) and cover with a closely fitting lid only after it has cooled and reached room temperature.