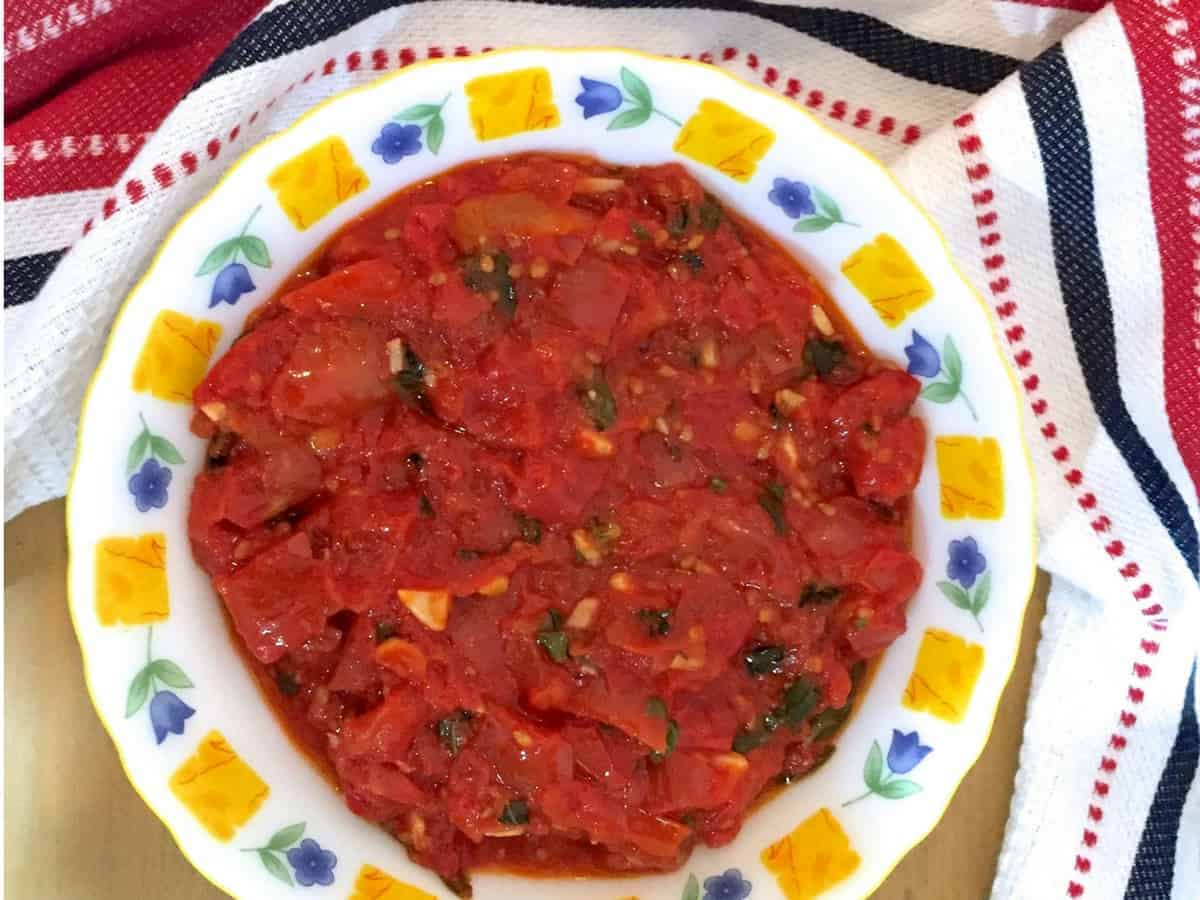 Print Recipe
Easy Tomato Basil Sauce for Pasta
Basic and simple Tomato Basil Sauce for Pasta or Pizza. Easy to make and can be frozen so you always have a batch of sauce ready for the next Pasta session.
5

cups

Diced Tomato

2

tablespoons

Fresh Basil leaves

minced

4

cloves

garlic

minced

2

tablespoons

olive oil

1

pinch

salt

1/2

teaspoon

Fresh ground pepper
Preparation
Wash the tomatoes and remove the 'eyes' or the round stem area. Dice the tomatoes into even sized pieces, about 2 cms square. Even sized small pieces will cook uniformly.

Peel and mince the garlic. Wash, pat dry and mince the basil leaves. Grind the pepper.
To make Tomato Basil Pasta Sauce
Warm a pan and add the olive oil. As soon as the oil is hot, check that the stove is on low flame and add the garlic. Sauté for about 5 seconds, stirring so that the garlic does not brown.

Add the basil and stir. Add the tomatoes, stir. Bring the stove heat to high for just 2 minutes, stirring the tomatoes and garlic well.

Reduce the flame to low and allow the tomatoes to cook in their juices, stirring frequently and checking that the sauce does not catch at the bottom of the pan.

In about an hour and a half, the sauce will thicken and reduce to about half its original quantity. if you are making a lesser quantity, eg 2 cups of tomatoes to make 1 cup of sauce, the sauce would take lesser time, about 45 minutes.

Season with a pinch of salt and the pepper, stir and transfer to a cool bowl so that the sauce does not continue to cook.

Use immediately or freeze after it cools completely, making sure you have not allowed any moisture to enter the sauce. Bring to room temperature and then warm it up again before using.
Ripe red tomatoes and good quality olive oil will give the best results.
If reducing the quantity of the sauce, eg 2 cups of tomatoes to produce 1 cup of sauce, then the cooking time would go down to about 45 minutes or less.
You will know when the sauce is 'done' when the tomato pieces look mashed and not as separate pieces.
The tomatoes may first be blanched for a few minutes in boiling hot water, strained and then the skin removed. I do not usually do this as the long slow cooking cooks the skin as well and does not leave a tough stringy skin.