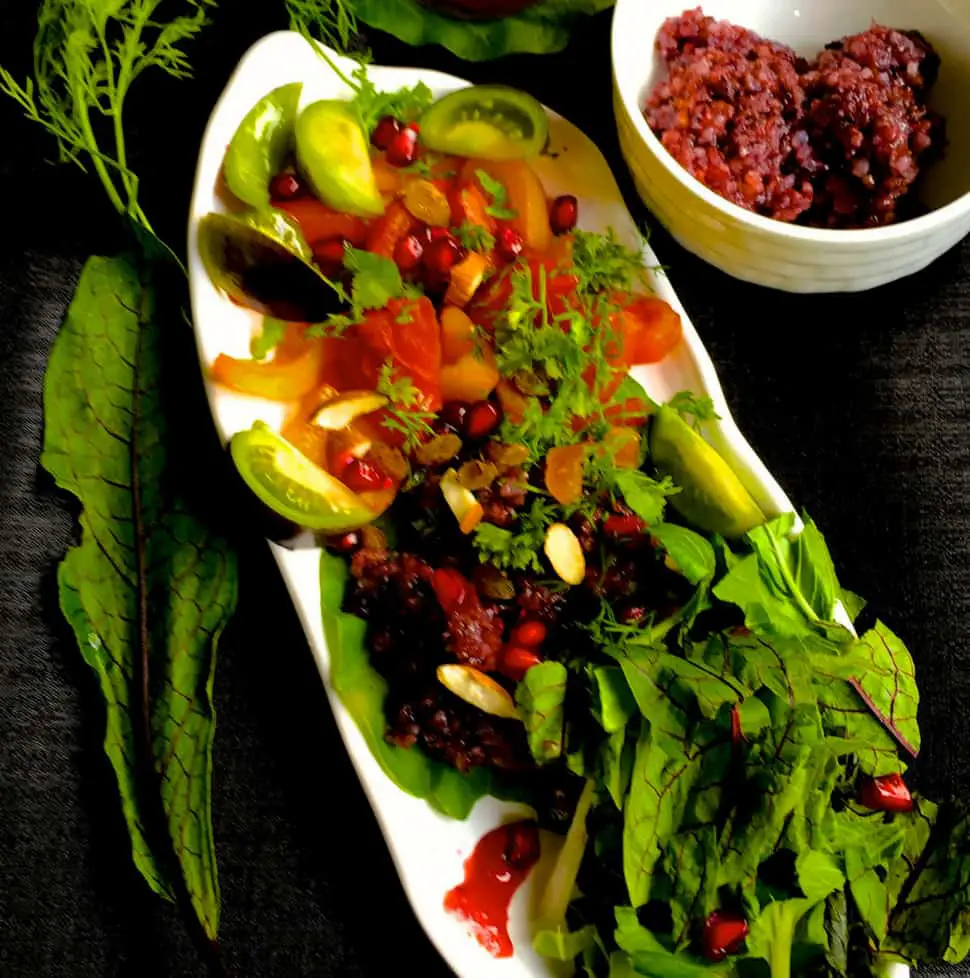 Print Recipe
Black Rice Salad & Cranberry Orange Dressing
A delicious Black Rice Salad with Superfood Black Rice, fresh Salad greens and Herbs, with a flavourful Cranberry Maple Syrup and Orange Dressing.
Cranberry Orange Dressing
1/4

cup

apple cider vinegar

3

tablespoons

Maple syrup

2

Dried apricots

1.5

tablespoons

Mustard paste

1/4

cup

Fresh orange juice

2

tablespoons

Fresh lemon juice

1/2

teaspoon

Zest of orange

1/2

teaspoon

Zest of lemon

1

teaspoon

Fresh thyme leaves

2

tablespoons

extra virgin olive oil

1

teaspoon

Fresh ground pepper

to taste Salt
Salad
1

cup

Black Rice cooked

2

Tomatoes

6

Cherry tomatoes

1

Yellow Bell pepper

1

teaspoon

olive oil

1

bunch

Salad Greens

2

tablespoons

parsley

2

tablespoons

cilantro

2

tablespoons

Dill leaves

2

tablespoons

Pomegranate ariels

10

Almonds

2

tablespoons

Raisins

5

Dried apricots

or a few

To taste

salt
To cook the Black Rice: 
Rinse the required measure of rice. Soak the rice with about double its measure of water, for at least 3 hours. The water in which the rice is soaked usually turns purple.

Rinse and then cook with double its measure of water, first bringing it to a boil and then simmer for about 30 minutes, until all the water is absorbed. Turn off the stove, cover the rice and set aside till required. The rice I used turned a sticky purple after cooking.

The Taste? A nutty, earthy flavour unlike any other rice I have had.
To make the Cranberry Dressing:
Add the cranberries (fresh or frozen), maple syrup and vinegar to a pan and set to cook for about 7-10 minutes on a low flame, stirring occasionally so it does not 'catch' at the bottom of the pan. The cranberries will crackle and soften and wrinkle up and the juice will become syrupy.

Remove from the stove and cool. Blend/puree the cranberry syrup with all the other ingredients, except for salt and pepper. Add a little salt and pepper, and taste. Add more lemon juice if you want to increase the tart taste.

Set the Dressing in the fridge to chill. The dressing could be made a day earlier, to save time in making the salad.
To make the Black Rice Salad: 
Slice, add a few drops of olive oil and roast the red tomato and yellow pepper on a griddle pan or in the oven till they begin to char.

Remove from the stove and set aside to cool. Wash the salad greens and herbs and dry them (I used a salad spinner), and tear to bite sized pieces, shred the herbs. Mix the herbs and greens together. The herbs are not for garnish, they are an integral part of the salad.

Slice the cherry tomatoes into halves or quarters, depending on the size. Roast the almonds and raisins in a hot pan for 3 minutes, stirring continuously. Sliver the almonds ( I did not blanch them). Shred the dried apricots.

Assemble the Black Rice Salad on individual serving plates, warming the rice just before doing this. Arrange the rice in the centre of the plate, setting the salad greens, tomatoes and peppers around the rice. Sprinkle salt and pepper.

Garnish with almonds, raisins and pomegranates. The dressing may be poured on the salad according to individual tastes, and mixed into the salad.  Serve with chunks of bread or focaccia