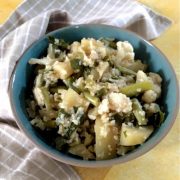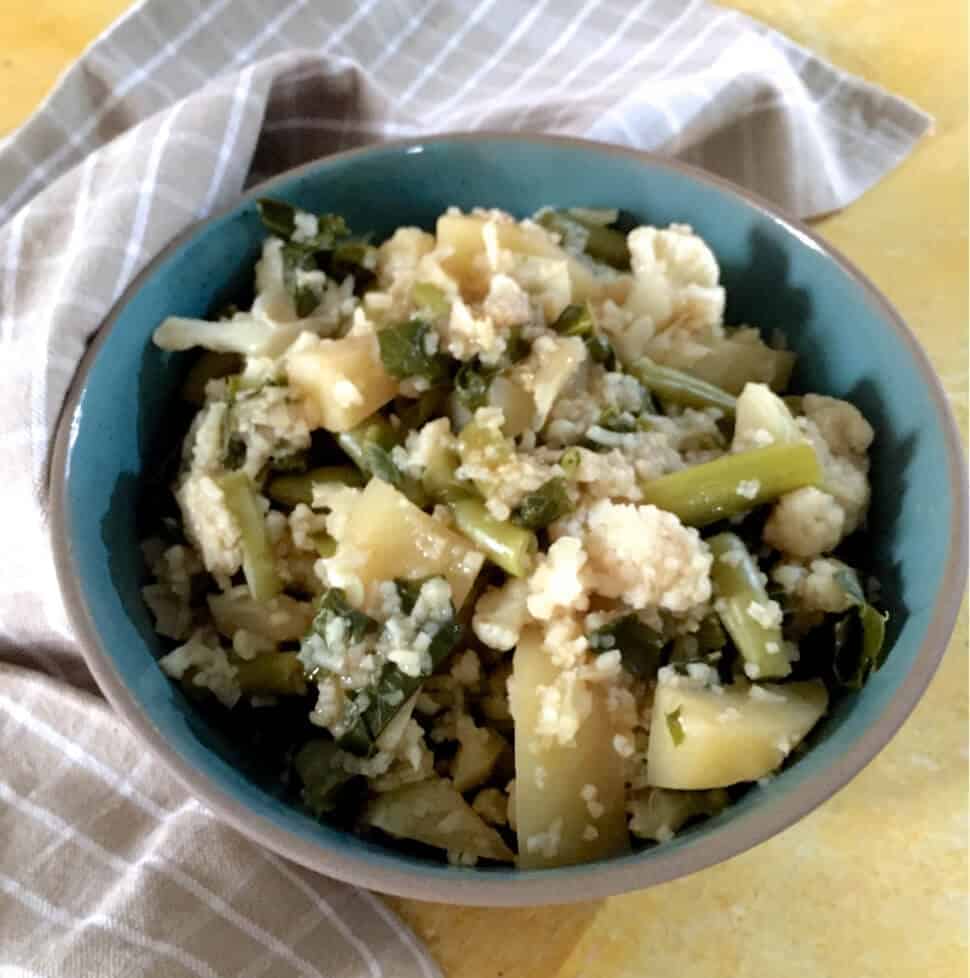 Print Recipe
Mizo Bai / Mizoram Rice Vegetable Stew
Mizo Bai from Mizoram's cuisine, an easy vegetable stew of seasonal greens and vegetables boiled with a little salt. North Eastern local ingredients like lengmaser and fermented soya bean paste and the spicy bird's eye chili, add flavour to the otherwise bland stew.
2

cups

Cauliflower leaves

or Pumpkin leaves and Bean Leaves

½

cup

Cauliflower stalks

or brinjal, ladies finger

1.5

cups

Cauliflower florets

Florets, stalks and leaves together 300 gms

⅔

cup

french beans

(50 gms)

1

potato

1 cup sliced

1

green chili

4

cups

water

1

teaspoon

akhuni (Fermented soybean paste) or sodium bircarbonate

or indigenous soda- see the above post

½

teaspoon

salt

or to taste

2

tablespoons

rice
Optional ingredients if available
Preparation
Cauliflower: Wash and shred the leaves after separating them from the stalks. Split thick stalks lengthwise and slice into 1" pieces Separate florets into smaller pieces for easy cooking

Beans: Trim, remove the strings at the sides and slice into 1" pieces Potatoes: Peel and dice into 1" long chunks Green chili: split along its length without slicing into two Rice: Wash, drain and set aside till required.
Making the Mizo Bai
Bring water to boil, in a pan Reduce heat and add the soda or fermented bean paste Add a little salt. The water will froth. Keep the pan on low heat and wait for the frothing to subside.

Add potato slices and cauliflower florets, stalks and leaves. Add the green chili Add the slices of beans and stir it all well. Add the drained rice and again stir.

Raise the heat and bring the stew to a boil. Reduce heat and allow to simmer, stirring frequently, for 15-20 minutes, until the rice is cooked. The vegetables should be tender and the water absorbed. Check for seasoning and add a little more salt if required. Remove from the heat and transfer to a serving dish. Serve hot.