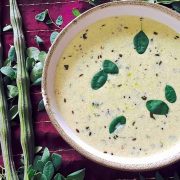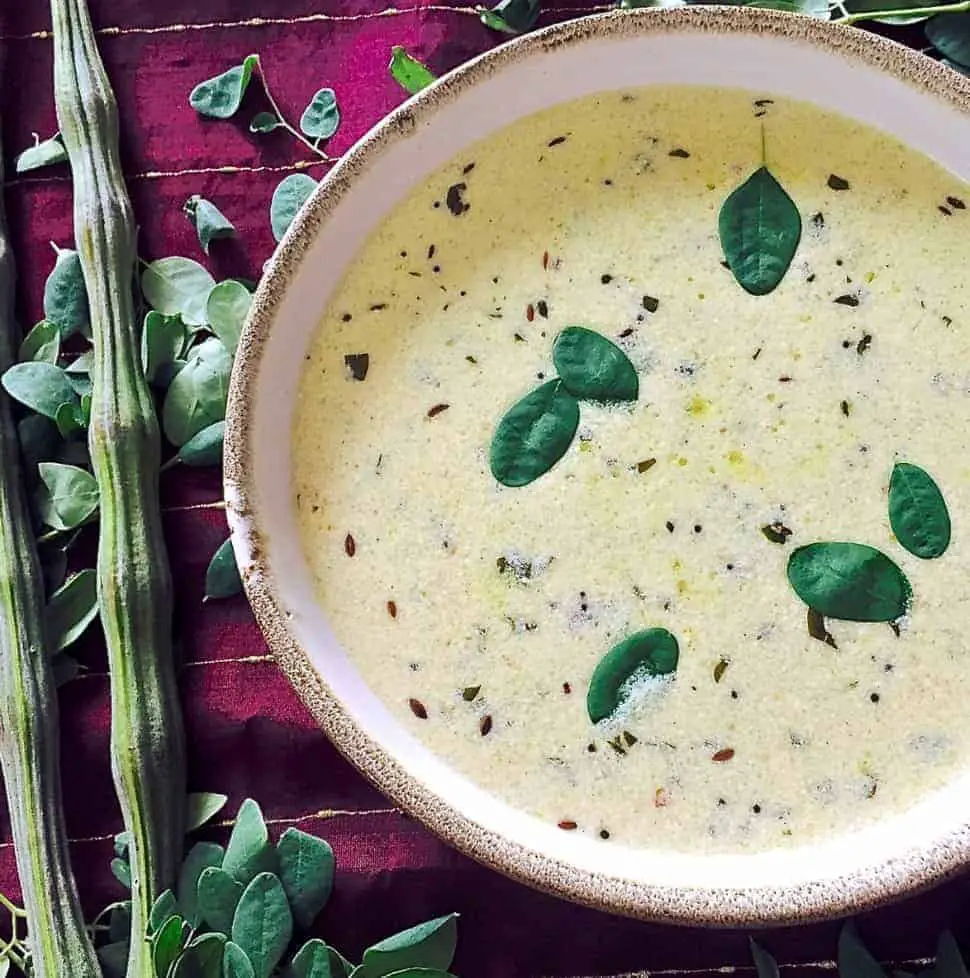 Print Recipe
Murungai Keerai MoreKuzhambu: Moringa Yogurt Stew
Refreshing South Indian Murungai Keerai Morekuzambu or buttermilk stew, cooked with a coconut - cumin - chilli paste, and with the goodness of moringa or drumstick leaves. Using local ingredients to advantage!
For the Murungai Keerai MoreKuzhambu
1

tablespoon

coconut oil

½

cup

moringa (drumstick) leaves

fresh or dry. As in instructions below, wash and dry the leaves well before using, even on the previous day, so that they can be sauteed without being too moist

2

cups

Yogurt/Curd

1

pinch

Haldi/ Turmeric Powder

¼

teaspoon

Cumin Powder/ Jeera Powder

½

teaspoon

salt

or, to taste
For the Coconut Cumin Paste
1

teaspoon

Channa dal (kadalai paruppu) (Bengal Gram lentils)

for soaking

1

teaspoon

raw rice

for soaking

¼

cup

fresh grated coconut

or dessicated coconut if fresh is not available

¼

teaspoon

Cumin (Jeera) seeds

2

Black peppercorns

1

fresh green chilli

1-2

curry leaves

1

cm

fresh ginger
To Make Coconut Cumin Paste
Soak the raw rice and dal in water for 10 minutes. Add the soaked dhal and rice to the grated coconut, ginger, jeera, peppercorn, 2 curry leaves and the green chilli and grind to a paste, adding very little water at a time, just as much is required to make a paste of chutney consistency - not dry, not runny either. Keep aside till required.
To Make Muringai Keerai Morekuzhambu
While you wait for the rice and dal to soak, let us get started on the moringa leaves. As in Ingredients list above, the leaves should not be damp or moist as you are going to saute them. Shred the leaves to pieces. Heat the coconut oil in a pan/ small kadai. Dont let it smoke, it should heat in 30 secs- 60 secs depending on the climate. Once you see some movement on the surface of the oil, add the shredded moringa leaves. Saute on low flame for just 1 minute. Drain and remove from the oil, and keep aside in a small container. Let the oil remain in the pan for seasoning later onl.

Churn the yogurt - I don't add water but you could add just a little if the curd is very thick. I just whisk it with a metal whisk till it is all liquid. Place a pan on the stove, add the churned curd. Keep the heat on low throughout the cooking process as otherwise the curd will split. Keep a whisk handy to whisk it all together from time to time. Add the turmeric powder, cumin powder and salt. When the curd simmers (about 5 minutes) whisk again and then add the coconut paste. Stir it in. Still on low flame, let it come to a boil (3-5 minutes) Whisk periodically. Add the sauteed moringa leaves Continue to boil for 2 minutes and then remove from heat and continue with the seasoning as below.
To Season the Morekuzhambu
Use the pan in which you had sauteed the moringa leaves. Add another spoonful if there is very little oil left. You need only about 2 teaspoons max. Heat the oil as before. Add mustard seeds, let them crackle (about 20 seconds if oil is hot enough) Add cumin seeds, let them darken slightly (about 20 seconds) Add the dry red chilli, turn it around after 5 seconds so that both sides get evenly dark without going black. Add the curry leaves (I shred them first so that these nutritious leaves are eaten instead of being discarded at the corner of the plate) Pour the hot seasoning onto the morekuzhambu. Serve hot with plain rice and bhindi, beans, brinjal or karela fry. And Pappad!