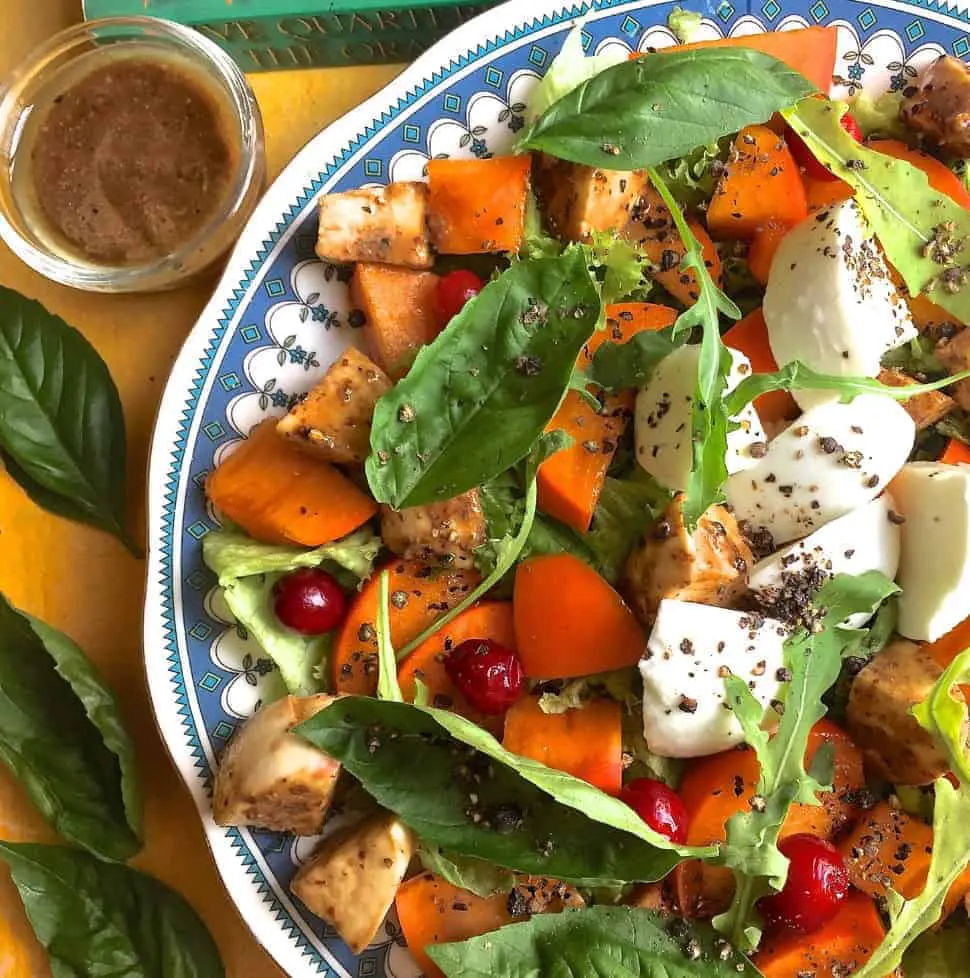 Print Recipe
Persimmon Mozzarella Winter Salad with Mustard Balsamic Dressing
Persimmon Mozzarella Salad, easy delicious Winter Salad of ripe Fuyu Persimmon fruits with fresh mozzarella marinated in a mustard balsamic vinegar dressing
For Mustard Balasamic Vinegar Marinade
For Persimmon Mozzarella Salad
To make the Mustard Balsamic Vinegar Dressing
The dressing can be made a day or two in advance and stored in the fridge. Pour mustard and balsamic vinegar into a jar. Add pepper, salt, and shake it well. Add the olive oil and shake some more. Keep in the fridge till required.
To make the Persimmon Mozzarella Salad
Slice the mozzarella into chunks and put them in a bag along with 2 tablespoons of marinade/ dressing. Shake the bag well till all the slices are covered with the marinade. Empty the bag into a bowl, cover and place in the fridge till required.

Wash the persimmons, cut out the stem and slice the fruit- cubes, thin crescent shapes, whatever you like best. I have not peeled the persimmon as they were quite edible, but you may if you wish - they are quite easy to peel with a peeler.

Wash and dry the lettuce and arugula in a salad spinner or with a kitchen towel. Shred and arrange the lettuce on a serving plate. Place the sliced persimmon on the lettuce. Remove the marinated mozzarella from the fridge and arrange on the plate. Shred and add the arugula leaves. Place the cranberries on the plate.

Drizzle the dressing on to the salad, sprinkle fresh ground pepper. Your salad is ready!