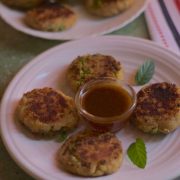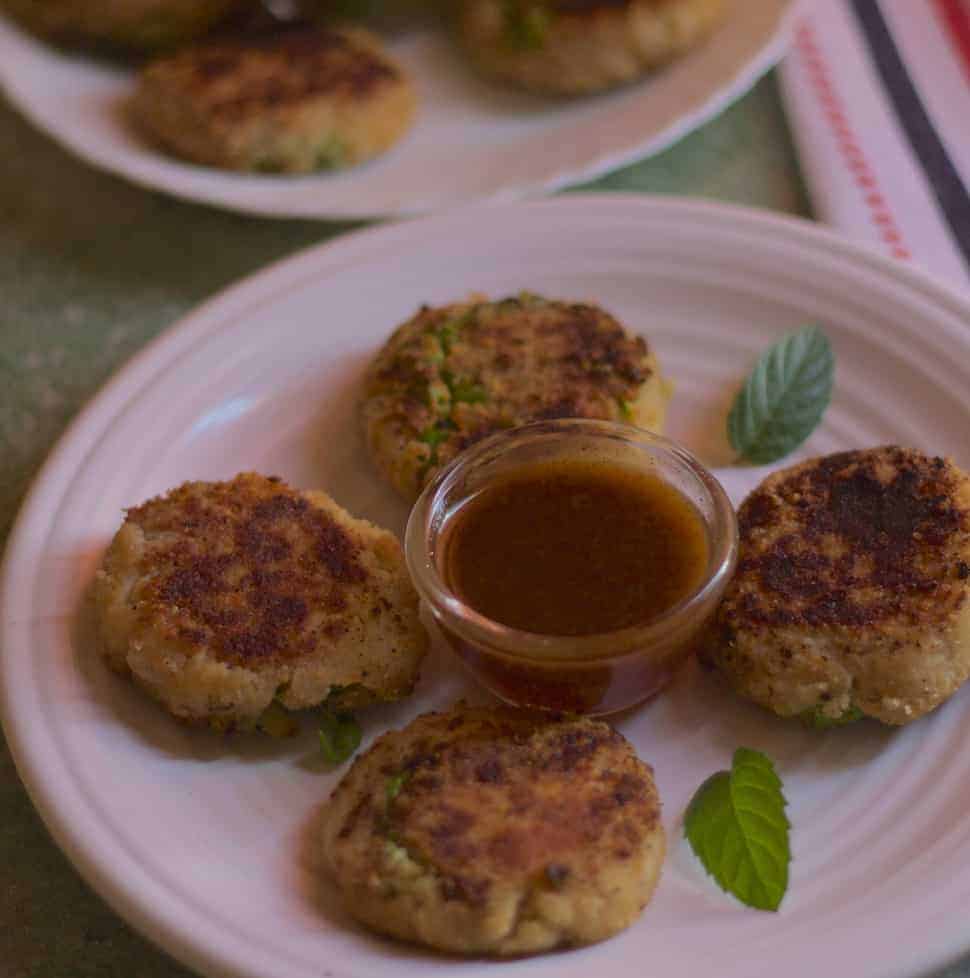 Print Recipe
Aloo Tikki - Indian Street Food - Crispy Potato Patties
A Recipe and a Foodie Book Review! Aloo Tikki - Potato Patties, from a recipe out of Pamela Timms delicious travel and Indian street food memoir, Korma Kheer & Kismet - Five Seasons in Old Delhi
For making Aloo Tikki or Indian crispy potato patties
500

grams

Potatoes

50

grams

fresh green peas

½

teaspoon

Cumin seeds

½

teaspoon

red chilli powder

½

teaspoon

amchur powder (dried mango powder)

½

teaspoon

salt

or to taste

1

tablespoon

all purpose flour (maida)

4

tablespoons

Breadcrumbs

3

tablespoons

sunflower oil
Accompaniments for serving
1

cup

Sweet Sour Tamarind Chutney

1

cup

Mint Coriander Green Chutney

1

cup

Fresh yogurt
Preparation for making Aloo Tikki
Wash and boil the potatoes in their jackets. If using a pressure cooker, cook for 2 whistles and then take it off the heat, as you want the potatoes well done but not really falling apart. If boiling in a pan, similarly cook till they are soft and done. Shell the fresh peas and boil until tender. Drain and set aside till required.

Once the potatoes are cooked, drain well, peel and grate them into a bowl. You want the potato batter to be cooked but firm and not moist. Water would reduce the binding effect and the patties would fall apart when you try to fry them. Grating gives the Tikki a better texture than mashing. Roast the cumin seeds in a dry pan (without oil) for about 30 seconds, stirring to ensure they are not burnt. Powder the roasted cumin and keep aside.

Place the grated potatoes in a large bowl and to this add the roasted cumin powder, red chilli powder, dried mango powder, flour/maida and salt. Mix well so that the spices spread evenly across the potato batter. Taste and add more seasoning if required
How to make Aloo Tikki
Divide the potato mixture into 8 parts, and shape each one into a ball. Divide the cooked peas into 8 equal portions.

Take one potato ball and make a large dent or depression in it using your thumb. Fill the dent with a portion of the cooked peas. Fold over with the potato mash and again shape into a ball. Using the palms of your hands, flatten the ball slightly. Your first Aloo Tikki is ready to be fried. Similarly make flat tikkis with the remaining potato and peas. Keep breadcrumbs in a bowl or plate near by.

Heat a flat bottomed pan or Indian tawa and add ½ a tablespoon of sunflower or other mild vegetable oil, spreading it across the surface of the pan with a spoon. Dip one tikki in the breadcrumbs so that it is evenly coated on all sides. Dust off any excess. Place the aloo tikki in the hot oil and allow to shallow fry. After one minute, turn over the tikki. Reduce the heat and repeat flipping the tikki in the oil every minute, until they are well done and crisp. Shallow fry the remaining tikki the same way. If your pan is wide enough, you can cook 3 or more tikkis at the same time, but make sure you give them enough space to cook. Top the oil with another half a tablespoon for the next batch of aloo tikkis. Allow the oil to heat before you add the next patty.

Serve hot accompanied by yogurt, coriander chutney and tamarind chutney.