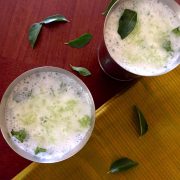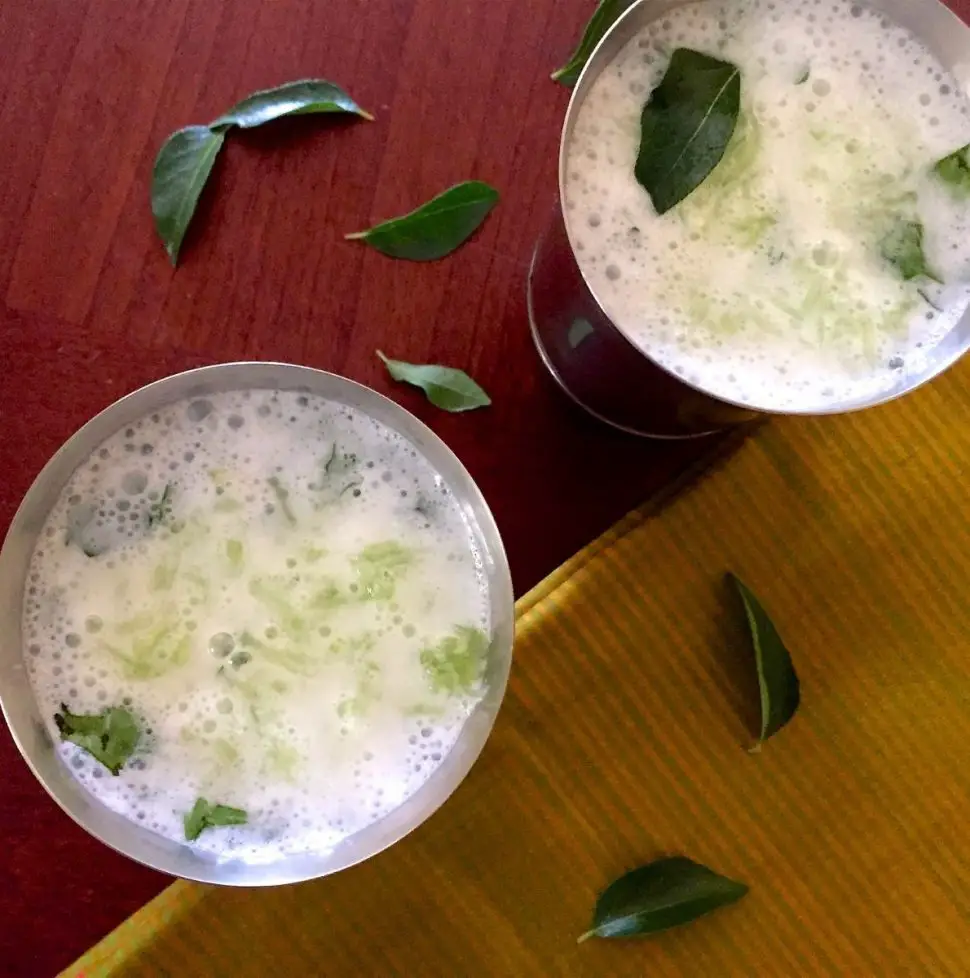 Print Recipe
Neer Mor -Refreshing Spiced Buttermilk
Neer Mor -Refreshing summer cooler of Buttermilk made from yogurt and water, spiced with green chilli and flavoured with herbs, ginger and cucumber and tempered with mustard seeds and curry leaves. Chill and serve on a hot summers day.
For Making The Neer Mor
1

cup

chilled curd

(plain yogurt)

2.5-3

cups

chilled water

1

small

green chilli

¼

inch

Ginger piece

a

few

curry leaves

(some are needed for the tempering too)

⅛

teaspoon

salt

or a large pinch or to taste

a

pinch

asafoetida hing

(Optional) to taste

1

tablespoon

coriander leaves

a sprig

¼

cup

cucumber

(Optional)
For Tempering the Neer Mor
To make the Neer Mor
i. Slice the green chilies into small rounds. ii. Mince the ginger into tiny pieces or crush the ginger and then slice. iii. Tear the curry leaves into shreds, slice the coriander leaves into small bits. Reserver a little of the curry leaves for tempering. I always shred the curry leaves as otherwise the nutritious benefits are lost as we tend to pick them out and discard them. iv. Peel and grate or mince the cucumber into very small pieces (if using). Grating is best.

Churn the curd and water to a thin watery buttermilk, with the 'math' or wooden churner, or in a mixie. As liquid tends to slosh and spill out of the mixie, first add ½ cup of water to the curd, churn in the mixie, remove to a bowl and then add the rest of the water. You may add upto 3 cups of water for 1 cup of curd - I wanted a thin but not watery consistency so I added 2.5 cups to 1 cup of thick curd. Add salt to taste, stir till the salt dissolves and then add all the ingredients listed above under 'To make the Neer Mor' except for the cucumber.

Pour the tempering (see instructions below) onto the neer mor, and garnish with the cucumber. Serve chilled.
To Temper the Neer Mor
Heat the oil. Use a mildly flavoured oil such as sunflower oil and not strong oils such as sesame oil/ gingelly oil or coconut oil which may overpower the taste of the buttermilk and the other ingredients. Add the mustard seeds, and once they sputter, add the shredded curry leaves. Pour the tempering onto the prepared butter milk. Olive oil may not suit as it would give a flavour one does not expect from this butter milk drink, and may also again overpower the taste.