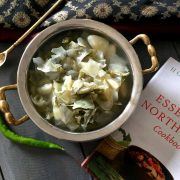 Print Recipe
Oying Vegetable Stew From Arunachal Pradesh
Oying Vegetable Stew from the cuisine of Arunachal Pradesh in the Indian North East. Simple stew of potatoes, beans, cabbage boiled with chillies and ginger. No oil, no spices. Vegan and gluten free.
Prepare ingredients for Oying Vegetable Stew
Wash, peel and dice the potatoes to about ½" sized cubes Remove top and tail of beans and remove any strings. Slice the beans or snap them into small pieces Wash and shred the cabbage and greens (mustard greens if available) Slice the green chillies Peel and mince the ginger
To make Oying Vegetable Stew from Arunachal Pradesh
Heat 2 cups of water and bring it to a boil. Add the potato cubes. Add a pinch of salt Reduce the flame and let it simmer for 5 minutes so that the potato beings to cook.

Add cabbage, greens and beans to the pan with the potatoes Bring to a boil and then lower the flame and let it simmer, covered, for about 20 minutes, till the potatoes are cooked and all the vegetables are soft and tender

Add salt to taste and green chilli slices. Allow to boil for 2 minutes and then remove from the stove. Just before serving, warm up the stew. Turn off the stove and add the ginger and stir it in. Cover for 5 minutes and then serve the oying while hot, with rice.