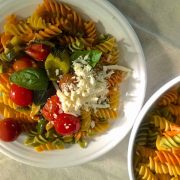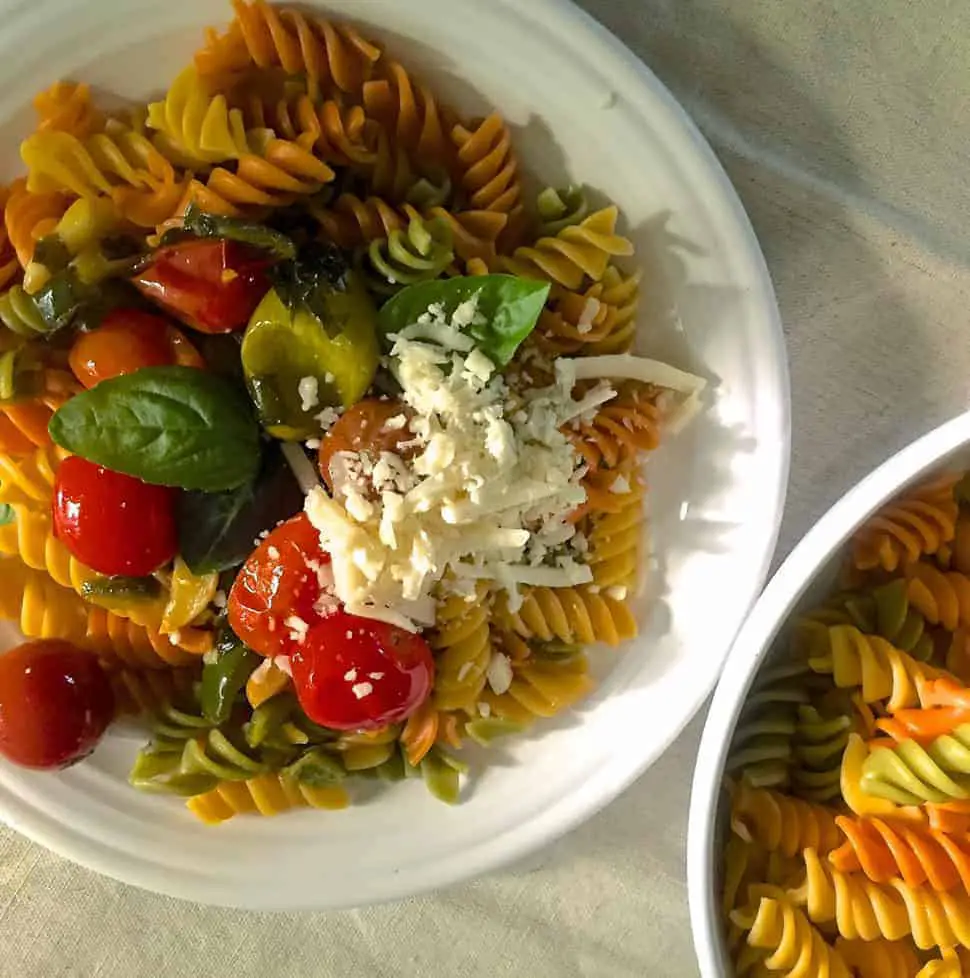 Print Recipe
Rotini Pasta in Garlicky Burst Cherry Tomato Sauce
Easy, quick Rotini Pasta in Garlicky Burst Cherry Tomato Sauce made from colourful, juicy cherry tomatoes, garlic, fresh basil and spirally wholewheat pasta
To make the rotini pasta
water for cooking the pasta

as per package instructions

4

cups

rotini or fusilli pasta

uncooked, whole wheat

3

tablespoons

salt
To make the garlicky burst cherry tomato sauce
½

cup

olive oil

4

large

cloves garlic

about 3 tablespoons sliced

¼

cup

basil leaves

¼

cup

diced green capsicum pepper

2

cups

Cherry tomatoes

1

teaspoon

sugar

1

teaspoon

salt

or to taste
To make the Rotini Pasta in Garlicky Burst Cherry Tomato Sauce
cooked pasta

as above

cherry tomato sauce

as above

grated parmesan

1 tbsp per serving

Fresh ground pepper

to taste

Red chilli flakes

to taste

Fresh Basil leaves

for garnish
To cook the pasta
Set a pan of water (see package instructions for volume of water for the pasta you are using) to heat on the stove When the water is on a rolling boil, add salt and stir

Add the pasta, stir. Allow to boil till the pasta is al dente (usually between 8 -12 minutes). Mine took 10 minutes.

Remove from the stove, drain the pasta after reserving a cup of the water used for cooking the pasta. Add to the sauce as in the instructions below
To make garlicky burst cherry tomato sauce
Slice the garlic into long thin slices. Small cloves may be peeled and added whole. Mince the basil leaves and dice the capsicum (green pepper)

Heat olive oil in a pan large enough to be able to mix in the pasta after it is cooked. Add the garlic, sauté for about 2 minutes, stirring frequently till the garlic begins to brown slightly. Add the basil leaves, stir. Add the sliced peppers, stir.

Add the cherry tomatoes whole. Add sugar and salt. Stir. Cover and cook for about 8 minutes, till you see the tomatoes bursting out of their skin and the juice oozes into the garlicky oil. Stir. Taste and add more seasoning if required.

Add the cooked and drained pasta, stir till it is covered with the oily sauce. Remove from the stove and transfer to individual serving portions. Serve hot. Add grated parmesan, seasonings and fresh basil. Enjoy your quick rotini pasta with garlicky burst cherry tomato sauce!