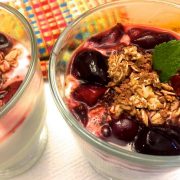 Print Recipe
Cherry Compote Yogurt Parfait with Granola
Easy to make, delicious Cherry Compote Yogurt Parfait with Granola. Sweet cherries, granola or nuts with cocoa powder and cherry compote topping the yogurt.
4 -6

cups

banana yogurt

or vanilla or other mild flavour or plain thick yogurt

2

tablespoons

honey

or to taste

½

cup

fresh cherry slices

pitted and with stalks removed

4

tablespoons

granola

or minced pistachio nuts

2

teaspoons

cocoa powder

4

tablespoons

cherry compote

see recipe link in the introduction above and again in Notes below
How to make Cherry Compote
How to make Cherry Compote Yogurt Parfait with Granola
Whisk the yogurt with honey. Finely chop pistachio nuts (if using) and slice the fresh cherries into bite sized pieces, reserving larger slices for topping the parfait Divide all the ingredients into 4 equal portions, one for each serving.

In each serving glass, add about an inch of yogurt and top with granola/ pista with a dash of cocoa powder. Add fresh cherry slices and cover with another layer of yogurt, topped with granola/ pista, cocoa and cherry slices.

Make as many layers of yogurt and granola as the glass can comfortably hold. Top the glass with large slices of cherry, granola/ pista sprinkled with cocoa and lace with a spoonful of cherry compote. Serve chilled or frozen for a delicious dessert.
Click here for my Recipe for the Easy Homemade Cherry Compote used in this delicious Cherry Compote Yogurt Parfait with Granola. The Compote may be prepared ahead and frozen in small packs, and the required quantity be taken out for adding to the parfait.