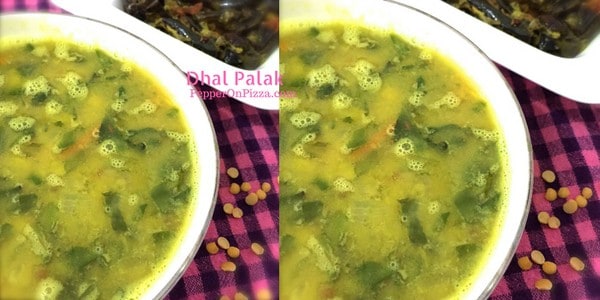 Print Recipe
Arhar Dhal Palak -Pigeon Pea Lentils with sautéed Spinach
Savoury Palak can jazz up your everyday dhal for a tasty and nutritious dish. Dhal Palak is usually made with Moong dhal, but try this recipe for a robust and flavoursome side dish.
1

cup

arahar dhal

pigeon pea lentils/ toor dhal

2

cups

spinach

1/2

tsp

turmeric powder

to taste

salt

1

onion

about ½ cup of sliced onion

1

green chilli

1

tomato

¼"

Ginger piece

about ½ cup of sliced tomato

2

cloves

garlic

1/2

tsp

Jeera Cumin seeds

3 - 4

Methi Fenugreek seeds

a few

curry leaves

a few

coriander leaves

/fresh dhania leaves

1/2

tbsp

ghee

/ Oil
Wash the Toor dhal, add the turmeric powder and Pressure cook in 2 cups of water for 3 whistles. Meanwhile wash and clean the spinach, ensuring there are no grits left. Set aside in a colander, to drain.

Chop the onions, green chilli, and tomato. Mince the ginger and garlic. Mince the curry leaves and the coriander leaves. Chop the spinach, stalks and all, into 1 - 2 cm pieces.

Once the dhal is done and cooker is ready to be opened, set a pan on low heat and add the ghee/ oil. Ghee, if used, gives its special aroma to the dish.

When the ghee is hot, add cumin seeds, sauté for 10 secs and add the fenugreek. Sauté for 10 - 20 secs till the fenugreek begins to darken, on low flame.

Add the green chilli, let it scald ( discolour). Add the curry leaf pieces so they sputter. Add the ginger, sauté for 10 secs, add the garlic and sauté for another 10-20 secs.

Add chopped spinach, sauté on high flame for 2 minutes. stirring continuously. Lower the flame, add chopped tomatoes and let the spinach ( which would have wilted down by now) cook for 3-5 minutes. Keep stirring so that the vegetable doesn't 'catch' the bottom of the pan or char.

Use a whisk gently on the dhal so that it is fluid and individual grains are not visible. Don't whisk it into a paste. Add to the spinach onion mixture. Add salt to taste, stir it in.

Garnish with coriander leaves. Serve hot with chapatis or rice, and a dry sabzi ( vegetable), along with slices of onion and radish seasoned with salt and pepper.