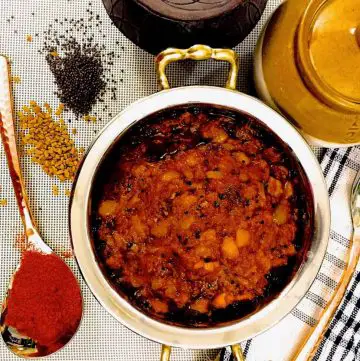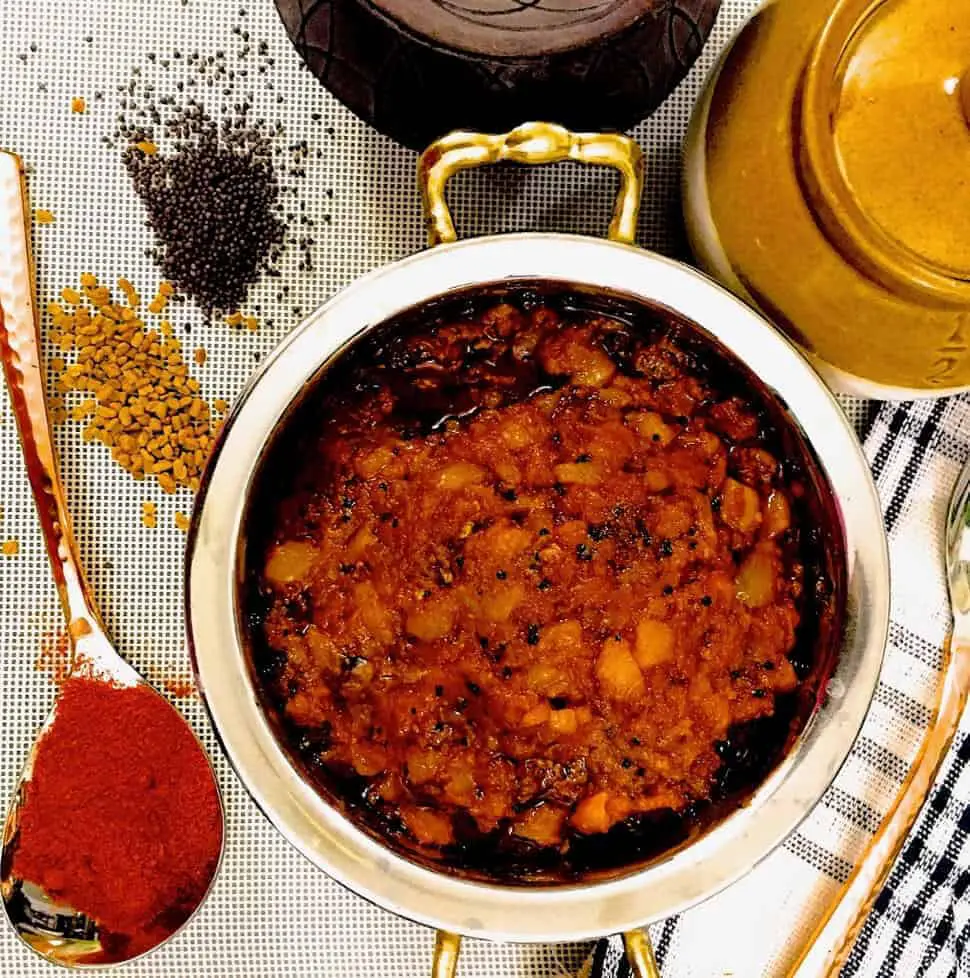 Print Recipe
Mango Thokku - a South Indian Mango Pickle
A South Indian Relish of fresh raw Green Mango slices cooked in sesame oil tempered with mustard seeds, roasted fenugreek powder and turmeric. Delicious as a spread on sandwiches or quesadilla or wraps, traditionally accompanies curd rice.
2

cups

Mangoes

Raw (peeled and sliced)

1/2

teaspoon

Methi seeds

/Fenugreek

1/2

cup

sesame oil

/til oil/ nalla ennai

1/2

teaspoon

Mustard seeds

1/4

teaspoon

turmeric powder

1

tablespoon

salt

1.5

tablespoons

red chilli

powder

1/2

teaspoon

asafoetida

(hing)
Wash, Peel and Slice the mango into thin, small pieces, to make up about 2 cups.

Dry roast the mendiyam/ methi/ fenugreek seeds for 20 seconds or till they darken in colour, stirring so that they don't char. Remove from the stove, powder and set aside till required. If using a processor to powder the seeds, wait till they cool.

Heat the oil in a frying pan / kadai, add the mustard seeds. Keep the stove on low flame. When the mustard has sputtered and burst, add the mango pieces. Add the turmeric. Stir well.

Sauté till the mango is soft and cooked (about 10 minutes on a low flame), stirring frequently to ensure the mango doesn't catch at the bottom of the pan. Check that the mango has cooked (remove a piece and smash with a spoon. If it crushes easily, it is done).

Add salt to taste, stir well. Add the chilli powder, stir again. Add the hing (asafoetida) powder and the powdered methi (fenugreek). Stir. Saute on low flame for 5 minutes till the raw taste of the chilli has gone.

Turn off the stove and transfer the finished Mango thokku to a suitable container. Store, covered, in the fridge. It normally keeps for at least 2 weeks, if a dry spoon is used, without any moisture entering the jar.