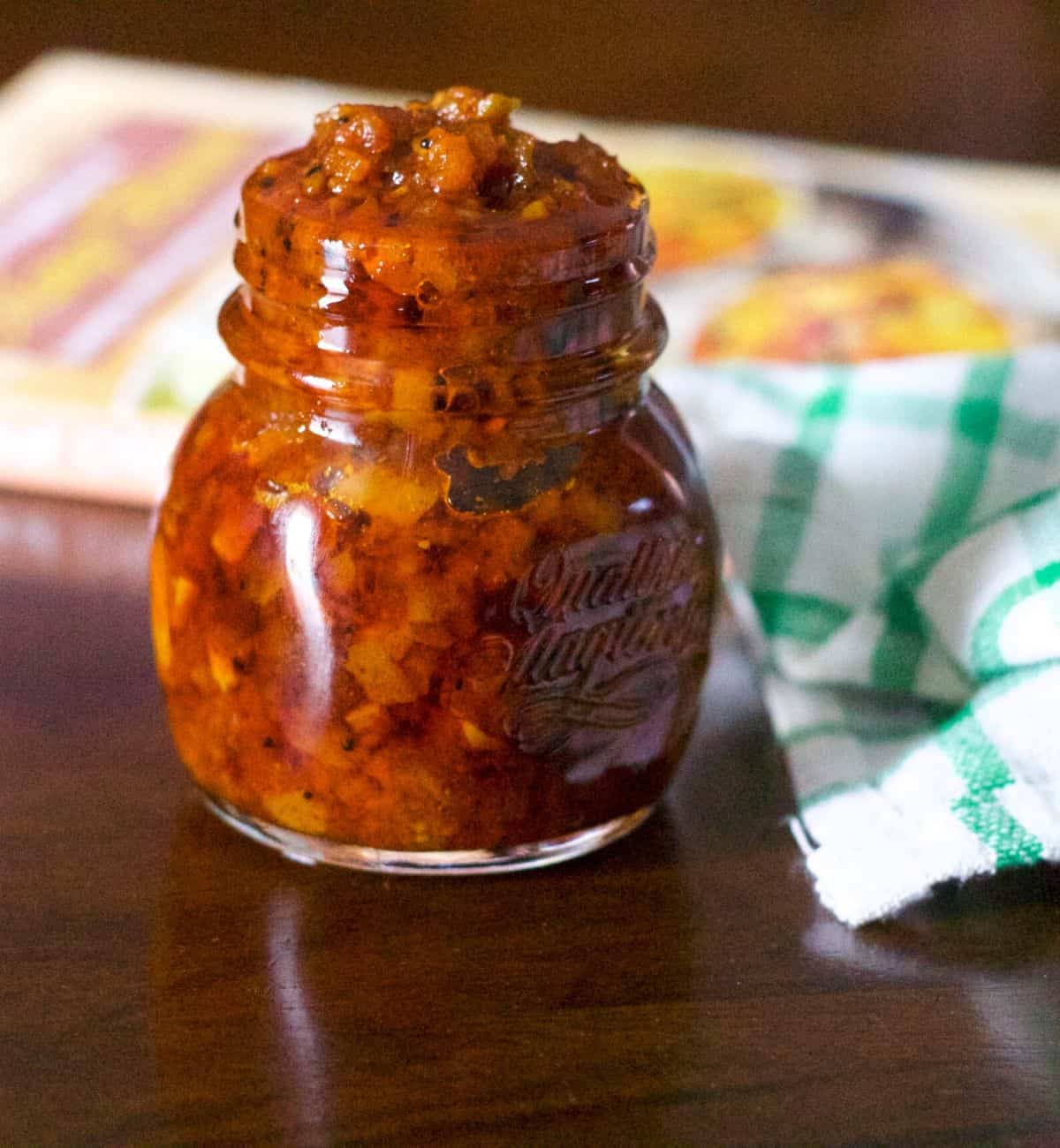 This recipe is, like most of the traditional Tamil Iyer cuisine recipes on my blog, my mother's. Quick and easy, it is versatile and apart from being a traditional accompaniment to curd rice, it can be used as a spread on chappati, sandwiches, quesadilla, tortilla and the like. Mango Thokku spread Quesadilla with sautéed corn and tomatoes - you've got to try it!
Making Mango Relish
I make another version of raw mango thokku, where the mango is grated. In this recipe however, I have peeled and then cut the mango into small pieces (easier than grating, don't you think?).
The mango should be cooked really soft, and if the slices are small, will look smashed when done.
The recipe has red chili powder of 1.5 tablespoons for 2 cups of mango. However, you could increase the quantity for a spicier effect.
Using good quality fresh fenugreek seeds, turmeric and chili powder, will give the best flavours.
For this authentic recipe from Tamil cuisine, the oil used is til oil/ sesame oil, called 'nalla ennai' in Tamil. This is the standard oil used for pickles and relish in this cuisine. Alternatively use a mild oil like a sunflower oil. It will be tasty but of course the flavour would not be the same as when you use til oil.
Try this simple and delicious raw mango thokku this summer, when the raw mango season is on!
For more Raw Mango recipes on this blog:
Raw Mango Neem Flowers Pachadi for Tamil New Year's Day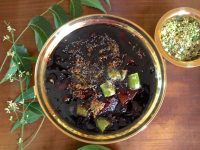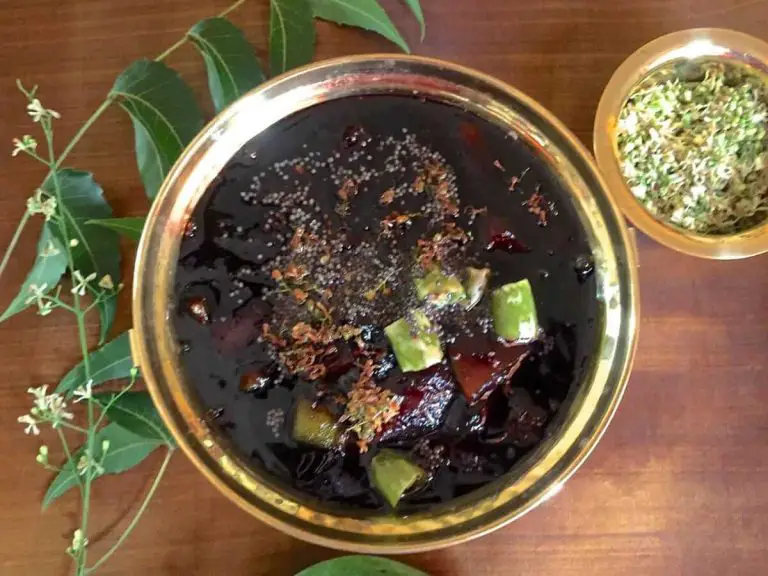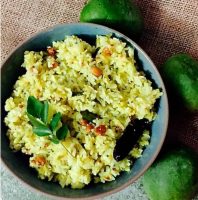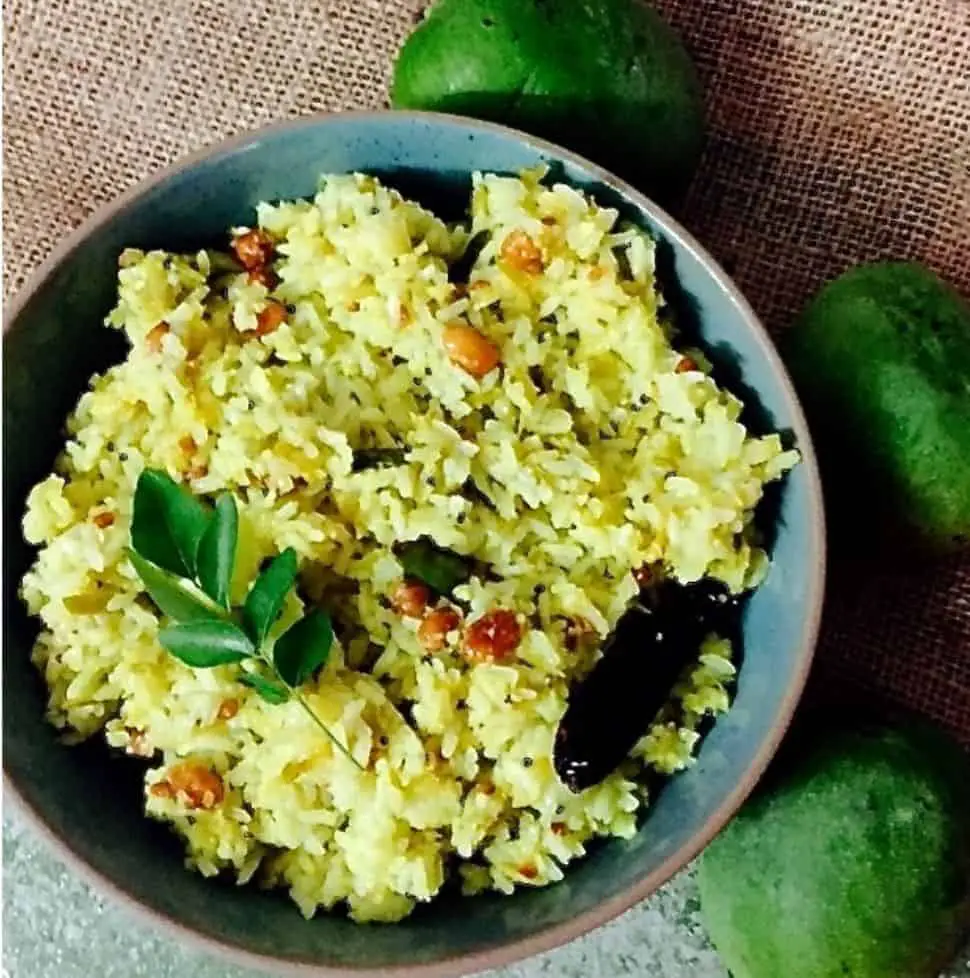 Bharwa Karela / Bitter Gourd with Raw Mango filling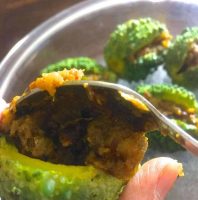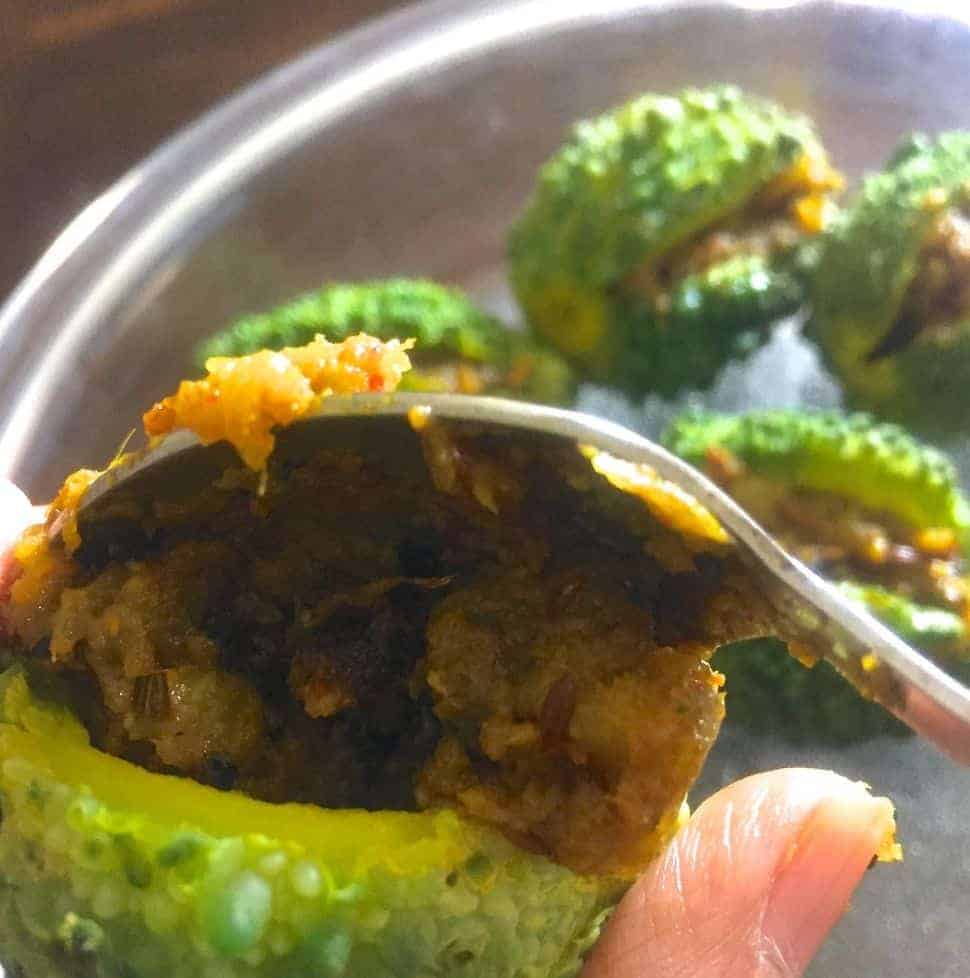 "Recipe"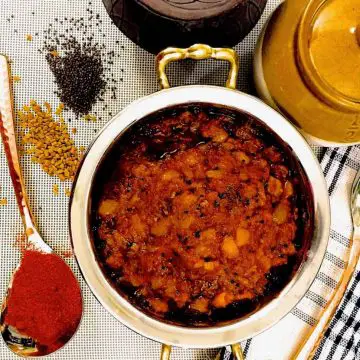 Raw Mango Thokku - Easy Mango Relish from Tamil Cuisine
Fresh raw green Mango cut into tiny slices, cooked in sesame oil tempered with mustard seeds, roasted fenugreek powder and turmeric. Delicious as a spread on sandwiches or quesadilla or wraps, traditionally accompanies curd rice.
Ingredients  
2

cups

Raw Mango

Peeled, sliced small

½

teaspoon

Fenugreek seeds

Methi/ menthiyam seeds

½

cup

Sesame oil

/til oil/ nalla ennai

½

teaspoon

Mustard seeds

¼

teaspoon

Turmeric powder

1

tablespoon

Salt

1 ½

tablespoons

Red chili powder

powder

½

teaspoon

Asafoetida

(hing)
Instructions 
Wash, Peel and Slice the mango into thin, small pieces, to make up about 2 cups.

Dry roast the mendiyam/ methi/ fenugreek seeds for 10 seconds or just till they darken in colour, stirring so that they don't burn/ char.

Remove from the stove and transfer immediately to a bowl or to the processor, so that it stops roasting.

Powder the roasted methi seeds and set aside till required. If using a processor to powder the seeds, wait till they cool.

Heat the oil in a frying pan / kadai, add the mustard seeds. Keep the stove on low flame.

When the mustard has sputtered and burst, add the mango pieces. Add the turmeric. Stir well.

Sauté till the mango is soft and cooked (about 10 -15 minutes on a low flame), stirring frequently to ensure the mango doesn't catch at the bottom of the pan.

Check that the mango has cooked (remove a piece and smash with a spoon. If it crushes easily, it is done).

Add salt to taste, stir well. Add the red chili powder, stir again. Add the hing (asafoetida) powder and the powdered methi (fenugreek). Stir.

Saute on low flame for 5 minutes till the raw taste of the chili has gone.

Turn off the stove. Transfer the finished Mango thokku to a suitable container.

Store, covered, in the fridge. It normally keeps for at least 2 weeks, if a dry spoon is used, without any moisture entering the jar. Have it the Tamil way, with curd rice. Tastes great with chapati, or as a spread for sandwiches, quesadilla and wraps.