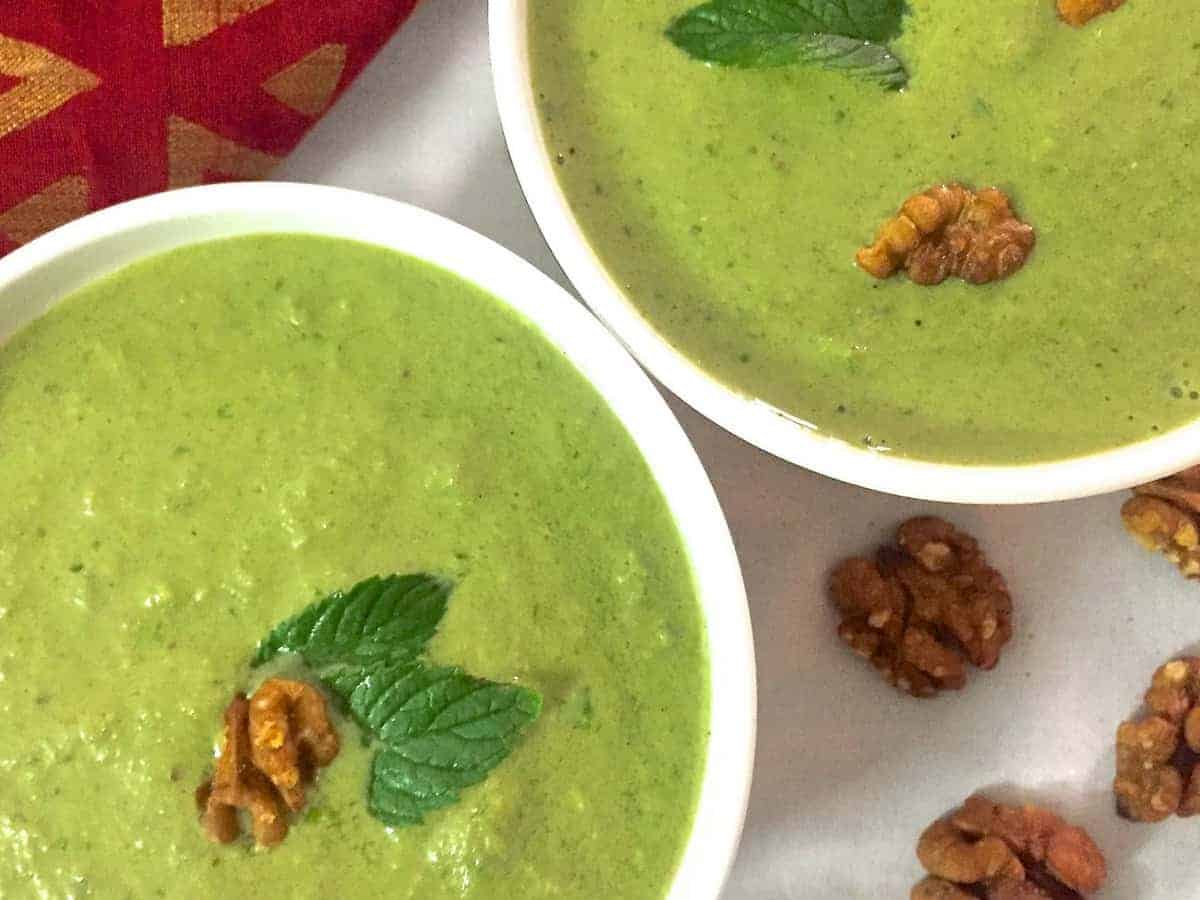 Print Recipe
Cucumber Gazpacho with Spinach and Walnuts
Refreshing Summer Cucumber Spinach Walnut Chilled Green Gazpacho from Yotam Ottolenghi's Green Gazpacho Recipe in the Plenty cookbook. Delicious Health in a Bowl!
For the Soup:
2

Green capsicums

small

2

celery

stalks with leaves

4

cucumbers

small , peeled

4

cups

spinach

Baby

3/4

cup

basil

leaves

2

bread

slices , crusts removed

1

cup

Walnuts

of shelled , toasted

2

tbsps

parsley

chopped

3

tbsps

white wine vinegar

1

cup

olive oil

2

tbsps

yogurt

fresh

1/4

inch

green chili

piece of

3

cloves

garlic

1

tsp

brown sugar

1 1/2

cups

water

cold

to taste

salt

to taste

white pepper

2

cups

ice

cubes
For the croutons:
2

bread

thick slices of

3

tbsps

olive oil

to taste

salt
Preheat the oven to 190 C (375 F).

Dice the bread into 3/4" sized cubes. Rub with the oil and some salt to taste.

Spread the cubes on a baking sheet and bake for 10 minutes or till they turn crisp and golden.

Allow to cool and store in an airtight container till the soup is ready to be served.
To make the Gazpacho:
Peel the cucumbers, deseed the capsicum, peel the garlic and toast the walnuts lightly on a pan on low heat. Reserve a few pieces of walnuts and 1 tablespoon of olive oil, for the garnish.

Remove the crusts from the bread for the soup. The original recipe calls for stale bread, and I have used bread that was about 4 days old.

Dice all the vegetables to make them easier to blend.

Add all the ingredients except for the water, salt, pepper and the ice cubes, into the blender and puree the soup.

Crush about half the the ice cubes and add. Reserve the balance ice cubes.

Add water in small quantities during the blending, till the required consistency is achieved. I like to retain a few small chunks of walnuts and peppers in the soup, but you could make it totally smooth if you wish.

Add salt and pepper, puree again, check for taste and adjust the seasoning.

Add the remaining ice cubes, crushed, and blend again briefly.

Serve cold, with the croutons and with a drizzle of olive oil on top.

If not serving immediately, keep the soup to chill in the fridge and crush and add the reserved ice shortly before serving.