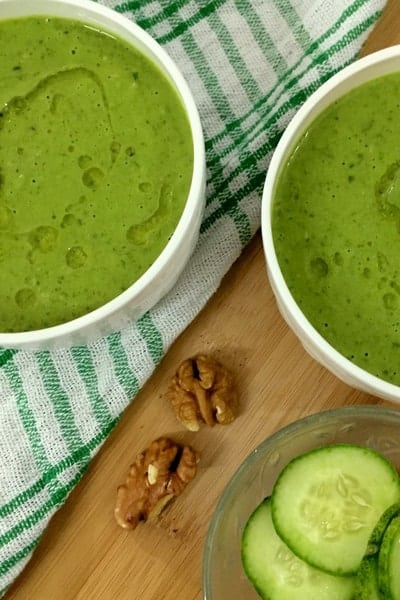 History and Origin of Gazpacho:
There are any number of gazpachos doing the rounds on Pinterest and on Food sites, ranging from deep fuchsia and purple toned beetroot soups to pale yellow sweet corn soups and brilliant watermelon or tomato gazpachos and of course this pale green cucumber gazpacho. Said to originate in Andalusia in Southern Spain, where it started off as this lovely cold soup made of blended raw vegetables and sometimes fruit, it has found its way all over the world in a variety of flavours and aromas.
Clifford Wright, an  expert on Mediterranean cuisines and cultures, explains that "José Briz, who wrote a book on gazpacho, also suggests that the word derives from the Hebrew gazaz, meaning to break into pieces, referring to the bread base. Gazpacho was traditionally eaten by workers in the fields, whether they were vineyards, olive plantations, citrus groves, wheat fields or cork farms. Originally gazpacho was nothing but bread, water, and olive oil, all pounded in a large wooden bowl called a dornillo. It was poor people's food."
Though the actual origin of this soup is not completely established, the popular version is that during the Middle Ages, when Spain was part of the Ottoman Empire and influenced by Moorish customs, there was a similar cold soup, the ajo blanco, which is popular even today. This soup was made of garlic, almonds, bread, olive oil, vinegar and salt. Spanish-food.org suggests that the earliest reference of the Gazpacho is from the beginning of the 15th century, however it was is rather different from the gazpachos popular today. As tomatoes and peppers are said to have been brought to Europe from South America and that too only in the 16th Century, the original gazpachos are said to have been made with bread soaked in oil, garlic and vinegar and with vegetables and almonds.
Gazpachos are easy to make, as in this no cook Cucumber Spinach Walnut Chilled Green Gazpacho where the oven is used only to toast the walnuts and the bread cubes for the croutons, if you are making them. Dice and then Blend all the ingredients as in the recipe below, and you have a Bowlful of Health in just a few minutes. Great for lunch on a warm day, with slices of your favourite bread.
Other Delicious Gazpacho From This Blog
Ajo Blanco:  Chilled White Grape and Almond Gazpacho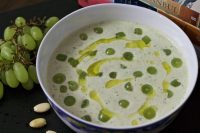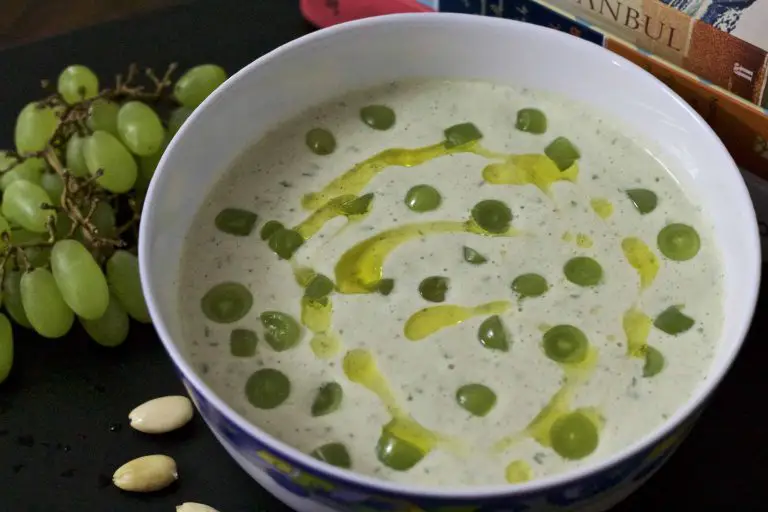 Chilled Pink Watermelon Gazpacho with Homemade Basil Oil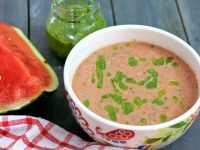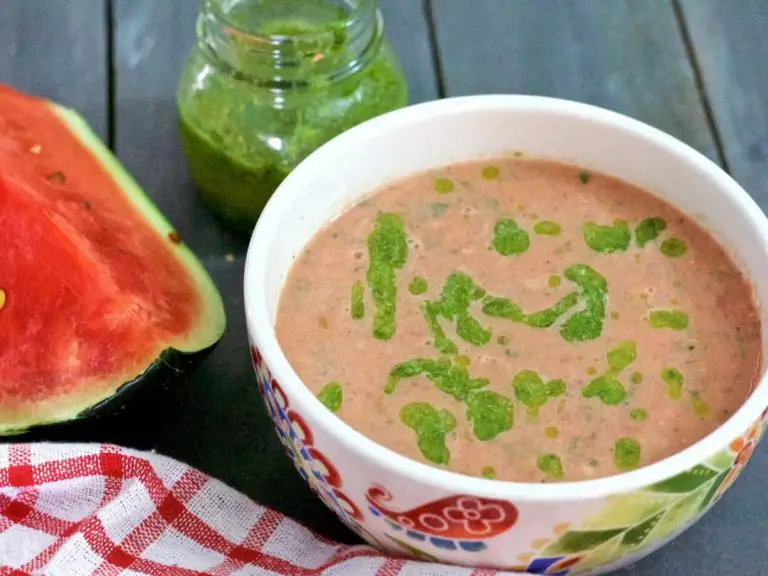 Health and Nutrition in Cucumber Spinach Walnut Chilled Green Gazpacho
Raw Cucumber: Low in Saturated fat, cholesterol and sodium, cucumber adds to dietary fibre and It is also a good source of Vitamin A, Pantothenic Acid, Magnesium, Phosphorus and Manganese, and a very good source of Vitamin C, Vitamin K, Molybdenum and Potassium. Cucumbers are now considered to contain three lignans backed by research in connection with reduced risk of cardiovascular disease as well as several cancer types, including breast, uterine, ovarian, and prostate cancers. Preliminary levels of research suggest that cucumbers have anti oxidant and anti inflammatory properties.
However the calories derived from this vegetable, is largely from sugars.
Raw Spinach: Low in calories, cholesterol and fats, spinach leaves are rich in soluble dietary fibre and in phyto-nutrients, iron, Vitamins A, B-complex, C and K, anti oxidants including beta-carotene. The zea-xanthin, a dietary carotenoid contained in spinach, is said to be absorbed into the retinal macula lutea of the eye where it is thought to give protection to age-related macular disease of the eye. The Vitamins and flavonoids are said to help against cancers of the lung and oral cavity. Vitamin K is important for strengthening bone mass and protecting against osteoporosis, as well as is believed to reduce neuronal damage in the brain in patient suffering from Alzheimer's disease. Spinach is a good source of omega-3 fatty acids and hence is possibly the best natural source of omega-3 fatty acids for vegetarians as it is otherwise found mostly in fish oils. Spinach contains minerals such as potassium, manganese, magnesium, copper and zinc, and is therefore not advised for persons requiring a low potassium diet.
In consuming raw vegetables, the sourcing of the vegetables is very important to prevent gastro-intestinal disorders. I buy my veggies from First Ago Farms, which deliver zero pesticide vegetables directly to my home at Bangalore. Washing vegetables in safe and potable water is another precaution I take before I use them in recipes, specially where the greens and vegetables are raw as in the Cucumber Spinach Walnut Chilled Green Gazpacho.
Walnuts: These tree nuts are credited with several health benefiting properties. Cholesterol free, with low sodium and a rich source of protein, vitamins, omega 3 fatty acids, and with trace minerals, lecithin and oils. Walnuts are unique as compared to other nuts as the fats in them are primarily polyunsaturated fatty acids; walnuts and are the only nuts with a significant amount of alpha-linolenic acid.
The omega-3 fatty acids, antioxidants, and phyto-sterols are said to have cancer fighting properties to reduce the risk of prostate cancer and breast cancer as well.
The combinations of spinach, vegetables, herbs and nuts in the Cucumber Spinach Walnut Chilled Green Gazpacho is just good health in a bowl! Refreshing and Delicious!
SaveSave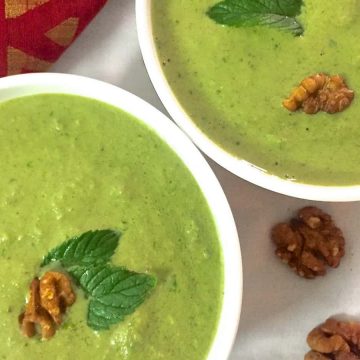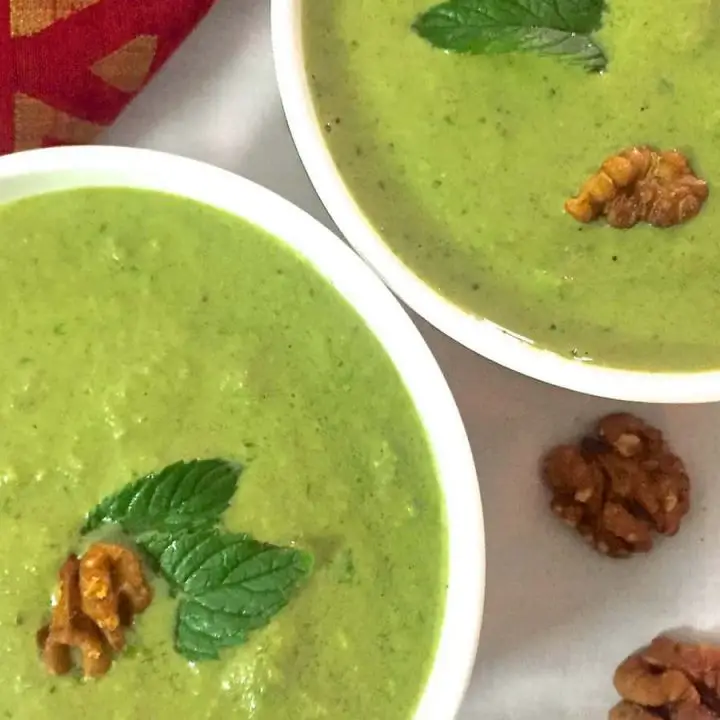 Cucumber Gazpacho with Spinach and Walnuts
Refreshing Summer Cucumber Spinach Walnut Chilled Green Gazpacho from Yotam Ottolenghi's Green Gazpacho Recipe in the Plenty cookbook. Delicious Health in a Bowl!
Ingredients  
For the Soup:
2

Green capsicums

small

2

celery

stalks with leaves

4

cucumbers

small , peeled

4

cups

spinach

Baby

¾

cup

basil

leaves

2

bread

slices , crusts removed

1

cup

Walnuts

of shelled , toasted

2

tbsps

parsley

chopped

3

tbsps

white wine vinegar

1

cup

olive oil

2

tbsps

yogurt

fresh

¼

inch

green chili

piece of

3

cloves

garlic

1

teaspoon

brown sugar

1 ½

cups

water

cold

to taste

salt

to taste

white pepper

2

cups

ice

cubes
For the croutons:
2

bread

thick slices of

3

tbsps

olive oil

to taste

salt
Instructions 
Preheat the oven to 190 C (375 F).

Dice the bread into ¾" sized cubes. Rub with the oil and some salt to taste.

Spread the cubes on a baking sheet and bake for 10 minutes or till they turn crisp and golden.

Allow to cool and store in an airtight container till the soup is ready to be served.
To make the Gazpacho:
Peel the cucumbers, deseed the capsicum, peel the garlic and toast the walnuts lightly on a pan on low heat. Reserve a few pieces of walnuts and 1 tablespoon of olive oil, for the garnish.

Remove the crusts from the bread for the soup. The original recipe calls for stale bread, and I have used bread that was about 4 days old.

Dice all the vegetables to make them easier to blend.

Add all the ingredients except for the water, salt, pepper and the ice cubes, into the blender and puree the soup.

Crush about half the the ice cubes and add. Reserve the balance ice cubes.

Add water in small quantities during the blending, till the required consistency is achieved. I like to retain a few small chunks of walnuts and peppers in the soup, but you could make it totally smooth if you wish.

Add salt and pepper, puree again, check for taste and adjust the seasoning.

Add the remaining ice cubes, crushed, and blend again briefly.

Serve cold, with the croutons and with a drizzle of olive oil on top.

If not serving immediately, keep the soup to chill in the fridge and crush and add the reserved ice shortly before serving.