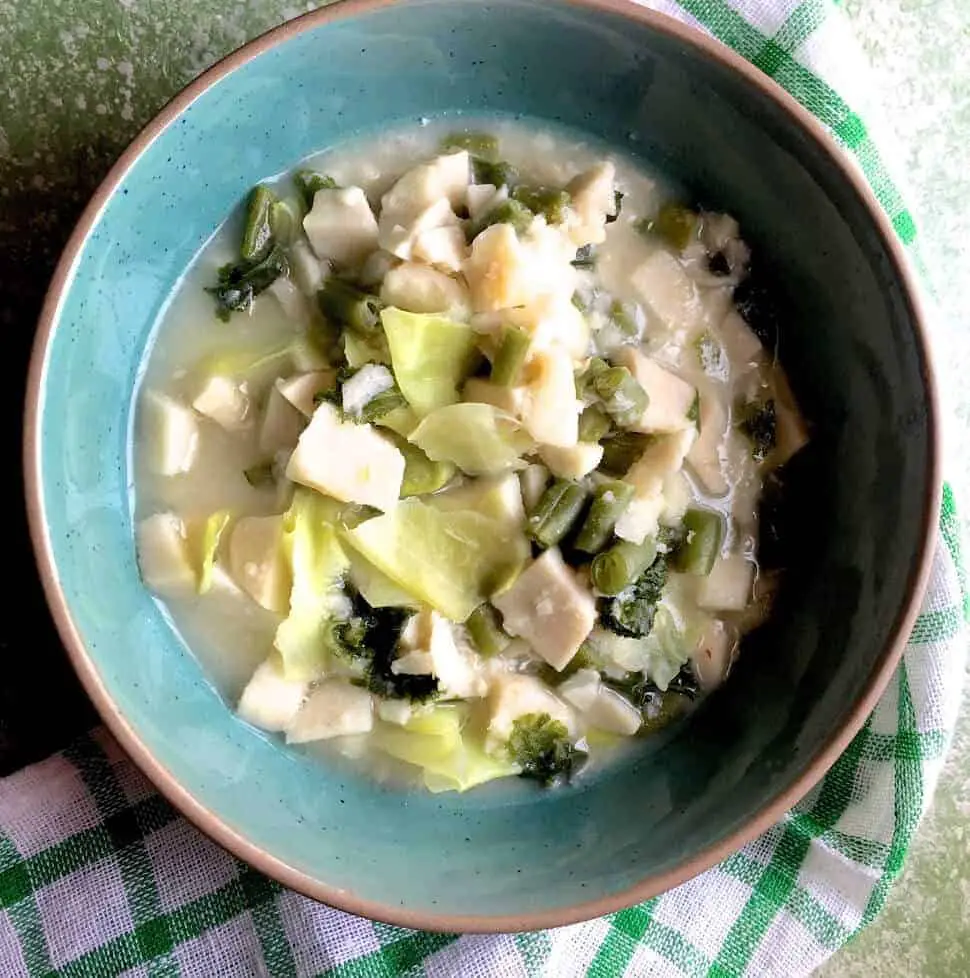 Print Recipe
Naga Hinkejvu Colocasia Curry/ Arbi Beans Subzi
Naga Hinkejvu Colocasia Curry. Arbi/ colocasia root boiled with mustard greens, cabbage and beans. Simple easy 5 ingredient side from Nagaland. No oil, no spice, gluten free, vegan. Fresh and delicious with a spicy curry and rice.
3

cups

colocasia root/ arbi/ sepankazhangu

Raw (peeled and sliced)- about 500 gms

3

cups

water

1.5

cups

cabbage leaves

shredded into bit sized pieces

1.5

cups

mustard leaves

shreeded into bite sized pieces (I used salad greens as I did not have mustard greens)

1/2

cup

green beans

sliced

1

teaspoon

salt

or to taste
Wash and peel the colocasia roots. Slice into about 1 cm sized chunks. The colocasia could be slippery, so be careful the knife doesn't slip while slicing. Wash the cabbage leaves and the mustard greens and dry them gently with a kitchen towel. Wash, dry and slice the green beans into 2 cm lengths.

Place the water in a pan and bring to boil on high heat. Add colocasia slices and again bring to a boil on high heat. Reduce the heat, cover and cook the colocasia for about 10 minutes, till it turns soft. I kept the lid of the pan half open so that the water would not boil over the edge. To check if the vegetable is soft, lift one piece out and try to smash it with the back of a spoon. If it gets mashed, it is soft enough.

Add the shredded cabbage and greens, stir them in and cook for about 5 minutes. Add salt (add a little, taste and add a little more if required). Continue to cook for 5-8 minutes, stirring and mashing the colocasia at the sides of the pan with a spoon. Hold the pan steady with one hand while doing this, so that it does not tilt/fall.

When the liquid in the pan turns a milky color and reduces and thickens, turn off the stove and transfer the Hinkejvu to a serving dish. Hinkejvu is an accompaniment, in Nagaland, to one or more of their spicy meat curries, chili sauces, and rice. It makes a great side dish to a spicy South Indian kara kozhambu too, which is how I had it.