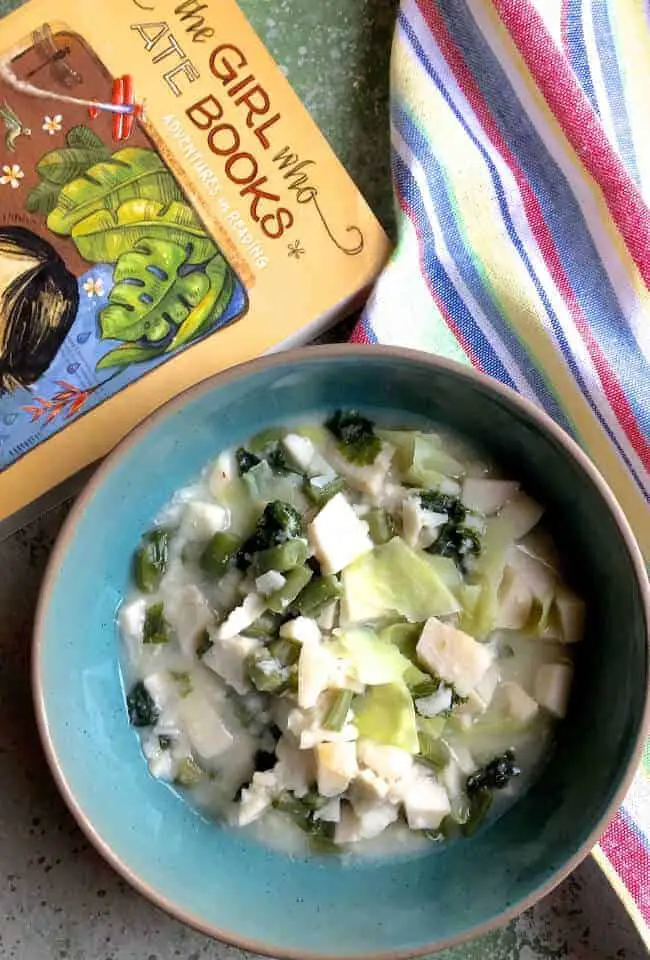 Making Naga Arbi Beans Greens Sabji
Naga Hinkejvu is easy to make. Mustard leaves are an important ingredient, however as it is not the season for them, I used fresh salad greens from my garden. This would of course make a difference to the flavours, and I must remedy it later this year when I am able to get mustard leaves and re-make the curry with its authentic ingredients.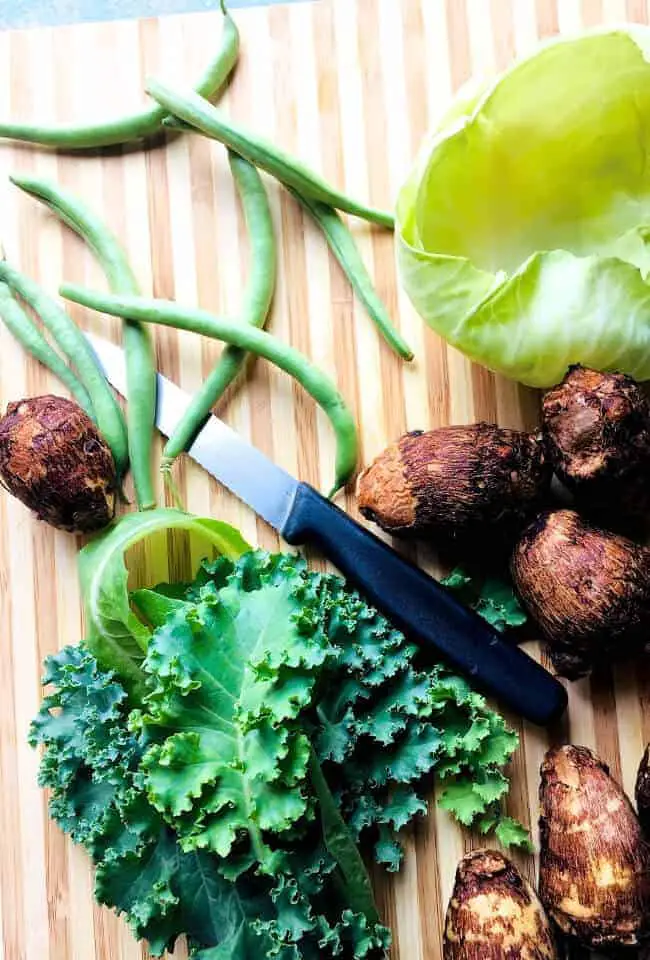 I have otherwise stuck faithfully to the recipe for Hinkejvu as given in The Essential North-East Cookbook, by Hoihnu Hauzel.  I was tempted to pressure cook the colocasia/arbi roots, but finally i followed the instructions in the recipe and let them boil in a pan on the stove. I'm glad I did this even though it took more time, because pressure cooking could have made the arbi too soft and detracted from the textures of the dish. Besides, the final part of the process requires that the arbi pieces be smashed as they cook, and this would not have been feasible in the pressure cooker. The mashed pieces gave the water in the pan a cloudy look and helped to thicken the curry.
Preparing the Colocasia Root was a little tricky. Normally I pressure cook and peel and slice the roots. As directed by the recipe, I washed and peeled the arbi with a potato peeler. While slicing the raw, peeled roots however, I had to take care as they were slippery and the sharp knife I used tended to slip as I sliced them into small chunks. And remnants of the brown peel seemed to reach out everywhere and I had to wash the slices before cooking. Not difficult, but just needed some extra care.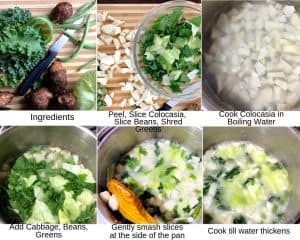 Reading about Nagaland's cuisine, I learnt that boiled vegetables are integral to the food. With every meal, comprising rice and at least one meat dish, maybe a pork curry, several different boiled vegetables would be served. Most of them boiled without any seasoning of pepper or chili, these vegetables usually comprised beans, cabbage or melon/squash and mustard and other greens. A variety of chutneys including of bitter gourd/ karela, different chili based sauces complete the meal. The spicy dishes are perfectly balanced by the spice-less vegetables.
Reading up about Nagaland and its cuisine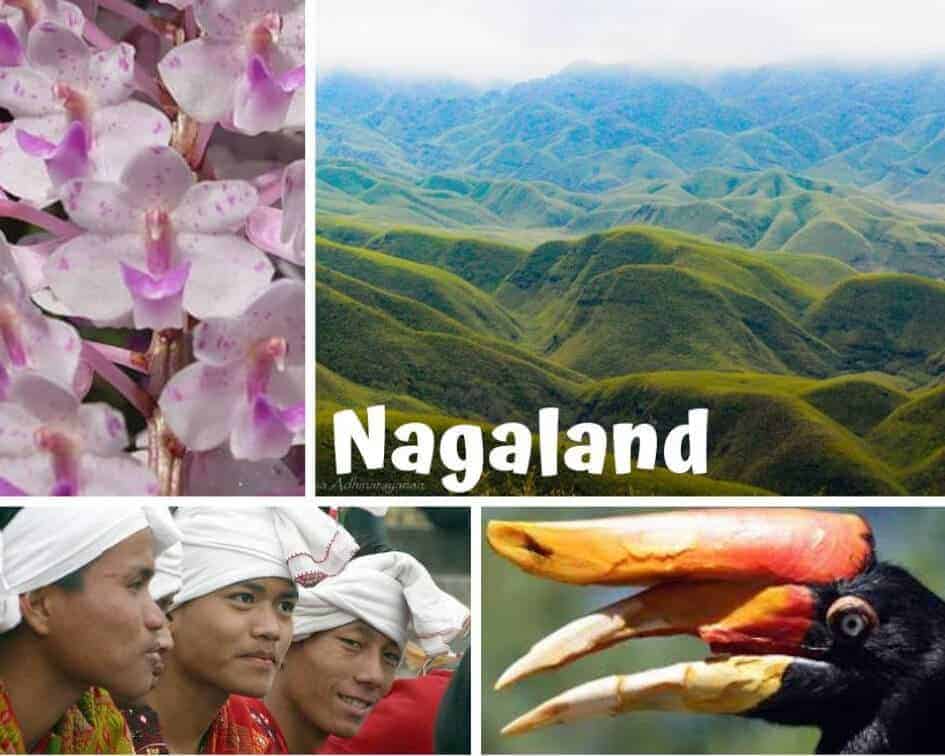 An interesting site I came upon and have spent some time browsing, is Roots and Leisure, showcasing the North East. Fascinating articles on Nagaland's culture, music, art, fashion and of course food. There are many stories and images on the site, contributed by different people, and this site is a 'must read' for those who want to know more about this region.
Another reference which gave me more insight into this Indian State about which I knew very little, was the book 'The Flavours of Nationalism' by Human Rights Activist and Lawyer, Nandita Haksar. Anecdotes on food and cooking (and some recipes too!) intersperse her memoirs of her journey through politics, activism and nationalism both in India and beyond.
The Shhhh Cooking Secretly Challenge FB group has Nagaland as the theme for this month, April 2019. I have the pleasure of being partnered with Rafeeda A R for this theme. We commiserated with each other about the difficulties of tackling an unknown (to us) cuisine and sourcing both authentic recipes and ingredients.As is required by the Group, Rafeeda gave me a secret ingredients, Arbi (colocasia) and cabbage which I have used in this easy recipe for a Naga Hinkejvu Colocasia Curry. When I posted the image of this dish on our FB group, the cabbage was guessed rather quickly, by Aruna Saras Chandra. The arbi however has not been guessed by any of the members!
Rafeeda blogs at The Big Sweet Tooth.  Do visit her blog and browse through the many recipes, specially the Emirati and Kerala ones. As her partner for the Nagaland cuisine theme, I suggested ginger and chili as her secret ingredients and she used them to make this tasty looking, no-oil Spicy Ginger Chicken!

Sent to the event Shhh Cooking Secretly Challenge for the Theme Nagaland: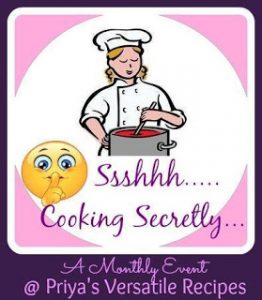 Other Recipes you may like to try on this blog:
Assamese Aloo Pitika: Mashed Potatoes in mustard oil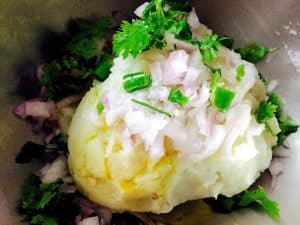 Arbi ki Kadhi from Chattisgarh. Colocasia root cooked in a yogurt, gram flour, turmeric mixture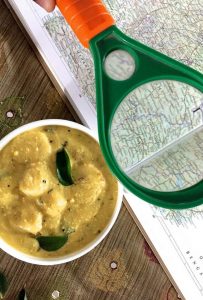 Classic Hummus - No fuss Hummus made from Scratch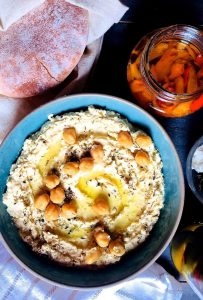 "Recipe"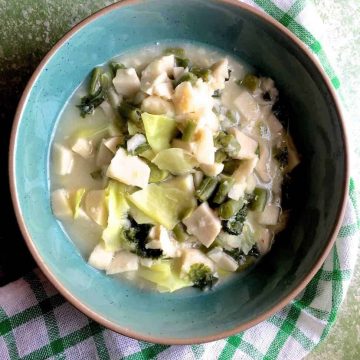 Naga Hinkejvu Colocasia Curry/ Arbi Beans Subzi
Naga Hinkejvu Colocasia Curry. Arbi/ colocasia root boiled with mustard greens, cabbage and beans. Simple easy 5 ingredient side from Nagaland. No oil, no spice, gluten free, vegan. Fresh and delicious with a spicy curry and rice.
Ingredients  
3

cups

colocasia root/ arbi/ sepankazhangu

Raw (peeled and sliced)- about 500 gms

3

cups

water

1.5

cups

cabbage leaves

shredded into bit sized pieces

1.5

cups

mustard leaves

shreeded into bite sized pieces (I used salad greens as I did not have mustard greens)

½

cup

green beans

sliced

1

teaspoon

salt

or to taste
Instructions 
Wash and peel the colocasia roots. Slice into about 1 cm sized chunks. The colocasia could be slippery, so be careful the knife doesn't slip while slicing. Wash the cabbage leaves and the mustard greens and dry them gently with a kitchen towel. Wash, dry and slice the green beans into 2 cm lengths.

Place the water in a pan and bring to boil on high heat. Add colocasia slices and again bring to a boil on high heat. Reduce the heat, cover and cook the colocasia for about 10 minutes, till it turns soft. I kept the lid of the pan half open so that the water would not boil over the edge. To check if the vegetable is soft, lift one piece out and try to smash it with the back of a spoon. If it gets mashed, it is soft enough.

Add the shredded cabbage and greens, stir them in and cook for about 5 minutes. Add salt (add a little, taste and add a little more if required). Continue to cook for 5-8 minutes, stirring and mashing the colocasia at the sides of the pan with a spoon. Hold the pan steady with one hand while doing this, so that it does not tilt/fall.

When the liquid in the pan turns a milky color and reduces and thickens, turn off the stove and transfer the Hinkejvu to a serving dish. Hinkejvu is an accompaniment, in Nagaland, to one or more of their spicy meat curries, chili sauces, and rice. It makes a great side dish to a spicy South Indian kara kozhambu too, which is how I had it.