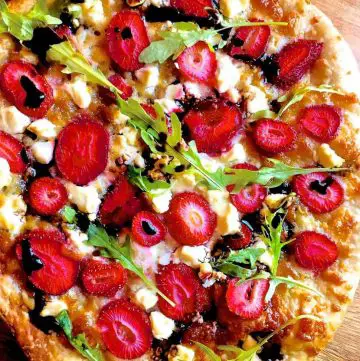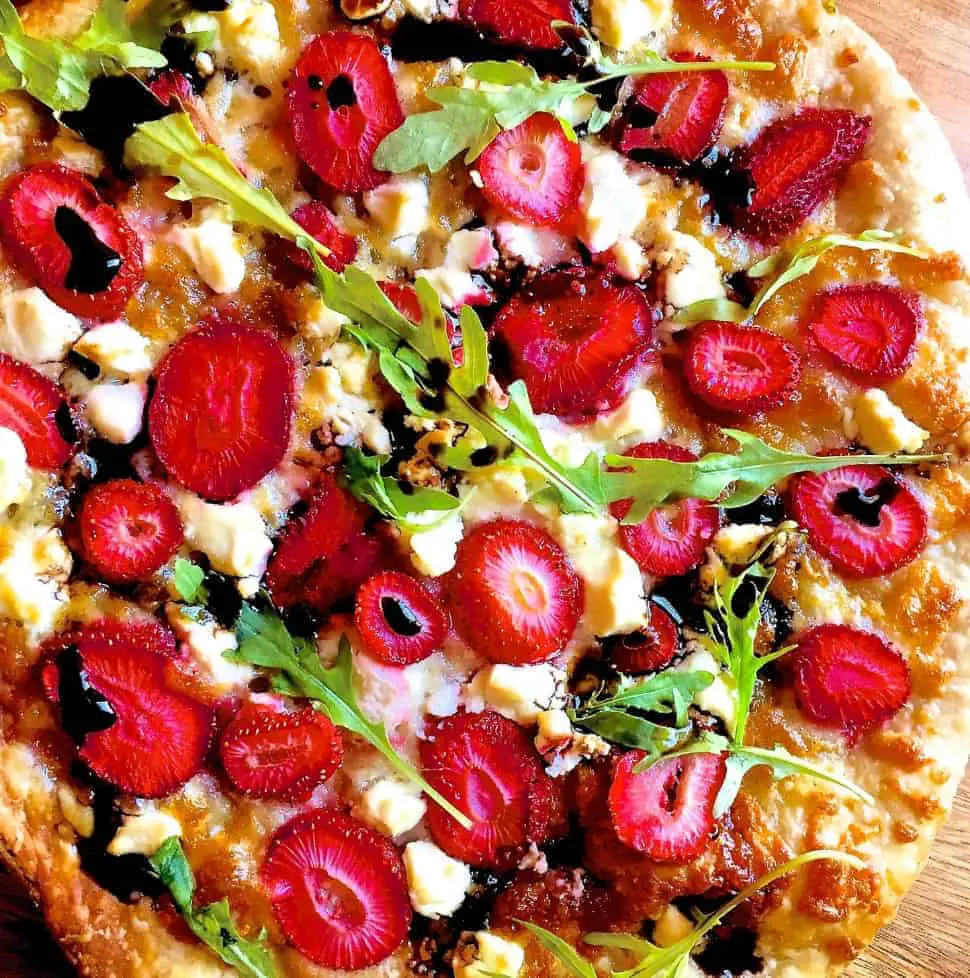 Print Recipe
Thin Crust Strawberry Goat Cheese Pizza & Balsamic
Delicious Strawberry Goat Cheese Pizza for Two! Slices of fresh strawberry baked with fresh mozzarella and goat cheese on a thin crust homemade base. Rocket leaves or basil and a Balsamic Reduction give the final finish after baking
For the Balsamic Reduction
1/2

cup

balsamic vinegar

2

tablespoons

honey
For the Strawberry Pizza
1

cup

Strawberry slices

1

portion

Basic Pizza Dough

for 1 pizza (Refer recipe link in post above)

1

cup

Mozzarella Cheese- shredded

Or sufficient to cover the pizza base except for a round margin of 1"

1/2

cup

goat cheese

A

few

basil leaves

shredded, about 5 leaves

1/2

teaspoon

ground black pepper

optional

1

tablespoon

Balsamic Reduction

to drizzle over the pizza once baked
To Make Balsamic Reduction
Add the honey to the balsamic vinegar in a small saucepan. Bring to a boil and immediately reduce the heat to low. Simmer the mixture on low, till it is reduced by half. This would take about 10 -12 minutes. Keep a watch after the first 5 minutes to make sure it is not reduced to more than half the original quantity. Transfer to a stainless steel or china bowl and keep aside. The balsamic reduction may be of very high temperature, so avoid plastic or glass bowls when transferring
To Bake Strawberry Goat Cheese Pizza
Preheat the oven to 200 C/ 400 F Place Pizza stone, if using, in the oven to heat Slice the strawberries, round or heart shaped as you prefer Shred mozzarella and goat cheese into bits

Pat the dough into a ball and place on clean work table, lightly floured. Roll the dough into 25cm/10" circle, stretching the edges before rolling, to get the required size. The pizza base should be about 1/4"/ 3mm thick, with slightly thicker edges. Use as little flour as possible while rolling

Place the rolled out dough on a lightly floured pizza peel or a baking sheet. Now spread a little olive oil (1/4 teaspoon) on the pizza base, and then the shredded mozzarella cheese Now place the slices of strawberry on the base, leaving a little space between each. Add the shredded goat cheese between slices

Place the baking sheet in the oven (or slide the pizza carefully from the peel to the hot pizza stone in the oven). Long elbow oven gloves would be useful! Check the pizza after about 10 minutes, though it may take upto 20 minutes depending on oven. Once the cheese is bubbling and the pizza begins to brown at the edges, take it out of the oven and set on a flat

Transfer the still hot pizza to a serving tray or plate. Arrange the shredded basil leaves on top and drizzle a little balsamic reduction across the pizza. Your Strawberry Goat Cheese Pizza is ready!