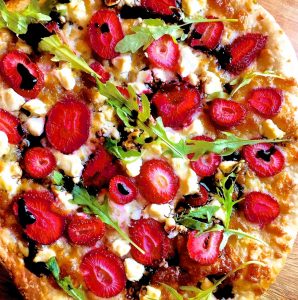 I know what you are going to say. Strawberry? On Pizza? The 'I don't want Pineapple on my Pizza' people will give me a stern look (or worse). All I can say is, just make this Strawberry Goat Cheese Pizza for yourself before you judge. It is not at all a sweet pizza. It is savoury and delicious. Just Try It! It will make happy memories for pizza with loved ones, just as it did for me.
We made some great pizzas that day, different toppings for each. Small rectangular or round ones, to fit into the OTG. My cooking range at Bangalore can accommodate large sized pizzas, as well as having a wide range of temperature settings. It was the first time I was working with an OTG, and that too with a max temperature setting lower than I normally have for pizzas. In hindsight, that is why the strawberry goat cheese pizza came out so well. Subsequently when I made it at Bangalore, the strawberries were cooked to a crisp, the cheese was discoloured.
After several attempts a bulb clicked on in my head (metaphorically speaking, of course). In Hyderabad, the max temperature of the OTG was about 210C, so to be safe, we baked pizza at 200C. In Bangalore I set the temp.  at 250 C. No wonder the strawberries had all their colour and juice baked out of them! Now I bake the strawberry goat cheese pizza at 180 C to 200 C max, and increase the bake time from 12 to 20 minutes. And I get perfect looking strawberry pizza, with the crust baked just right.
Mridula suggested the flavours for the pizza: a lovely Balsamic Vinegar and a little honey, to go with the fresh strawberries. We put the strawberry slices to soak in the balsamic-honey liquid, and then set them on the pizza with feta cheese and mozzarella. In this recipe however, I have made a balsamic reduction and only used it to dress the pizza after it is baked. I have also now made it with goat cheese.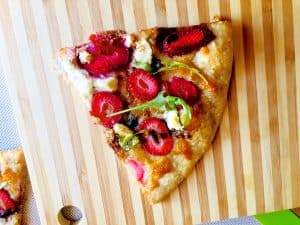 Feta cheese and mozzarella are as good options as goat cheese and mozzarella in this pizza. The balsamic reduction in this recipe will turn out to be more than you require for one pizza. Balsamic reduction can be stored in the fridge for several weeks and used as required.
The theme for the 182 Foodie Monday Blog Hop is "Down Memory Lane".  As the name suggests, we have to post the recipe for any dish that takes us back in time with any of our loved ones. Making this strawberry pizza for my grand daughters has been such a fun event. Whether here or in the USA with Lakshmi, the little ones watch eagerly and try to help. The sons in law say that the pizza is delicious! These evenings of baking pizzas with family, has given some lovely memories. And a great recipe too!
The theme for this week on Foodie Monday Blog Hop, was suggested by Swaty Malik, who blogs at Food Trails. Do check her site with its very tasty offerings, from recipes for fasting to feasting, and jams, breads, dals etc. It is a storehouse of delightful food.
For the pizza dough for the Strawberry Goat Cheese Pizza, I followed the recipe from the River Cottage Veg Cookbook, with some deviations though.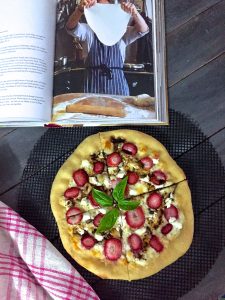 Click here for the link to my recipe for homemade pizza dough: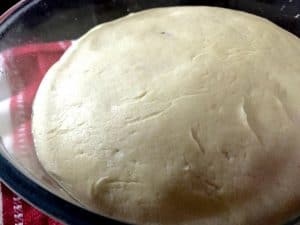 For more Recipes with Strawberries on this blog, click here:  Fresh Ripe Strawberries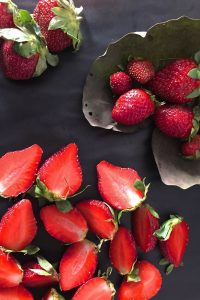 "Recipe"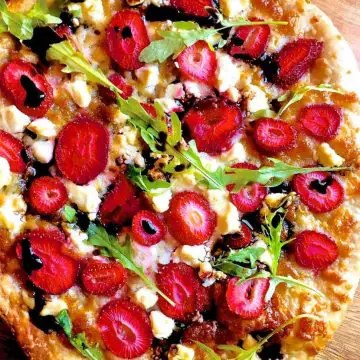 Thin Crust Strawberry Goat Cheese Pizza & Balsamic
Delicious Strawberry Goat Cheese Pizza for Two! Slices of fresh strawberry baked with fresh mozzarella and goat cheese on a thin crust homemade base. Rocket leaves or basil and a Balsamic Reduction give the final finish after baking
Ingredients  
For the Balsamic Reduction
½

cup

balsamic vinegar

2

tablespoons

honey
For the Strawberry Pizza
1

cup

Strawberry slices

1

portion

Basic Pizza Dough

for 1 pizza (Refer recipe link in post above)

1

cup

Mozzarella Cheese- shredded

Or sufficient to cover the pizza base except for a round margin of 1"

½

cup

goat cheese

A

few

basil leaves

shredded, about 5 leaves

½

teaspoon

ground black pepper

optional

1

tablespoon

Balsamic Reduction

to drizzle over the pizza once baked
Instructions 
To Make Balsamic Reduction
Add the honey to the balsamic vinegar in a small saucepan. Bring to a boil and immediately reduce the heat to low. Simmer the mixture on low, till it is reduced by half. This would take about 10 -12 minutes. Keep a watch after the first 5 minutes to make sure it is not reduced to more than half the original quantity. Transfer to a stainless steel or china bowl and keep aside. The balsamic reduction may be of very high temperature, so avoid plastic or glass bowls when transferring
To Bake Strawberry Goat Cheese Pizza
Preheat the oven to 200 C/ 400 F Place Pizza stone, if using, in the oven to heat Slice the strawberries, round or heart shaped as you prefer Shred mozzarella and goat cheese into bits

Pat the dough into a ball and place on clean work table, lightly floured. Roll the dough into 25cm/10" circle, stretching the edges before rolling, to get the required size. The pizza base should be about ¼"/ 3mm thick, with slightly thicker edges. Use as little flour as possible while rolling

Place the rolled out dough on a lightly floured pizza peel or a baking sheet. Now spread a little olive oil (¼ teaspoon) on the pizza base, and then the shredded mozzarella cheese Now place the slices of strawberry on the base, leaving a little space between each. Add the shredded goat cheese between slices

Place the baking sheet in the oven (or slide the pizza carefully from the peel to the hot pizza stone in the oven). Long elbow oven gloves would be useful! Check the pizza after about 10 minutes, though it may take upto 20 minutes depending on oven. Once the cheese is bubbling and the pizza begins to brown at the edges, take it out of the oven and set on a flat

Transfer the still hot pizza to a serving tray or plate. Arrange the shredded basil leaves on top and drizzle a little balsamic reduction across the pizza. Your Strawberry Goat Cheese Pizza is ready!