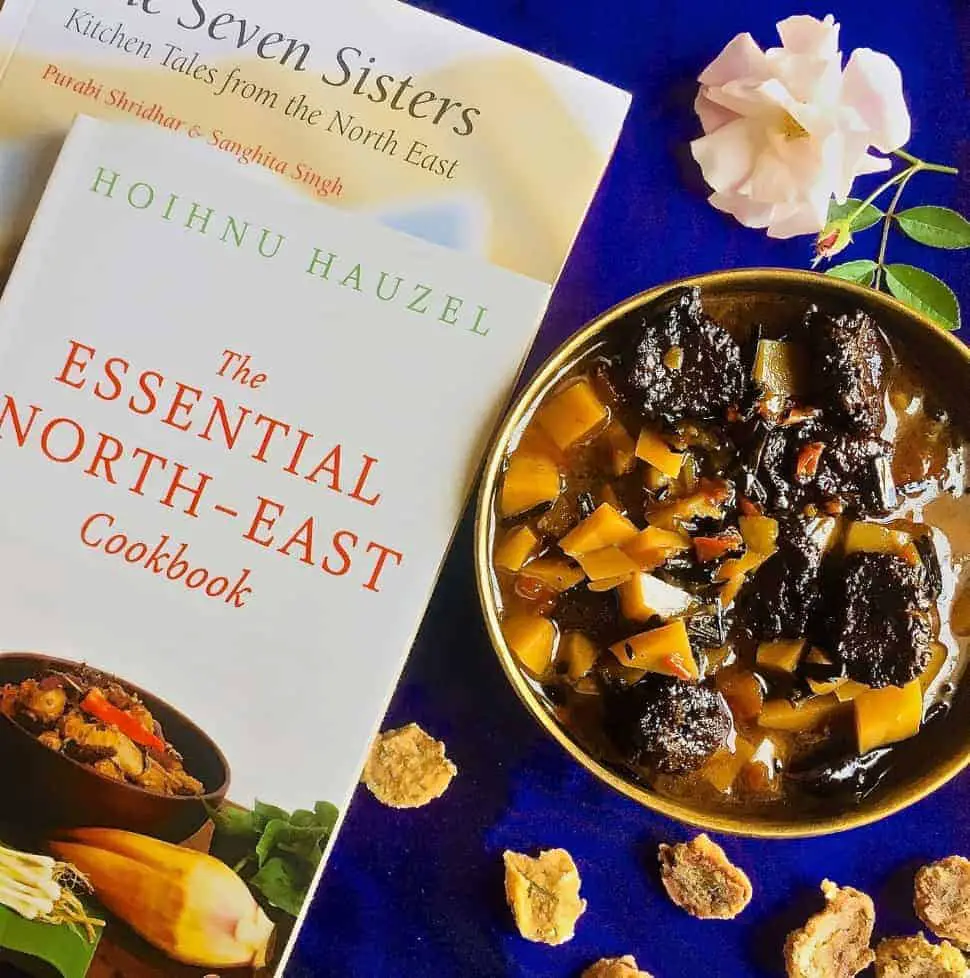 Print Recipe
Aloo Badi Manipuri/ Bori Thongba/ Potato Lentil Nuggets Curry
Bori Thongba or Manipuri Aloo Badi, a curry from locally available ingredients such as chives, potatoes and urad dal badi (sundried nuggets from soaked, ground black gram lentils) and heiribob or Manipuri citrus peel
For Frying the Badi
10

pieces

urad dal badi/ sundried black gram lentil nuggets

small badis. If large ones, break them up

1/4

cup

mustard oil

2

dried red chillies

whole chillies
For Aloo Badi
2

teaspoon

mustard oil

or the left over oil after frying badi above

1

pinch

asafoedtida powder

2

bay leaves

fresh, if available

1/4

teaspoon

Jeera Cumin seeds

2/3

cup

Chives

about 25 gms. I used spring onions instead

1

onion

about 50 gms. Sliced fine

1/4

teaspoon

ginger garlic paste

2/3

cup

tomato

about 100 gms or 2 medium tomato. Diced small

3

cups

potato

about 300 gms or 2 medium potatoes. Diced small

1/4

teaspoon

heiribob peel or Manipuri citrus peel

or else kaffir lime peel. I used lemon peel

1

teaspoon

garam masala

1/2

teaspoon

salt

or to taste
Preparation
Slice the onions fine/ small. Peel and dice the potatoes into small cubes, about 1 cm square. Keep them in a bowl of water till required, to stop discolouration. Dice the tomatoes into small cubes, about 1/2 cm square Slice the chives (or spring onions, if using) into 1" lengths Mince the heiribob citrus/lemon peel into small pieces
How to Fry the Badi
Heat a pan and add the mustard oil. Wait till it is hot (about 45 seconds) without letting it smoke. Add the badi, and fry on low heat till it is a light brown. About 2 minutes. Add the whole dried red chillies to the badi, fry them till they begin to turn black (turn them so that both sides are fried). About 45 seconds Strain the badi and chilli and set them aside in a dry bowl, till required.
How to Make Bori Thongba or Manipuri Aloo Badi
In the same pan, or after transferring the left over oil to a larger pan, start making the aloo badi. If there is very little oil in the pan, add another 2 teaspoons. Add the jeera and let it crackle. Add hing powder (asafoetida), the bay leaves and sliced chives. Keeping the heat low, saute till the chives begin to blacken. About 5 minutes as the chives may take some time to blacken.

Increase the heat and add onion slices. Saute till the onions darken to a golden brown. About 2 minutes. Add the ginger garlic paste, stir them in. Saute for about 30 seconds, till you get the aroma of the ginger and garlic. Add tomatoes, and still keeping the heat high, stir continuously for about 30 seconds, till the tomatoes blend with the rest of the gravy.

Now drain and add the potatoes, stirring so that they are coated in the masala. About 10 seconds. Add the fried badi and red chilli, along with any residual oil. Add the citrus peel, stir well. Add the garam masala and salt and again stir well.

Add 2-3 cups of water so that the surface of the curry is completely covered. Bring it to a boil and then reduce the heat, to keep the curry in a simmer for about 20 minutes. The badi/ nuggets should now be soft and spongy and the potatoes should be cooked. Remove to a serving bowl. Serve hot, with steamed rice.