Ssshhh Cooking Secretly Challenge
FB group visited the North Eastern State of Manipur, this January. Just a virtual visit though, as the actual one is yet to happen. I therefore made a careful perusal of the vegetarian options available from online recipes and my 2 precious North East cuisine cookbooks.  Finally, I zeroed down on a dish which incorporated the secret ingredients stipulated by my partner for the month, Vidya Narayan. The Manipuri Aloo Badi or Bori Thongba that resulted, was a real treat!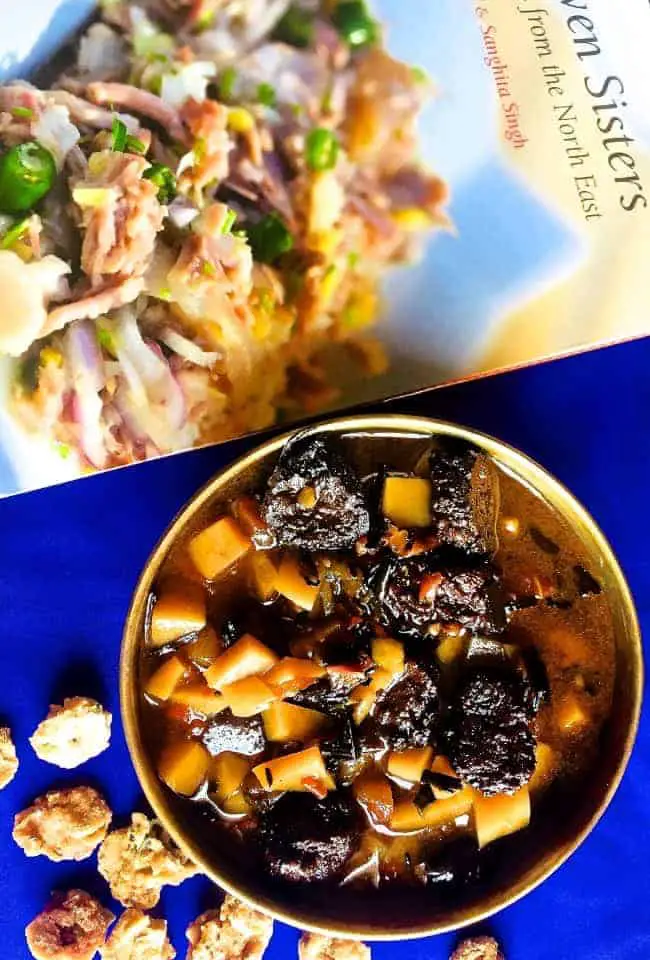 Manipuri Aloo Badi and Its Typical Ingredients:
Chives: This post should actually have been for Maroi Bori Thongba. Manipurians make the curry with maroi nakuppi or the chives used as a substitute for onion and garlic. Vidya first suggested chives as one of the secret ingredients, but after an extensive search in the gourmet stores and local veggie shops, I was not able to lay my hands on fresh chives. I had to therefore, request a change in secret ingredients.
The little Badi nugget is made from sundried ground lentils and spices. Commonly used across India, they are variously called bori, bari, wadi etc. They are available for online purchase, or in stores in Northern India. However you can make the urad dal badi at home from my easy recipe from my post, Bhojpuri Baingan Badi Sabzi
The recipe I have followed for the Bori Thongba, is from the cookbook, The Seven Sisters - Kitchen Tales from the North East, by Purabi Shridhar and Sanghita Singh. The book credits this Manipuri variant of the popular Aloo Badi, to Bidya Rani.
Out of necessity, I have taken some liberties with the recipe for Aloo Badi. I have substituted spring onions for chives, and plain lemon peel for heiribob or the peel of the Manipuri citrus, Khasi papeda. Nor could I find a more suitable substitute such as Kaffir lime. Other than these, I have stayed close to the original recipe in terms of ingredients and proportions.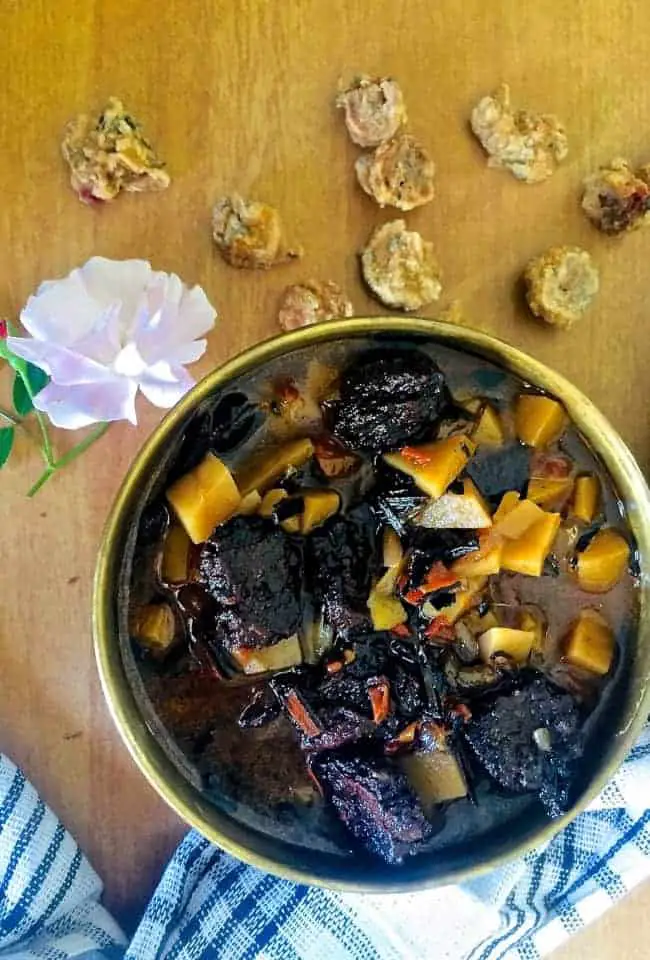 Variations to the Bori  Thongba
Traditionally,  Maroi Bori Thongba is prepared using a large quantity of chopped chives.  The ingredients vary from maroi and badi or maroi with peanuts, maroi potatoes and thangjing (makhana or lotus seed or foxnut) or even just maroi with thangjing, or maroi aloo badi. You may also make it from other combinations of these ingredients.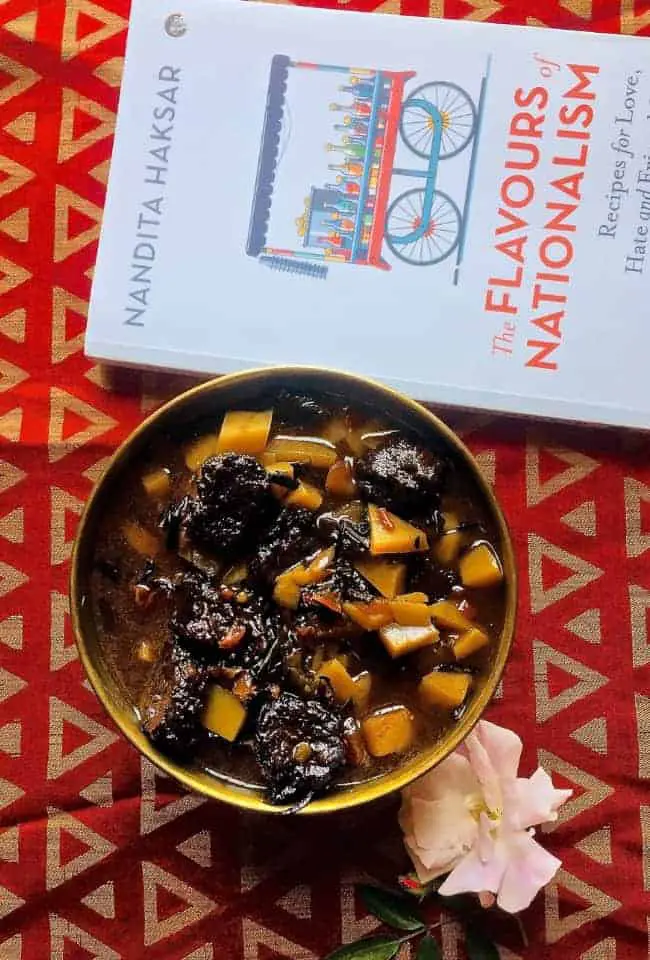 Ssshhh Cooking Secretly Challenge Group:
If you browse through my posts for the last year or two, you will know about this FB Group. Every month the admin partners each of us with another member. We exchange the names of two ingredients to fit the current theme, and cook using those ingredients. We post the image of our dish on the group, and the other members try to guess the two secret ingredients.
This month, my partner is Vidya Narayan who blogs at Masala Chilli. As the name indicates, she likes spicy food and the pungent heat of the chilli. She is also serious about healthy nutritious food. You will therefore find recipes on her site, using a variety of grains and flours and low calorie recipes suitable for diabetics. There are a number of recipes from international cuisine too. Some recipes which caught my eye, were the Air Fryer Purple Yam Chips and the Sugar Free Dates, Rose and Pistachio Ladoos. Do visit her blog and see the posts for yourself.
Vidya suggested Cumin Seeds and Bay Leaf for my 2 ingredients. The secret ingredients for her dish were, garlic chives and hing (asafoetida), and see how well she has made use of them, in this delicious looking Manipuri Green Peas Curry
Process for Making Aloo Badi Manipuri or Bori Thongba: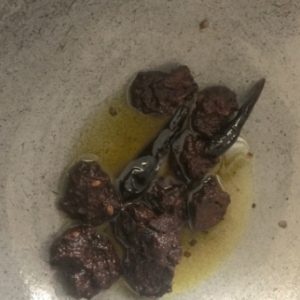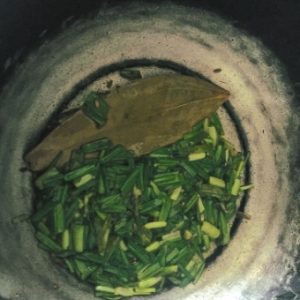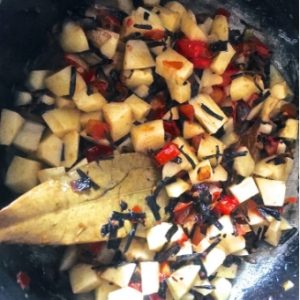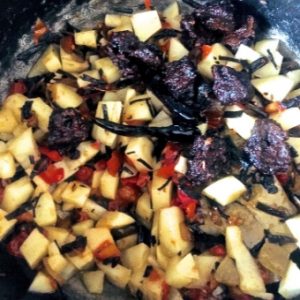 Some other recipes you may like from this blog: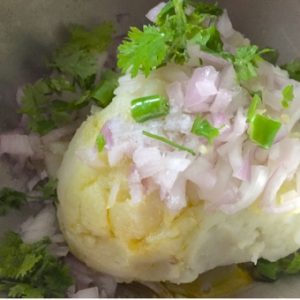 Tomato Sauce for Pasta or Pizza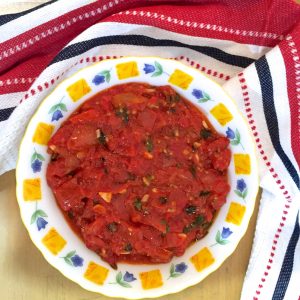 "Recipe"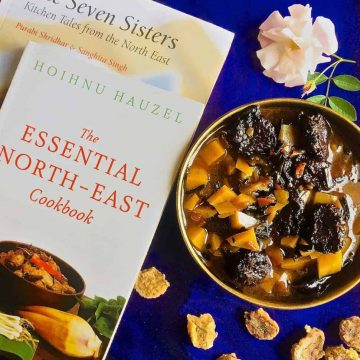 Aloo Badi Manipuri/ Bori Thongba/ Potato Lentil Nuggets Curry
Bori Thongba or Manipuri Aloo Badi, a curry from locally available ingredients such as chives, potatoes and urad dal badi (sundried nuggets from soaked, ground black gram lentils) and heiribob or Manipuri citrus peel
Ingredients  
For Frying the Badi
10

pieces

urad dal badi/ sundried black gram lentil nuggets

small badis. If large ones, break them up

¼

cup

mustard oil

2

dried red chillies

whole chillies
For Aloo Badi
2

teaspoon

mustard oil

or the left over oil after frying badi above

1

pinch

asafoedtida powder

2

bay leaves

fresh, if available

¼

teaspoon

Jeera Cumin seeds

⅔

cup

Chives

about 25 gms. I used spring onions instead

1

onion

about 50 gms. Sliced fine

¼

teaspoon

ginger garlic paste

⅔

cup

tomato

about 100 gms or 2 medium tomato. Diced small

3

cups

potato

about 300 gms or 2 medium potatoes. Diced small

¼

teaspoon

heiribob peel or Manipuri citrus peel

or else kaffir lime peel. I used lemon peel

1

teaspoon

garam masala

½

teaspoon

salt

or to taste
Instructions 
Preparation
Slice the onions fine/ small. Peel and dice the potatoes into small cubes, about 1 cm square. Keep them in a bowl of water till required, to stop discolouration. Dice the tomatoes into small cubes, about ½ cm square Slice the chives (or spring onions, if using) into 1" lengths Mince the heiribob citrus/lemon peel into small pieces
How to Fry the Badi
Heat a pan and add the mustard oil. Wait till it is hot (about 45 seconds) without letting it smoke. Add the badi, and fry on low heat till it is a light brown. About 2 minutes. Add the whole dried red chillies to the badi, fry them till they begin to turn black (turn them so that both sides are fried). About 45 seconds Strain the badi and chilli and set them aside in a dry bowl, till required.
How to Make Bori Thongba or Manipuri Aloo Badi
In the same pan, or after transferring the left over oil to a larger pan, start making the aloo badi. If there is very little oil in the pan, add another 2 teaspoons. Add the jeera and let it crackle. Add hing powder (asafoetida), the bay leaves and sliced chives. Keeping the heat low, saute till the chives begin to blacken. About 5 minutes as the chives may take some time to blacken.

Increase the heat and add onion slices. Saute till the onions darken to a golden brown. About 2 minutes. Add the ginger garlic paste, stir them in. Saute for about 30 seconds, till you get the aroma of the ginger and garlic. Add tomatoes, and still keeping the heat high, stir continuously for about 30 seconds, till the tomatoes blend with the rest of the gravy.

Now drain and add the potatoes, stirring so that they are coated in the masala. About 10 seconds. Add the fried badi and red chilli, along with any residual oil. Add the citrus peel, stir well. Add the garam masala and salt and again stir well.

Add 2-3 cups of water so that the surface of the curry is completely covered. Bring it to a boil and then reduce the heat, to keep the curry in a simmer for about 20 minutes. The badi/ nuggets should now be soft and spongy and the potatoes should be cooked. Remove to a serving bowl. Serve hot, with steamed rice.