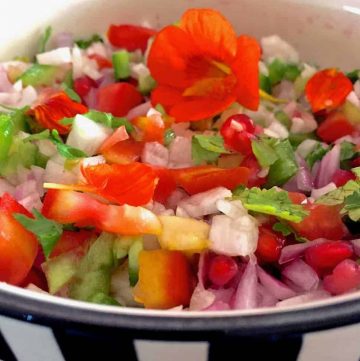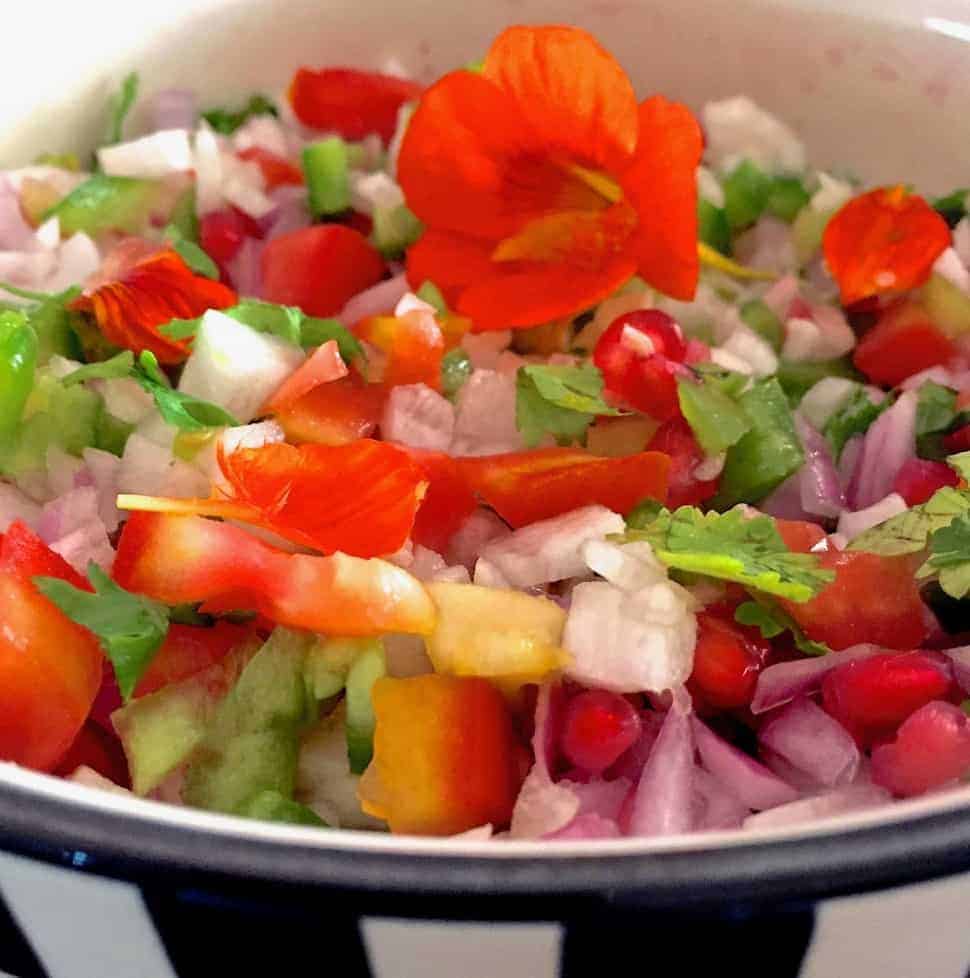 Print Recipe
Rainbow Fresh Chopped Vegetable Salad
A colourful medley of vegetables making up a Rainbow Fresh Chopped Vegetable Salad of seasonal vegetables with a citrusy salad dressing, edible flowers or nuts
¼

cup

red radish

¼

cup

white radish

¼

cup

carrots

¼

cups

cucumber

¼

cup

red onion

½

cup

capsicum, red and yellow bell peppers

⅛

cup

red cabbage/ purple cabbage

⅛

cup

broccoli

1

cup

Salad Greens

shredded

2

tablespoons

Pomegranate arils

2

tablespoons

herbs for garnish

coriander leaves and basil/ mint or thyme

¾

cup

Red Tomato

¼

cup

green tomato

¼

cup

orange or black cherry tomato

2

tablespoons

Toasted walnuts or edible flowers

optional
Make the dressing and keep it in the fridge till required. For the recipe, check the write up to this post (above the recipe card) where I have given the links to my recipes for Citrus Ginger Dressing and Garlicky Honey Lemon Dressing. The dressing adds a unique flavour to the salad, but you can otherwise squeeze 2 lemons and add salt and pepper and use that instead. Adding the seasoning (salt, pepper, chilli, ginger) to the dressing helps to spread the seasoning to the entire salad.

Wash throughly and dry the vegetables with a kitchen towel. Peel the carrots, white radish and onion. Dice the vegetables into small uniform sized pieces. Wash the salad greens and the herbs, dry them in a salad spinner or with a kitchen towel. Shred to pieces. Extract the pomegranate arils from the fruit.

Assemble the salad just before serving. Line a clean glass or porcelain bowl (or your favourite salad bowl) with shredded lettuce and other salad greens. Add the sliced vegetables one by one. Add just a little salt (remember, you have already added salt to the dressing) Toss the salad in the bowl till all the veggies get mixed.

Garnish with pomegranate arils and the shredded herbs. Add salad dressing and toss again just before serving.