An easy to make salad that goes with practically anything - colourful, nutritious and with all the goodness of fresh vegetables. Dice the vegetables, add salad greens, make the easy flavourful citrus dressing, and there you go, earning brownie points all around with your Rainbow Fresh Chopped Vegetable Salad.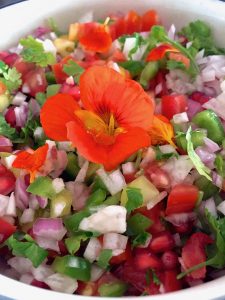 One of nicest things about this salad is that you can add whatever fresh vegetables are available to you, and the proportions of the veggies don't really matter. I have given a recipe but you can adjust the quantities, just making sure that items like onion or radish with a sharp flavour, do not overwhelm the other ingredients that make up the salad.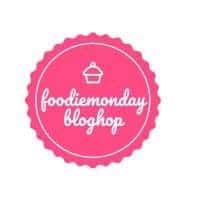 For the 170th Foodie Monday Blog Hop, Kriti Singhal Agrawal, whose turn it was this month, suggested 'Detox' as the theme. Kriti writes a very colourful looking blog, Krispy Kadai. I love the bright images of tantalising food arrayed all over her home page. Do check out the blog!
Satiated with making and eating Diwali sweets and rich food, and even by just looking at the images of Diwali dishes on the internet, we were all grateful for an opportunity to make something refreshing and easy that did not involve hours toiling over the stove or frying goodies that are the epitome of the Deepawali feast. For me the choice was simple -either a low key soup or a rasam with plenty of tomato and black pepper, or else a salad.
And from there it was a quick step to my favourite salad which Ive been making for decades, and which my Dad used to make for us: the Rainbow Fresh Chopped Vegetable Salad as I had named it. A Sunday tradition at home, after slicing vegetables for Upma, he would start on the veggies for the salad. I feel sad today to think that he did not have access to the many coloured sweet peppers, broccoli, fennel, the varieties of tomatoes and cherry tomatoes, the lovely lettuce and arugula that I can now source with ease. Even with the limited range of vegetables available to him though, he would make such a delicious salad.
The Rainbow Fresh Chopped Vegetable Salad is just what its name suggests. A bunch of colourful veggies (the kind which can be had raw), some pomegranate; lemon and orange juice (freshly squeezed, of course!) and salad greens. Salt and pepper and olive oil and maybe chilli or garlic or ginger for the dressing.  Try this salad the next time you make rajma and rice, or rasam or sambar and rice. You will be surprised at how it turns the meal around. I like it with masoor dal and with chapatis too. You can even make a wrap out of it (after taking out the green chillies, unless you are like our food blogger friend Vidya of MasalaChilli, who likes to eat green chillies and has been advising me today to eat a long green chilli to get rid of my perennial cough and cold symptoms).
Vegan, Gluten free, tasty, easy to make, healthy, lovely to look at (oh and I often add edible flowers to the salad), this Rainbow fresh chopped Vegetable Salad is everything you can ask for in a side dish to brighten up your table. Make plenty of the salad, I guarantee it will all get eaten up. I usually plan 1.5 to 2 cups per person. Omit the onions in the salad if you don't take raw onions, and also the garlic in the dressing, for a no-onion no-garlic salad.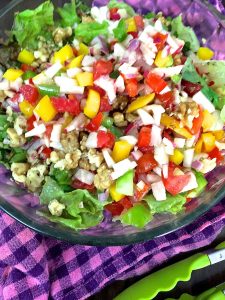 For the Salad dressing try this recipe for my Garlicky Lemon Honey Salad Dressing (omit the honey for a vegan version) or else check out the simple Citrus Ginger dressing in the recipe for the Salad of Radish Tomato Raw Mango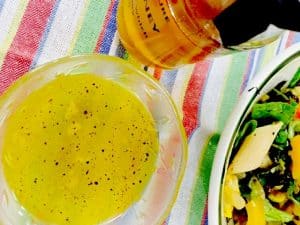 "Recipe"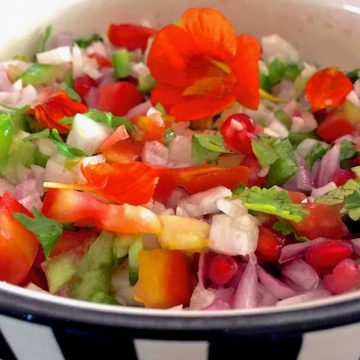 Rainbow Fresh Chopped Vegetable Salad
A colourful medley of vegetables making up a Rainbow Fresh Chopped Vegetable Salad of seasonal vegetables with a citrusy salad dressing, edible flowers or nuts
Ingredients  
¼

cup

red radish

¼

cup

white radish

¼

cup

carrots

¼

cups

cucumber

¼

cup

red onion

½

cup

capsicum, red and yellow bell peppers

⅛

cup

red cabbage/ purple cabbage

⅛

cup

broccoli

1

cup

Salad Greens

shredded

2

tablespoons

Pomegranate arils

2

tablespoons

herbs for garnish

coriander leaves and basil/ mint or thyme

¾

cup

Red Tomato

¼

cup

green tomato

¼

cup

orange or black cherry tomato

2

tablespoons

Toasted walnuts or edible flowers

optional
Instructions 
Make the dressing and keep it in the fridge till required. For the recipe, check the write up to this post (above the recipe card) where I have given the links to my recipes for Citrus Ginger Dressing and Garlicky Honey Lemon Dressing. The dressing adds a unique flavour to the salad, but you can otherwise squeeze 2 lemons and add salt and pepper and use that instead. Adding the seasoning (salt, pepper, chilli, ginger) to the dressing helps to spread the seasoning to the entire salad.

Wash throughly and dry the vegetables with a kitchen towel. Peel the carrots, white radish and onion. Dice the vegetables into small uniform sized pieces. Wash the salad greens and the herbs, dry them in a salad spinner or with a kitchen towel. Shred to pieces. Extract the pomegranate arils from the fruit.

Assemble the salad just before serving. Line a clean glass or porcelain bowl (or your favourite salad bowl) with shredded lettuce and other salad greens. Add the sliced vegetables one by one. Add just a little salt (remember, you have already added salt to the dressing) Toss the salad in the bowl till all the veggies get mixed.

Garnish with pomegranate arils and the shredded herbs. Add salad dressing and toss again just before serving.