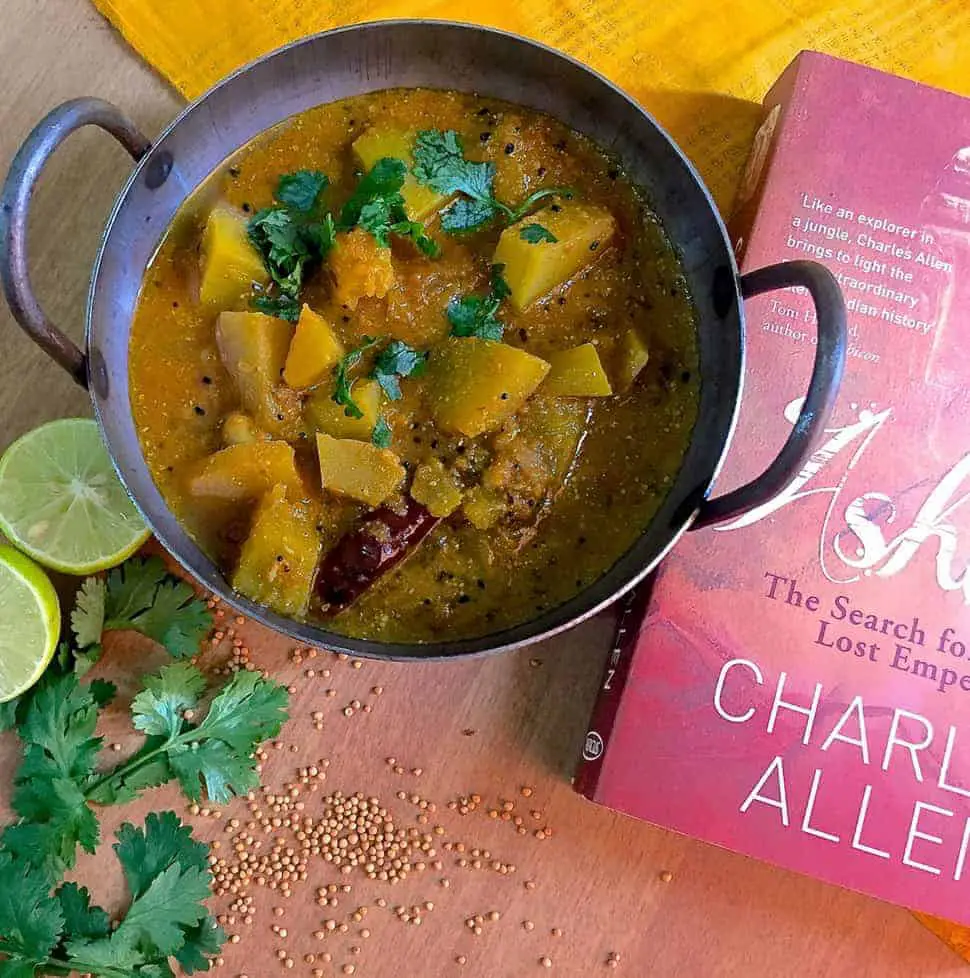 Print Recipe
Panch Phoron Kaddu Sabzi: Spiced Pumpkin in Yellow Mustard
Panch Phoron Kaddu Sabzi, delicious curry from India's Jharkhand. Pumpkin cooked in Indian 5 spice blend, panchphoron, yellow mustard and onion tomato gravy
Spiced Pumpkin Curry
3

cups

Peeled sliced Yellow Pumpkin

or Red Pumpkin (about 500 gms)
Panchphoron Indian 5 Spice Mix
For the Gravy
2-3

tablespoon

mustard oil

2-3

cloves

garlic

2

dry red chilies

¼

cup

Onion puree

/puree from 1 medium Onion

½

teaspoon

turmeric powder

/Haldi powder

½

teaspoon

Coriander Powder

/Dhaniya powder

½ to 1

tablespoon

Yellow Mustard Powder

¼

cup

tomato puree

/ puree from 1 large tomato

1

teaspoon

salt

or to taste

1

teaspoon

Lemon Juice OR Amchur

/Dry Mango Powder

1 - 1 ½

cups

water
For the Garnish
1

tablespoon

coriander leaves

Minced
Preparation for Panch Phoran Kaddu Sabzi
Wash, Peel and Dice the Pumpkin into ½" pieces. Measure all the ingredients as per the Ingredients list above Puree Onion and Tomato (separately) - as per the ingredients list Crush the garlic gently, keeping it whole Powder the yellow mustard Squeeze Lemon if using lemon juice - as per the ingredients list
To Make Spiced Pumpkin Curry in Yellow Mustard
Heat mustard oil in a kadai/ frying pan and add the panch phoran (Indian 5 spice blend) simultaneously to the hot oil. Keeping the heat on low, let them sizzle for about 1 minute, till the mustard finishes sputtering and the methi seeds darken in colour.

Continuing to keep the heat on low, add the crushed garlic and sauté, stirring periodically, for 1 minute or till the garlic darkens. Add the dry red chillies, turning them after a few seconds so that both sides are fried.

Add the onion puree and sauté for about 3 minutes, stirring frequently, till the raw smell of the onions has gone. Add the dry powders - turmeric powder, coriander powder and the yellow mustard powder, stir them in and sauté for 1 minute. If you want to reduce the mustard flavours, use just ½ a tablespoon. I wanted the curry to be mustardy and pungent, so I have added 1 tablespoon. Add the tomato puree and stir it in, sauté for 30 seconds

Add the pumpkin slices, season with salt and stir well. Sauté for 5 minutes on high heat, stirring frequently. Add water to just cover the pumpkin, bring it to a boil. Reduce the heat to low and allow to simmer for about 10 minutes or till the pumpkin is tender. I used yellow pumpkin which is harder than red pumpkin and it took 15 minutes to cook. A softer pumpkin would probably take 10 minutes. Taste for salt and that the pumpkin is cooked. Add a little more salt if you find it is required.

Turn off the heat and transfer the panch phoran kaddu sabzi to a serving dish. Add lemon juice or a teaspoon of amchoor (dry mango powder), stir it in. Garnish with fresh coriander leaves. Serve hot with pooris or with rice and dhal. If you are not serving the curry immediately after making it, heat it before you actually serve and then add the lemon juice or amchoor powder and the coriander leaves.