panch phoron
, and with the addition of yellow mustard powder in the gravy, is so simple to make and yet has such complex flavours. Add the aroma that wafts through the house as the Panch phoran sizzles in the hot oil, and you realise why you love cooking and experimenting with new combinations and tastes.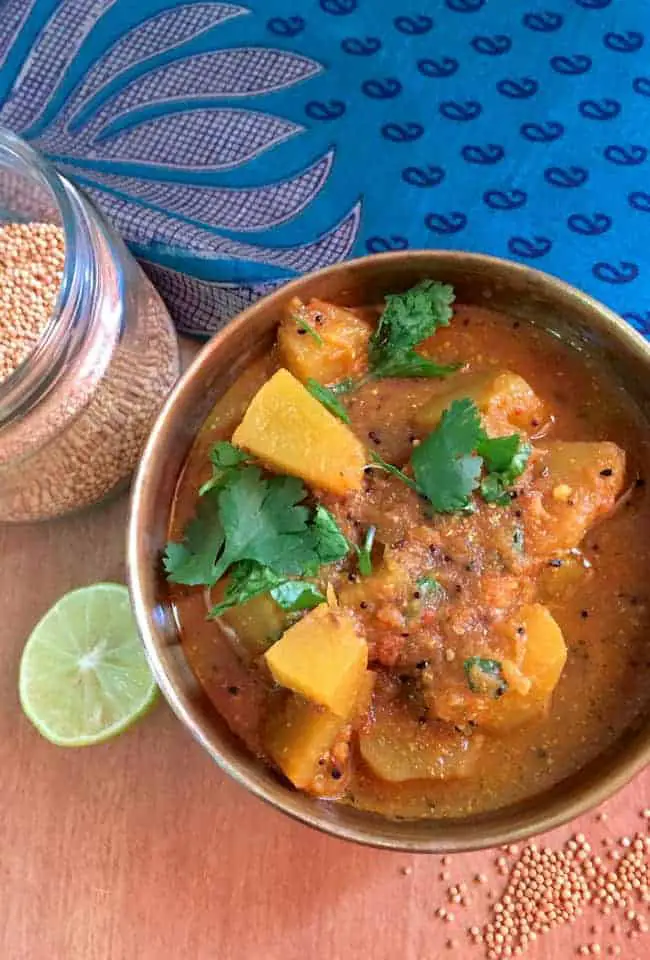 This month, my favourite Food Blogger group, Shhhhh Cooking Secretly Challenge took Jharkhand as its theme. More about the group later, but we are cooking our way alphabetically through the cuisines of each of the Indian States, and are now at the Js, so Jharkhand it is. The cuisine of Jharkhand has developed from many of its neighbouring Sates, influenced by Mughlai, Bhojpuri, Mauryan, Gupta, Bengali, Bihari, UP and other styles of cooking.
The interesting indigenous Jharkhand cuisine, viz Tribal Food, is one that I have not yet ventured into, but it sounds fascinating - red rice, dhal, bamboo shoots, saag from the leaves of the moringa tree, sabzi from flowers of the moringa and jute plants, and many more interesting dishes which I hope to explore soon.
I have been wanting to cook with Panch phoran (pachforen, pachphoran, as it is variously called), the blend of 5 spices famously used in Bengali cooking and that of Eastern India. I had thought this was some exotic set of spices and was quite surprised to find that it is just some of the staple spices found in an Indian kitchen cupboard, mixed and added simultaneously to hot oil, instead of one by one as we usually do while making the 'tadka' or tempering.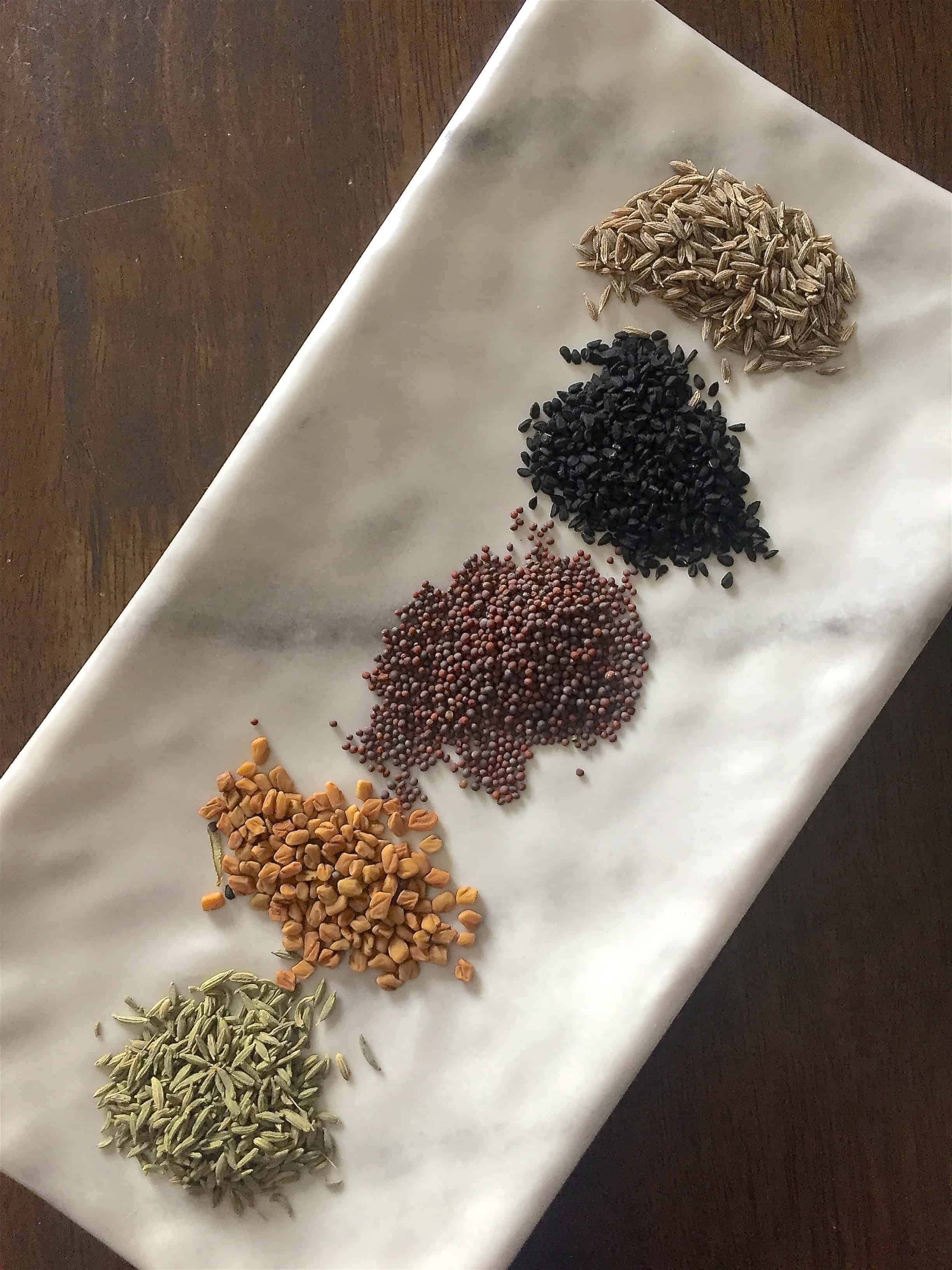 The panchphoron I have used in the Panch Phoron Kaddu Sabzi is comprised of mustard seeds,  methi/ fenugreek seeds, saunf/ fennel seeds, nigella/onion seeds/ kalaunji and cumin/ jeera seeds. Some recipes that I browsed use ajwain instead of onion seeds in the panchphoron, and, as is usual in India, there may be more variations of the basic blend.
These five spices are a heady mix when you add them to oil, and they give the plain pumpkin an exotic taste. I have further compounded the mustard effect by cooking in mustard oil, as is usual in much of Northern and Eastern India, as well as by adding yellow mustard powder to the gravy of pureed onion and tomato.
This curry is meant to be mustardy, but if you are not too fond of the flavour, you can reduce the quantity of yellow mustard powder and even cook in sunflower or other mild vegetable oil instead of mustard oil. That would make the curry different from my panch phoron kaddu sabzi, but would be tasty all the same.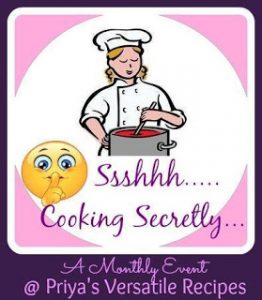 The Shhhhh Cooking Secretly Challenge   group is a Bloggers group on FB. Every month we decide a theme and the members are paired. The members of a pair suggests 2 ingredients which fit into the theme, to her partner. Each of us prepare our dish, making sure these 2 ingredients, that are now the secret ingredients, are included in the recipe. We then post a picture of the food we have made and all the other members try to guess the secret ingredients.
My partner for the month, the talented blogger, Jagruti Dhanecha, gave me Pumpkin and Mustard as my secret ingredients, and hence my dish for the month: Panch Phoron Kaddu Sabzi.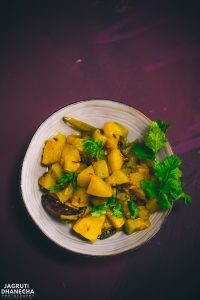 Jagruti blogs at Jagruti's Cooking Odyssey. I have been following her blog posts for the last 3 years, and have been enjoying her food styling, photography and the recipes. If you visit her blog (please do!) you will see the range of recipes, from Harry Potters favourite ButterBeer to Badami Methi Mango Paneer; from traditional Indian to food from a dozen countries.
For this month's challenge with the Jharkhand cuisine theme, I suggested Lauki (bottle gourd) and turmeric for Jagruti's secret ingredients, and she turned out this gorgeous looking Aloo Lauki Stew. Lauki and gorgeous? Yes, Jagruti managed to do that! Do check out the post at Aloo Lauki Stew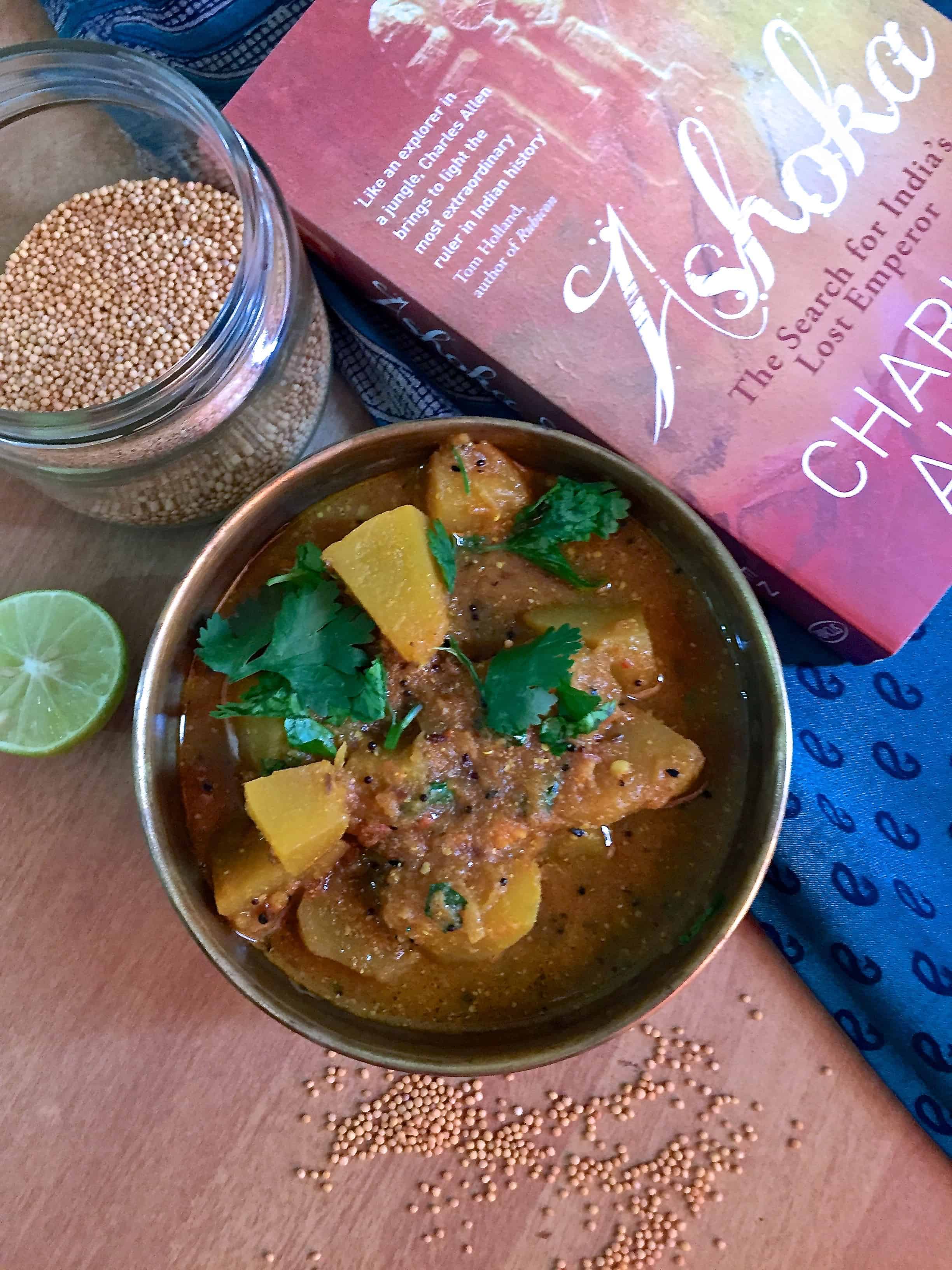 "Recipe"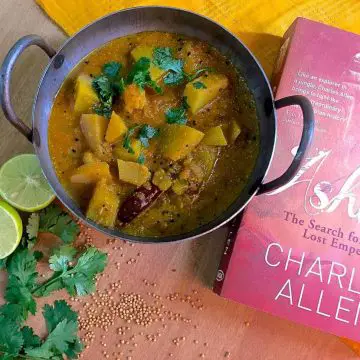 Panch Phoron Kaddu Sabzi: Spiced Pumpkin in Yellow Mustard
Panch Phoron Kaddu Sabzi, delicious curry from India's Jharkhand. Pumpkin cooked in Indian 5 spice blend, panchphoron, yellow mustard and onion tomato gravy
Ingredients  
Spiced Pumpkin Curry
3

cups

Peeled sliced Yellow Pumpkin

or Red Pumpkin (about 500 gms)
Panchphoron Indian 5 Spice Mix
½

teaspoon

Mustard seeds

/Rai

½

teaspoon

Nigella seeds/ Onion seeds

/Kalaunji

½

teaspoon

Fennel seeds

/Saunf

½

teaspoon

Cumin seeds

/Jeera

½

teaspoon

Fenugreek seeds

/Methi
For the Gravy
2-3

tablespoon

mustard oil

2-3

cloves

garlic

2

dry red chilies

¼

cup

Onion puree

/puree from 1 medium Onion

½

teaspoon

turmeric powder

/Haldi powder

½

teaspoon

Coriander Powder

/Dhaniya powder

½ to 1

tablespoon

Yellow Mustard Powder

¼

cup

tomato puree

/ puree from 1 large tomato

1

teaspoon

salt

or to taste

1

teaspoon

Lemon Juice OR Amchur

/Dry Mango Powder

1 - 1 ½

cups

water
For the Garnish
1

tablespoon

coriander leaves

Minced
Instructions 
Preparation for Panch Phoran Kaddu Sabzi
Wash, Peel and Dice the Pumpkin into ½" pieces. Measure all the ingredients as per the Ingredients list above Puree Onion and Tomato (separately) - as per the ingredients list Crush the garlic gently, keeping it whole Powder the yellow mustard Squeeze Lemon if using lemon juice - as per the ingredients list
To Make Spiced Pumpkin Curry in Yellow Mustard
Heat mustard oil in a kadai/ frying pan and add the panch phoran (Indian 5 spice blend) simultaneously to the hot oil. Keeping the heat on low, let them sizzle for about 1 minute, till the mustard finishes sputtering and the methi seeds darken in colour.

Continuing to keep the heat on low, add the crushed garlic and sauté, stirring periodically, for 1 minute or till the garlic darkens. Add the dry red chillies, turning them after a few seconds so that both sides are fried.

Add the onion puree and sauté for about 3 minutes, stirring frequently, till the raw smell of the onions has gone. Add the dry powders - turmeric powder, coriander powder and the yellow mustard powder, stir them in and sauté for 1 minute. If you want to reduce the mustard flavours, use just ½ a tablespoon. I wanted the curry to be mustardy and pungent, so I have added 1 tablespoon. Add the tomato puree and stir it in, sauté for 30 seconds

Add the pumpkin slices, season with salt and stir well. Sauté for 5 minutes on high heat, stirring frequently. Add water to just cover the pumpkin, bring it to a boil. Reduce the heat to low and allow to simmer for about 10 minutes or till the pumpkin is tender. I used yellow pumpkin which is harder than red pumpkin and it took 15 minutes to cook. A softer pumpkin would probably take 10 minutes. Taste for salt and that the pumpkin is cooked. Add a little more salt if you find it is required.

Turn off the heat and transfer the panch phoran kaddu sabzi to a serving dish. Add lemon juice or a teaspoon of amchoor (dry mango powder), stir it in. Garnish with fresh coriander leaves. Serve hot with pooris or with rice and dhal. If you are not serving the curry immediately after making it, heat it before you actually serve and then add the lemon juice or amchoor powder and the coriander leaves.