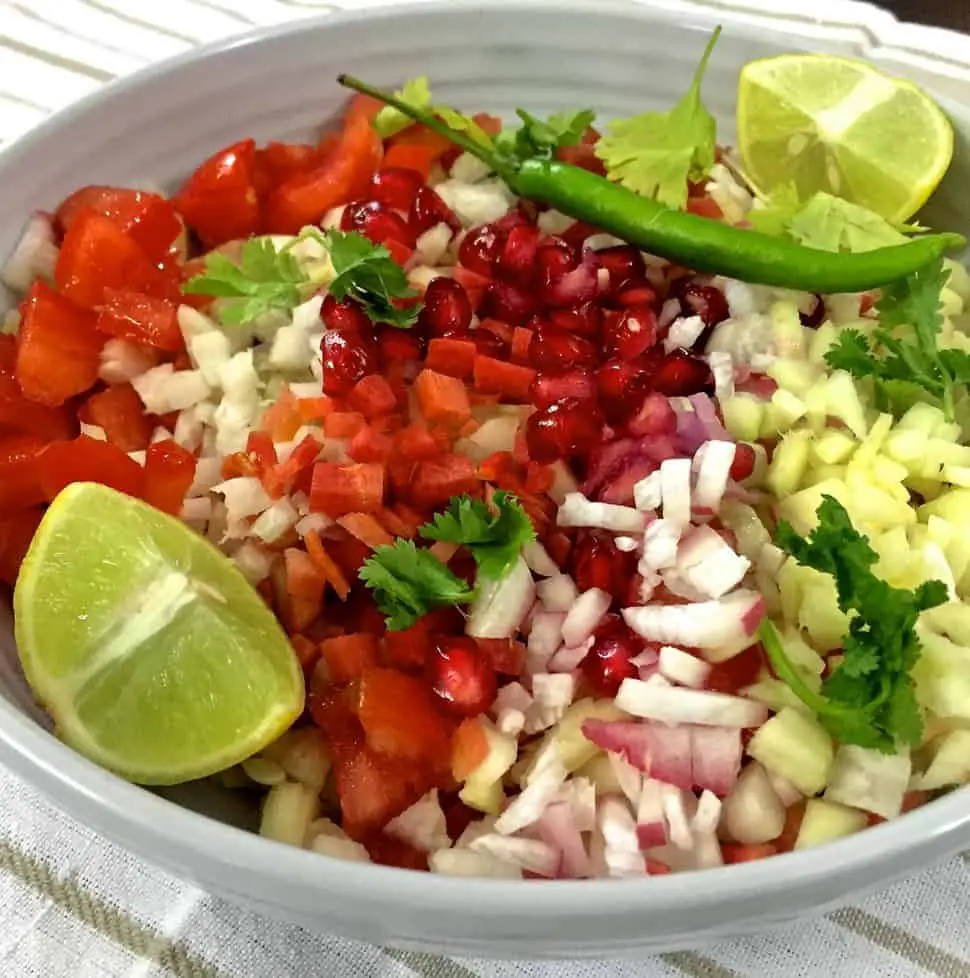 Print Recipe
Kachumber Salad - Colourful Fresh Summer Cooler in 10 minutes
Kachumber Salad is a very Indian salad of fresh chopped vegetables with a dash of lemon juice and chilli. Served along with rice, dal and vegetables in a thali meal, it goes equally well with roti and sabzi or with biriyani or can be had just by itself as a light lunch. Pomegranates add an exotic flavour to the salad.
¼

cup

onion

or 1 small onion

¼

cup

white radish

or ½ a medium radish

¼

cup

red radish

or 4 small red radishes/ ½ long pink radish

½

cup

Red Tomato

1 firm red tomato

½

cup

cucumber

or 1 cucumber

¼

cup

Raw Green Mango

or ½ a medium raw mango

¼

cup

red carrot

or 1 small carrot

¼

cup

yellow carrot

optional. Use ½ cup of the regular carrots instead

1

teaspoon

salt

or to taste

¼

cup

Pomegranate ariels

1 -2

Green chillies

2

tablespoons

coriander leaves

1

tablespoon

lemon juice

or juice from 1 large lemon
The salad is best served chilled hence plan to prepare and mix it at least an hour before it is required. It tastes best when served the same day. If serving a day or so later, just slice all the veggies as in instructions below except for the cucumber and do not add salt, lemon juice, chilli or the garnish. Cover and store in the fridge. About an hour before serving, toss the sliced veggies with the chilli, salt and lemon juice. Add the garnish and store covered, in the fridge, till required.

Wash all the vegetables and greens. Peel the onion, raw green mango, carrots and white radish. Peel the cucumber if desired. Do not peel the red/pink radish as it adds to the colours of the salad. Chop the onion, radish, cucumber, carrots, mango and tomato into small, even sized pieces. Slice the green chilli and the coriander leaves. Cut the lemon and squeeze the juice.

Mix the sliced veggies together in a large bowl and toss with a little salt, the chilli and the lemon juice. Check for taste and add a little more salt if required. Garnish with pomegranate ariels and coriander leaves. Cover and keep in the fridge till you are ready to serve the salad. Serve chilled.