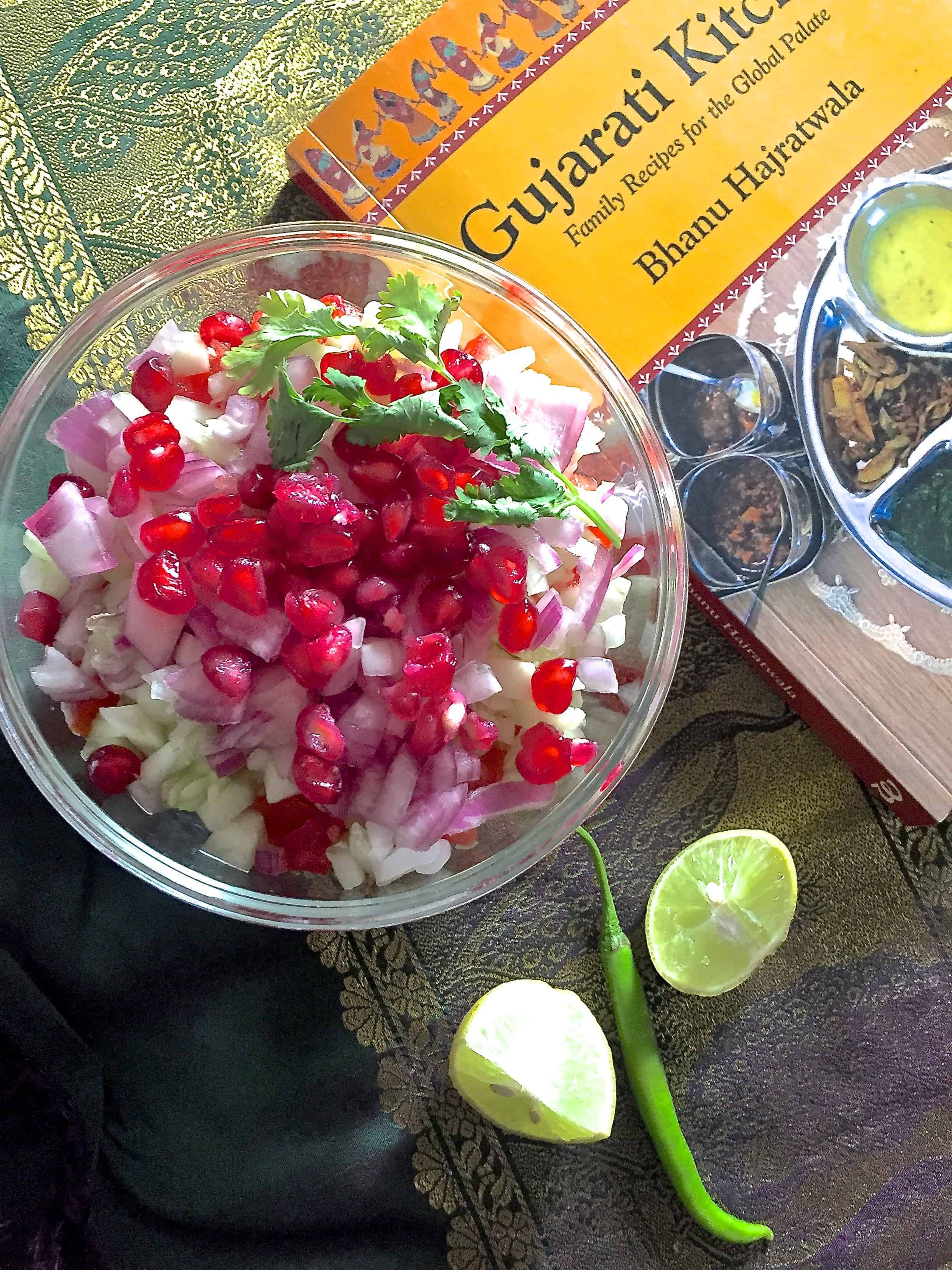 My version of the Gujarati Kachumber Salad (or Kachoomer Salad) is from the well written cookbook, Gujarati Kitchen, by Bhanu Hajratwala. I have followed the recipe, except for the presentation - with a mixed rather than a layered salad as advised in the book. I have used the same ingredients as in the recipe by including raw mango, fresh radish and carrots apart from the standard onion, tomato and cucumber. The pomegranates added to the medley of flavours and textures.
This month, on our Facebook Group, Shhhhh Cooking Secretly Challenge, the theme was Gujarati Cuisine. I paired up with the lively Sasmita Sahoo Samanta, and we exchanged 'secret ingredients' that we each used in our Gujarati recipes. We posted the image of the dish and the other members of the group had to guess which were the 2 secret ingredients. As you can imagine, its a lot of fun and lively interaction as each member tries to quickly guess the specified ingredients which are often not the main ingredients in the recipe.
Sasmita blogs on First Timer Cook, and the secret ingredients for her were lilva (fresh tuvar or green pea beans) and wheat flour, not an usual combination! Using these 2 plus other ingredients as required, she made this delicious lip smacking Lilva Kachori chaat. Do visit her blog, it has recipes ranging from Baking to Beverages as well as No cooking ones, Gluten free, No Onion - No Garlic and Healthy recipes, among many others.
I made Kachumber Salad using the ingredients Sasmita gave me, viz Radish and Lemon. The salad is a basic and simple one, but the taste is really good, specially as the days are becoming hotter, and anything which does not require cooking, gets my vote!
While making the Kachumber Salad, I had the advantage of fresh, zero pesticide vegetables supplied by First Agro Farms : crisp sharp tasting radish, ripe red tomatoes, cucumbers bursting with cooling juices, hot green chilies and the lovely yellow carrots.
Here are some more recipes on the blog, to beat the heat this summer:
Panakam - A Jaggery and Dry Ginger drink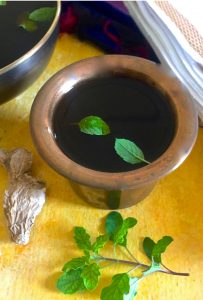 Ajo Blanco - A Chilled soup of Grapes and Almonds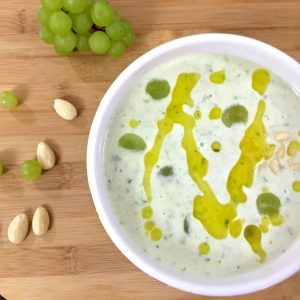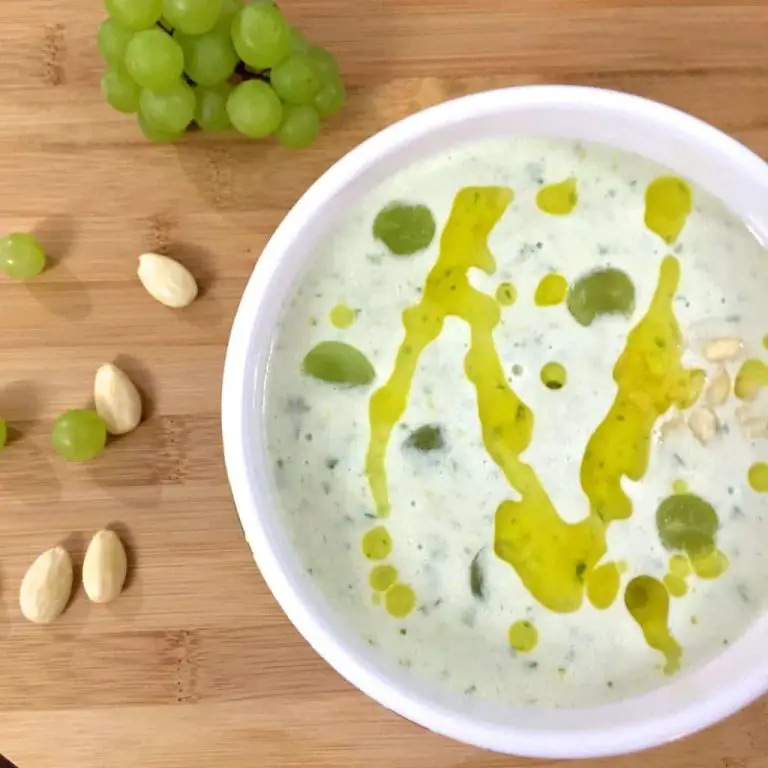 Pink Gazpacho - Chilled Watermelon and Cucumber Soup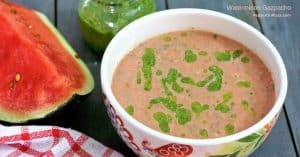 SaveSave
SaveSaveSaveSaveSaveSaveSaveSave
SaveSave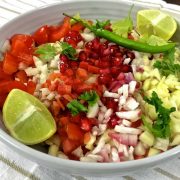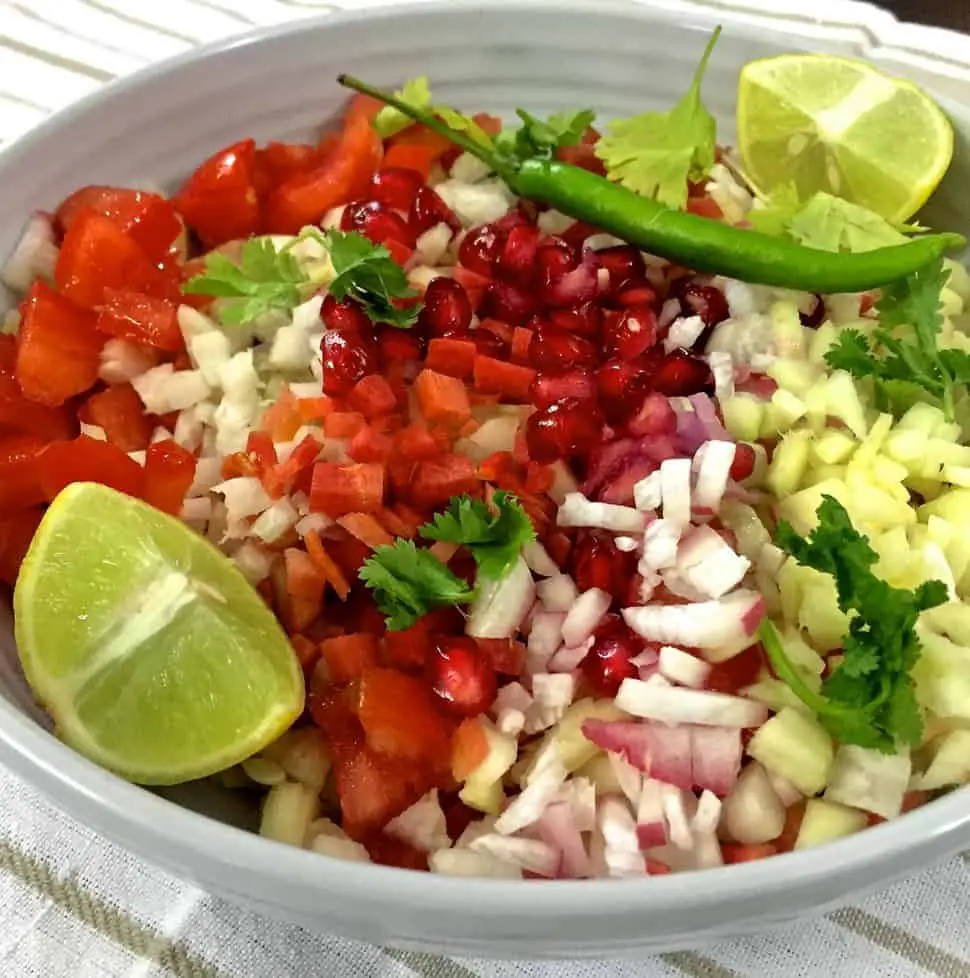 Kachumber Salad - Colourful Fresh Summer Cooler in 10 minutes
Kachumber Salad is a very Indian salad of fresh chopped vegetables with a dash of lemon juice and chilli. Served along with rice, dal and vegetables in a thali meal, it goes equally well with roti and sabzi or with biriyani or can be had just by itself as a light lunch. Pomegranates add an exotic flavour to the salad.
Print Recipe
Ingredients
¼

cup

onion

-

or 1 small onion

¼

cup

white radish

-

or ½ a medium radish

¼

cup

red radish

-

or 4 small red radishes/ ½ long pink radish

½

cup

Red Tomato

-

1 firm red tomato

½

cup

cucumber

-

or 1 cucumber

¼

cup

Raw Green Mango

-

or ½ a medium raw mango

¼

cup

red carrot

-

or 1 small carrot

¼

cup

yellow carrot

-

optional. Use ½ cup of the regular carrots instead

1

teaspoon

salt

-

or to taste

¼

cup

Pomegranate ariels

1 -2

Green chillies

2

tablespoons

coriander leaves

1

tablespoon

lemon juice

-

or juice from 1 large lemon
Instructions
The salad is best served chilled hence plan to prepare and mix it at least an hour before it is required. It tastes best when served the same day. If serving a day or so later, just slice all the veggies as in instructions below except for the cucumber and do not add salt, lemon juice, chilli or the garnish. Cover and store in the fridge. About an hour before serving, toss the sliced veggies with the chilli, salt and lemon juice. Add the garnish and store covered, in the fridge, till required.

Wash all the vegetables and greens. Peel the onion, raw green mango, carrots and white radish. Peel the cucumber if desired. Do not peel the red/pink radish as it adds to the colours of the salad. Chop the onion, radish, cucumber, carrots, mango and tomato into small, even sized pieces. Slice the green chilli and the coriander leaves. Cut the lemon and squeeze the juice.

Mix the sliced veggies together in a large bowl and toss with a little salt, the chilli and the lemon juice. Check for taste and add a little more salt if required. Garnish with pomegranate ariels and coriander leaves. Cover and keep in the fridge till you are ready to serve the salad. Serve chilled.
This Gujarati Kachumber Salad is a no-brainer, and goes with almost any type of meal. Or have it for lunch with a bowl of chilled soup on the side.  You need basic vegetables - onion, tomato and cucumber as well as lemon juice. The other ingredients are optional and can be mixed and matched with whatever veggie is on hand. The salad doesn't really need a recipe. I used one as I wanted it to be authentic Gujarati. There are similar versions of the salad found in various Indian cuisines, with variations on the way the vegetables are sliced/grated, and which combination is used. Quantities are flexible and can be adjusted to your taste.