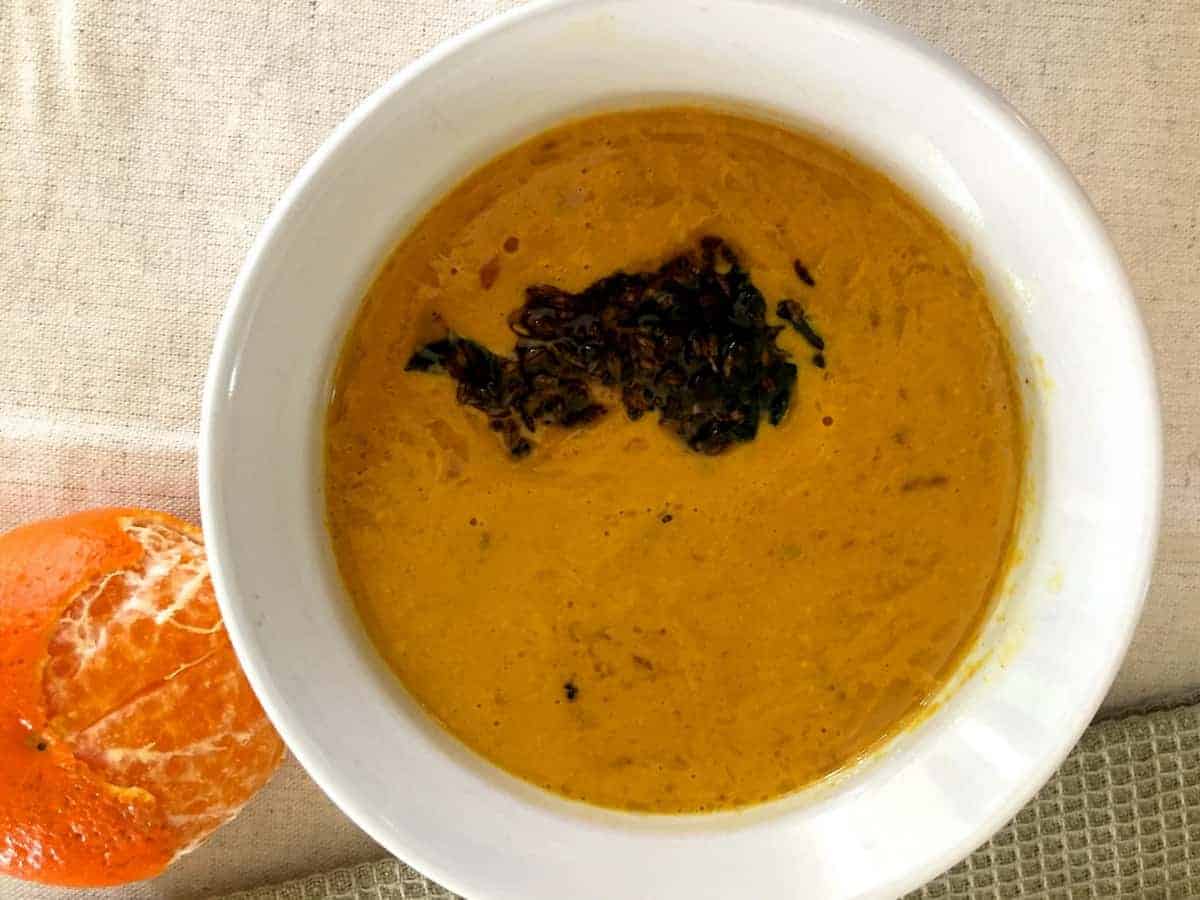 Print Recipe
Tomato Peanut Orange Peel Chutney Andhra Style - with Turmeric
Tomato Peanut Orange Peel Chutney Andhra Style with Turmeric Easy tasty, nutritious. Orange peel adds zing and aroma. Serve with dosa, idli, chapatti and rice!
To Dry Roast
1

tsp

split black gram/ urad dal

1

tsp

Channa dal (kadalai paruppu) (Bengal Gram lentils)

4

Red Chilli dry

Adjust the quantity of chillies to taste

2

tablespoons

raw peanuts

1

tablespoon

orange peel

½

teaspoon

Sesame seeds
To Sauté/ shallow fry
1

teaspoon

sesame oil

½

teaspoon

Jeera Cumin seeds

2

cups

tomato diced

Ripe juicy tomatoes. I had a large yellow and a red tomato

¼

teaspoon

turmeric powder

(I had very strong turmeric powder so I just used a large pinch)

salt

To taste
Time 4 minutes: Dry Roast Ingredients as per list
Dry Roast each type of ingredient separately in a hot pan, stirring constantly so that they do not brown or char. Transfer to a bowl after roasting: 1. Both the dals (can be roasted together) for about 1 minute, till they start changing colour and you can smell the roasted dal 2. Red chilli about 1 minute. You many choose to instead add the red chilli to the 'Sauté/Shallow fry' process instead of dry roasting. I prefer to do this as the raw chilli taste is reduced by sautéing. Use as many chillies as to your taste for 'heat'.

3. Peanuts for 1 minute till they begin to brown. I like to retain the skin with its nutrient values. If you wish, you can rub away the skin after roasting and cooling as it comes off easily. 4. Orange peel for 1 minute 5. Sesame seeds last of all, for 2-3 seconds. Remove them from the pan once they start popping and jumping around in the pan. They burn very quickly, so watch out.
15 minutes: Sauté / Shallow fry
Dice the tomatoes to a uniform size (about 1 cm square will help them cook faster). Using the pan in which the ingredients were roasted, add a teaspoon of Oil. Sesame oil tastes best, but in the alternative use sunflower or olive oil. Coconut oil may overpower the subtle aroma of the orange so I wouldn't use it in this Tomato chutney.

Bring the pan to low heat, add cumin (jeera). After 5 seconds when the jeera begins to brown in the hot oil, add red chillies if they were not already roasted earlier. Stir and turn them over so that the chilies are fried on both sides. Add the pieces of tomato and orange peel. Stir. Add turmeric powder, stir it in. Add a little salt ( you can check for taste and add more later) If the tomatoes are juicy, they will cook in their own liquid.

Bring the mixture to a quick boil by upping the heat, and then simmer on low heat for 10 minutes or till the tomatoes are soft and sauce like. The peel will be falling off the tomatoes and if you press gently with a spatula, the pieces will get squashed. Check for salt and add more to taste.
Time 2 Minutes: Dry Grind:
Cool the tomato mixture. 1. Grind together the roasted chilli, urad and channa dals, sesame and peanuts without adding water. 2. Add the tomato orange mix. Blend to a smooth puree, without adding water- there should be enough liquid from the tomatoes. If its too thick, add a teaspoonful of water.
Time 1 minute: Tempering:
Transfer the Chutney from the processor to a serving bowl. In a small pan, heat 1 teaspoon of the sesame oil. When the oil is hot, add mustard seeds and after they crackle, add cumin seeds. After 2-3 seconds, add split urad dal. Add hing. Finally add curry leaves. I always mince the leaves so that they get eaten and not discarded. Pour the tempering on the Tomato Orange Peel chutney. Serve with Idli or Dosa. Or Chappati. Or to mix with rice and sesame oil. Or on sandwiches or quesadilla. Such a versatile chutney!

If the tomatoes are as juicy as mine were, you can get 2 cups of chutney from 2 cups of tomato slices.