You are going to love this chutney! Everyone at home did! Tomato Peanut Orange Peel Chutney Andhra Style - you can imagine the flavours and texture from each of the ingredients! Large yellow and red tomatoes from Lakshmi's vegetable plot, bright fragrant orange peel, peanuts, chilies and spices and turmeric coming together with an incredible taste. Make sure you use juicy tomatoes for the chutney so that you do not need to add water during the process and dilute the flavours.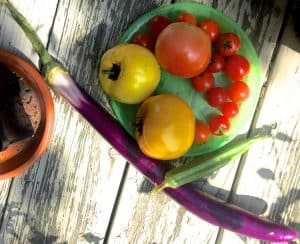 For the 3rd challenge from the Facebook group Shhhhh Cooking Secretly Challenge  that I participated in, the theme for September was a recipe made from the cuisine of Andhra Pradesh.  My partner for the month, Avin S Kohli gave me the names of two secret ingredients, viz. chilies and a vegetable of my choice. The late summer tomatoes are coming in so I selected tomato as the vegetable part of the secret ingredients. The idea is that each member of the group prepares an item using the secret ingredients, and posts a picture on the groups FB page. The other members have to try and guess the ingredients. For Avin, I gave as secret ingredients, Chana dal (Bengal gram) and Peanuts. Check out the recipe for Andhra Palli Chutney or Andhra Style  Peanut Chutney that she prepared for the challenge, on  her blog TheYellowDaal.com. And do spend some time exploring Avin's blog with its varieties of Indian subzis as well as delicious Party recipes, 30 minutes recipes and quick 15 minutes ones.
Now back to the recipe for the September challenge. As you would probably know, Andhra cuisine is famous for its spicy chilies, and incorporates a number of chutneys, pachadies and pickles. With tomatoes and chilies as my ingredients, peanuts for a bit of protein, turmeric for general goodness and orange peel to add a twist to the taste, I planned the Tomato Peanut Orange Peel Chutney Andhra Style.
I have given the instructions for making the Tomato Peanut Orange Peel Chutney Andhra Style in stages and steps, but don't think its a lot of hard work. Its pretty simple, a bit of roasting, some sautéing, some pureeing in the food processor, and voila! A delicious chutney to grace the dinner table.
You may have the Tomato Peanut Orange Peel Chutney Andhra Style with Dosa or Idli as we did, but it is quite versatile and may be used as a sandwich or quesadilla spread. I would love to try the tomato chutney spread on subway sandwiches the next time I make them. The tangy fresh taste of the tomatoes and oranges, the slight heat from the chilies (I added much lesser chilies than in the recipe so that my little  granddaughter could have the chutney) and the fresh vegetables in the subway sandwich would make for great taste!
If you are wondering at the lovely orangey yellow of the Tomato Peanut Orange Peel Chutney Andhra Style, that is because of the orange peel, yellow tomatoes and of course the touch of turmeric.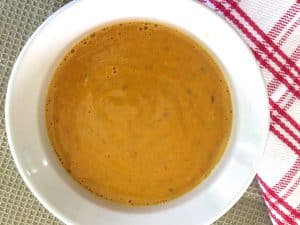 Which reminds me: I had this gorgeous zero pesticide Non GMO high curcumin turmeric from First Agro Farms of Mysore, Karnataka.  They supply 'direct from the farm' vegetables and herbs to households at Bangalore. As their website says, the turmeric powder produced at the farm has 5% curcumin (which is much higher than in the turmeric powder usually available and therefore we need to use only 25-50% of the volume we would otherwise use) as well as being rich in minerals.
Disclosure: The Turmeric described in this post was a free sample from First Agro Farms and was not paid for. The views about the colour and the flavour are my own.
The turmeric is a dark mustardy orange in colour and has a signature aroma that was evident in the Tomato Peanut Orange Peel Chutney Andhra Style. I used just a little of the turmeric powder and it imparted a lovely colour to the chutney.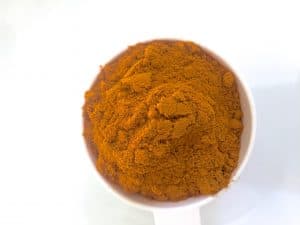 Health benefits of Turmeric:
As this article in Healthline explains, turmeric is absorbed better with black pepper, and merely adding it to our curries may not give the necessary full benefits as the level of curcumin in turmeric readily available in markets is usually not high enough.
Rich in minerals, including iron and magnesium, as well as powerful anti-inflammatory effects that can help alleviate pain and the symptoms of arthritis. Turmeric also has anti-oxidants which, among other benefits, are thought to help fight cancer. Other health benefits from curcumin or Turmeric are considered to be: protection against various skin diseases; treatment of stomach ulcers, diabetes and high cholesterol. The spice is thought to be effective against Alzheimer's disease too.
I remember childhood days when at the first sign of a sore throat or a cold coming up, my mother would make me drink up glassful of a bedtime drink of hot milk with turmeric, and so far as I can remember, it was effective too! All that curcumin, you know?
Other Chutneys/ Dips From This Blog
Peerkangai Thogaiyal  (Ridge Gourd Peel or Tori Chutney with Peanuts)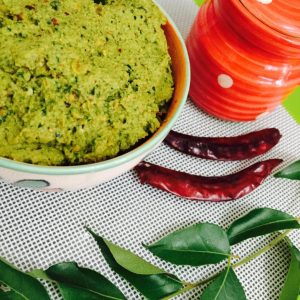 Mint Cherry Chutney with Orange Peel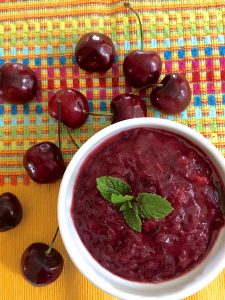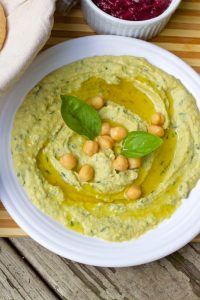 SaveSave
SaveSave
SaveSave
SaveSave
SaveSave
SaveSave
SaveSave
SaveSave
SaveSave
SaveSave
SaveSave
SaveSave
"Recipe"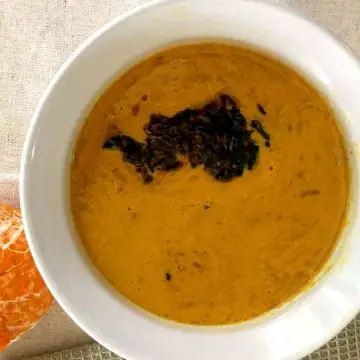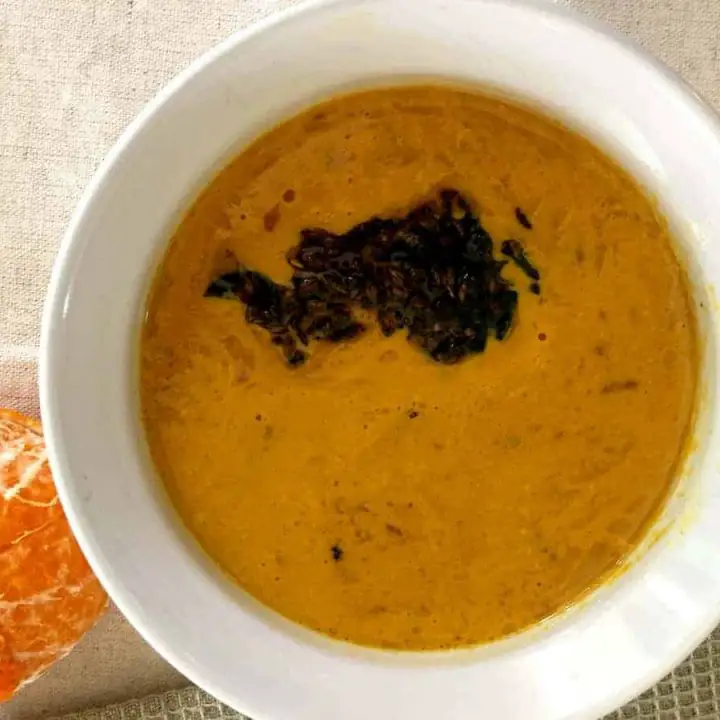 Tomato Peanut Orange Peel Chutney Andhra Style - with Turmeric
Tomato Peanut Orange Peel Chutney Andhra Style with Turmeric Easy tasty, nutritious. Orange peel adds zing and aroma. Serve with dosa, idli, chapatti and rice!
Ingredients  
To Dry Roast
1

teaspoon

split black gram/ urad dal

1

teaspoon

Channa dal (kadalai paruppu) (Bengal Gram lentils)

4

Red Chilli dry

Adjust the quantity of chillies to taste

2

tablespoons

raw peanuts

1

tablespoon

orange peel

½

teaspoon

Sesame seeds
To Sauté/ shallow fry
1

teaspoon

sesame oil

½

teaspoon

Jeera Cumin seeds

2

cups

tomato diced

Ripe juicy tomatoes. I had a large yellow and a red tomato

¼

teaspoon

turmeric powder

(I had very strong turmeric powder so I just used a large pinch)

salt

To taste
For the Seasoning
1

teaspoon

sesame oil

⅛

teaspoon

Mustard seeds

¼

teaspoon

Cumin seeds

¼

teaspoon

split black gram/ urad dal

a

pinch

hing asafoetida powder

4-5

curry leaves
Instructions 
Time 4 minutes: Dry Roast Ingredients as per list
Dry Roast each type of ingredient separately in a hot pan, stirring constantly so that they do not brown or char. Transfer to a bowl after roasting: 1. Both the dals (can be roasted together) for about 1 minute, till they start changing colour and you can smell the roasted dal 2. Red chilli about 1 minute. You many choose to instead add the red chilli to the 'Sauté/Shallow fry' process instead of dry roasting. I prefer to do this as the raw chilli taste is reduced by sautéing. Use as many chillies as to your taste for 'heat'.

3. Peanuts for 1 minute till they begin to brown. I like to retain the skin with its nutrient values. If you wish, you can rub away the skin after roasting and cooling as it comes off easily. 4. Orange peel for 1 minute 5. Sesame seeds last of all, for 2-3 seconds. Remove them from the pan once they start popping and jumping around in the pan. They burn very quickly, so watch out.
15 minutes: Sauté / Shallow fry
Dice the tomatoes to a uniform size (about 1 cm square will help them cook faster). Using the pan in which the ingredients were roasted, add a teaspoon of Oil. Sesame oil tastes best, but in the alternative use sunflower or olive oil. Coconut oil may overpower the subtle aroma of the orange so I wouldn't use it in this Tomato chutney.

Bring the pan to low heat, add cumin (jeera). After 5 seconds when the jeera begins to brown in the hot oil, add red chillies if they were not already roasted earlier. Stir and turn them over so that the chilies are fried on both sides. Add the pieces of tomato and orange peel. Stir. Add turmeric powder, stir it in. Add a little salt ( you can check for taste and add more later) If the tomatoes are juicy, they will cook in their own liquid.

Bring the mixture to a quick boil by upping the heat, and then simmer on low heat for 10 minutes or till the tomatoes are soft and sauce like. The peel will be falling off the tomatoes and if you press gently with a spatula, the pieces will get squashed. Check for salt and add more to taste.
Time 2 Minutes: Dry Grind:
Cool the tomato mixture. 1. Grind together the roasted chilli, urad and channa dals, sesame and peanuts without adding water. 2. Add the tomato orange mix. Blend to a smooth puree, without adding water- there should be enough liquid from the tomatoes. If its too thick, add a teaspoonful of water.
Time 1 minute: Tempering:
Transfer the Chutney from the processor to a serving bowl. In a small pan, heat 1 teaspoon of the sesame oil. When the oil is hot, add mustard seeds and after they crackle, add cumin seeds. After 2-3 seconds, add split urad dal. Add hing. Finally add curry leaves. I always mince the leaves so that they get eaten and not discarded. Pour the tempering on the Tomato Orange Peel chutney. Serve with Idli or Dosa. Or Chappati. Or to mix with rice and sesame oil. Or on sandwiches or quesadilla. Such a versatile chutney!

If the tomatoes are as juicy as mine were, you can get 2 cups of chutney from 2 cups of tomato slices.