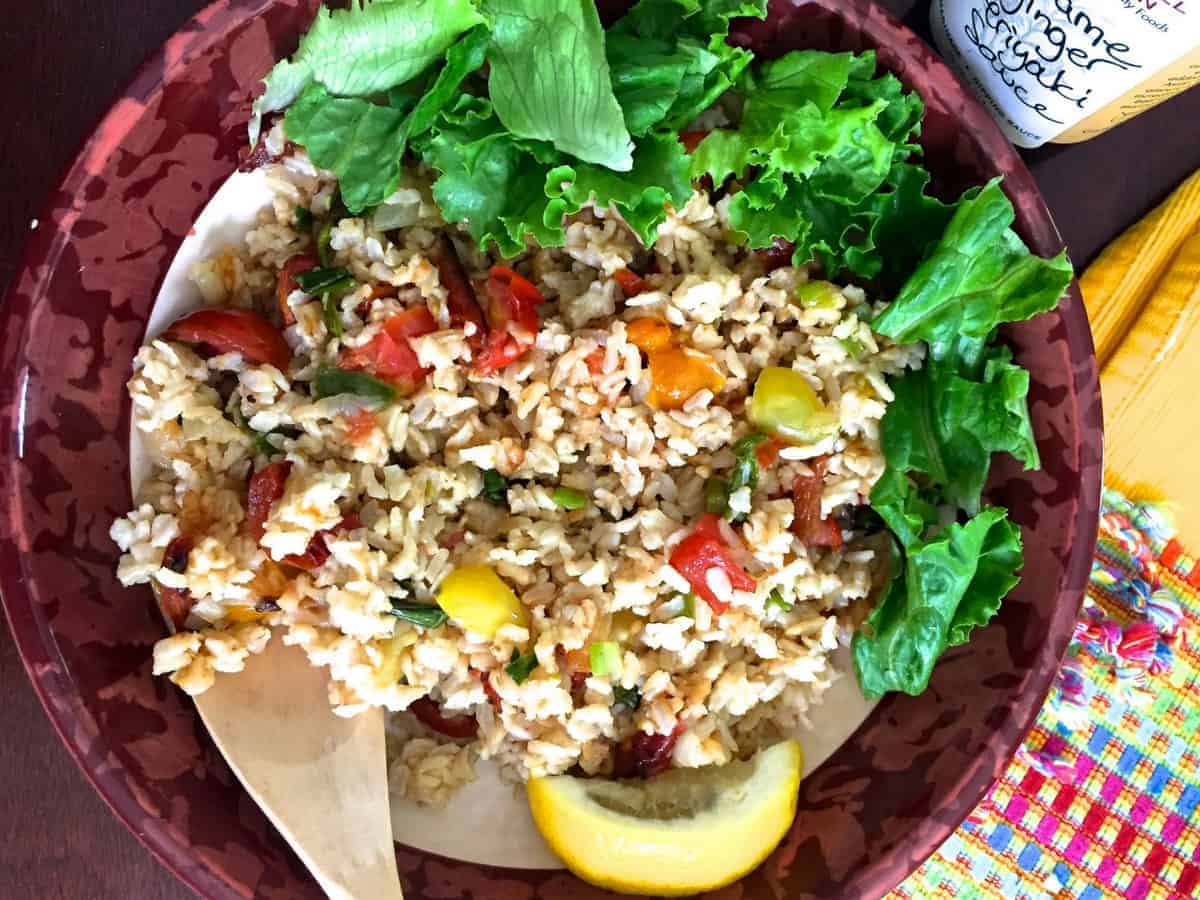 Print Recipe
Brown Rice Salad with Roasted Tomatoes and Asparagus
Delicious and healthy Brown Rice Salad with Roasted Tomatoes and Asparagus. Easy to make and tastes great in any weather.
To Roast Tomatoes and Asparagus
To make the Dressing
1

tablespoon

Fresh lemon juice

1

chilli

sliced fresh chilli

1/4

teaspoon

salt

or to taste

1/2

teaspoon

pepper

freshly ground
How to Cook Brown Rice
Brown rice cooks faster when pre-soaked. Soaking also helps the mineral nutrients in the rice to be better absorbed during digestion. Rinse and drain the rice 2-3 times, add 2 cups of water, and set aside for about 45 minutes. Soaking overnight would further reduce cooking time to about 20 minutes.

After soaking the rice as above, drain. Meanwhile bring 11/4 cups of water to boil, add salt. Add the soaked rice to the boiling water. When it begins to boil again, reduce the heat to a simmer, cover and cook for about 30 minutes. As cooking times can differ, after 20 minutes keep checking to see if the rice is done and all the water has been absorbed. Remove the pan from the stove so that it stops cooking, cover and set aside.

Remover the rice from the pan, spread it out on a plate to cool and for the grains of rice not to stick together
How to Roast Tomatoes and Asparagus
While the rice is soaking, pre-heat the oven to 425F (about 220 C). Snap off the thick stalks of the asparagus. Slice the tomatoes into large chunks and sprinkle them with sugar. Sprinkle olive oil on the tomatoes, asparagus and garlic

Arrange the tomatoes cut side down on a baking sheet, leaving some space between each slice. Place the garlic on the sheet. Place the asparagus on a separate sheet.

Bake for 15 minutes and then remove the asparagus. Immediately transfer the asparagus to a bowl so that it stops baking in the heat of the sheet. Slice the asparagus to one inch pieces. Increase oven heat to 450 F (about 230C) and roast the tomatoes for another 15 minutes. Transfer to a bowl.
How to Prepare the Other ingredients
Heat the oil in a pan. Add onions and sauté till translucent, about 2 minutes. Peel and add the roasted garlic. Add the sliced white part of the scallions (spring onions), sauté for one minute (set the scallion greens aside for use while mixing the salad)

Add the cherry tomato slices, sauté for 1 minute. Remove from the heat and transfer to a bowl.
How to mix the salad dressing
How to Make Brown Rice Salad with Roasted Tomatoes and Asparagus
On each serving plate, add a portion of rice, some salad greens torn into bite sized pieces, some roasted tomato, sliced asparagus, scallion greens. Or use an interesting sauce like the Sesame Ginger Teriyaki Sauce that I used, it gives another zing to the Salad!

Add some of the sautéed onion and cherry tomato mixture. Drizzle with the dressing and serve.