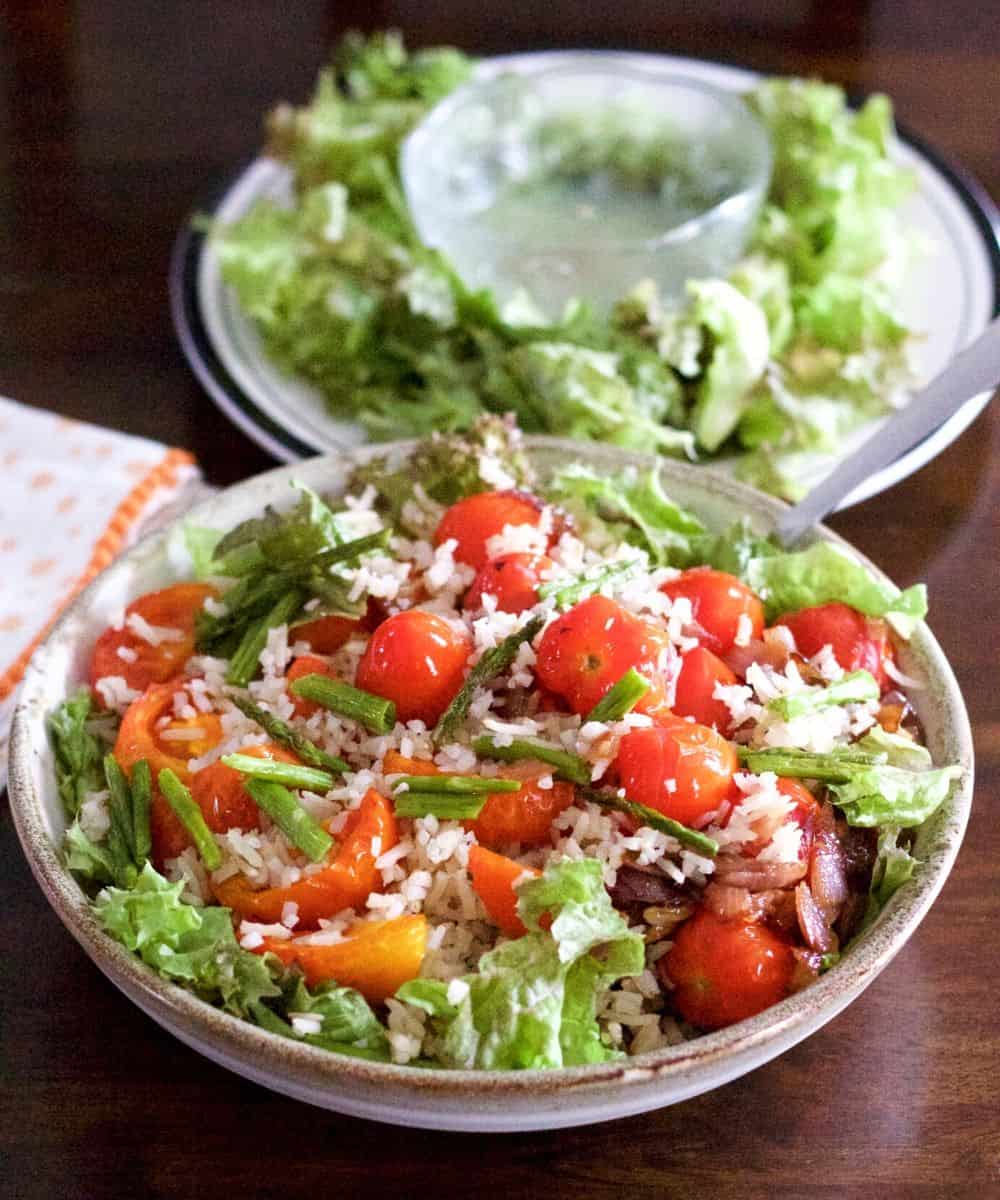 Grain salads are now becoming my go-to for a robust and tasty meal without too much effort to make.  I have been experimenting with different types of rice, red rice, black rice as well as grains like quinoa, barley, couscous and bulgar.
What Vegetables are best In this Grain Salad
You can add or substitute asparagus and/ or tomato with other veggies.
Roasted Pumpkin, roasted sweet potato or carrot and peas would go well. Grilled paneer or grilled corn could be added.
I suggest keeping the cherry tomato sauteed onion combination as it adds another dimension to the taste of this delicious salad.
Grilled chicken would be nice in this salad -for those who are not vegetarian/ vegan. Or a poached egg would be good too.
I like to roast tomato for salads as the roasting brings out their flavour. A few spears of asparagus roasted with the tomatoes, adds texture to the Salad and the fresh lettuce gives a dash of colour and taste.
Tender asparagus are best here. Just snap the thick stalk off, and roast the asparagus spears.
Over the last couple of years, I have greatly reduced my intake of rice - from twice a day  (with dal or rasam or sambar) to once or twice a week. Instead of the regular white rice which was part of my diet for so many decades, even the occasional rice dish that I make is with brown or black rice. Brown rice gives itself easily to the flavours of the vegetables that you add to them, without overpowering the other flavours with their personality.
How to cook Brown Rice?
Brown rice takes more time to be cooked than white rice. It has to be cooked correctly so that the grains are soft and yet separate without becoming a gooey mush. My daughter Lakshmi had suggested that I spread the hot cooked rice on a plate so that it cools down before being added to the salad, and the grains don't get sticky and clumped together. And this makes for nicely separated grains for the brown rice with roasted vegetables salad.
I prefer long grained brown rice as they cook well into separate grains. Soaking the grain before cooking reduces cooking time and also improves the nutritional values. The time taken depends on the brand/ type of rice. Quick cooking long grained brown rice usually cooks in 20 minutes or less, if soaked for 45 minutes. For other long grained brown rice,  I soak it for about 45 minutes before cooking it, and then allow it to cook for about 30 minutes till it is just done without being soggy and all the water has been absorbed. More details are given in the recipe below.
Long grained brown rice is better for salads as short grained ones get mushy. Cooking times and methods below are for long grained rice. Cooking times also assume that the tomatoes are roasted at the same time that the rice is cooking.
For some of Health and nutritive benefits of brown rice over white rice, this article in healthline may be of use.
Here is a link to an article that I found interesting, on the presence of arsenic in brown rice, and how rinsing and cooking in a lot of water, like pasta, can reduce the arsenic content.
For a delicious and refreshing summer lunch, try out this Brown Rice Salad with Roasted Vegetables and do let me know how you liked it.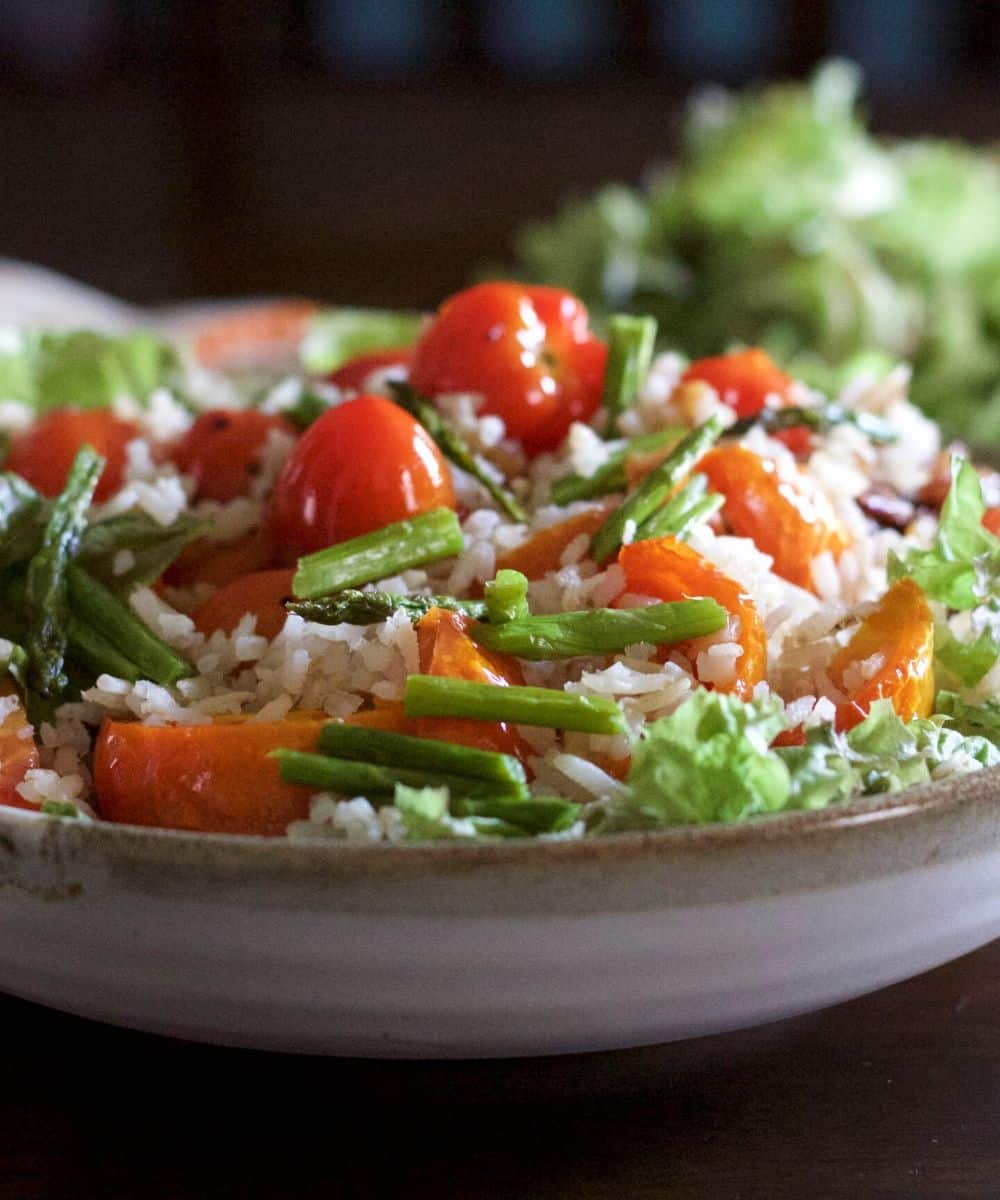 I paired the salad with a simple lemon juice dressing. Recipes for other dressings that would suit, are: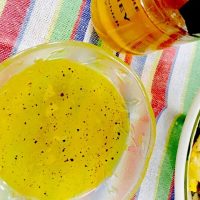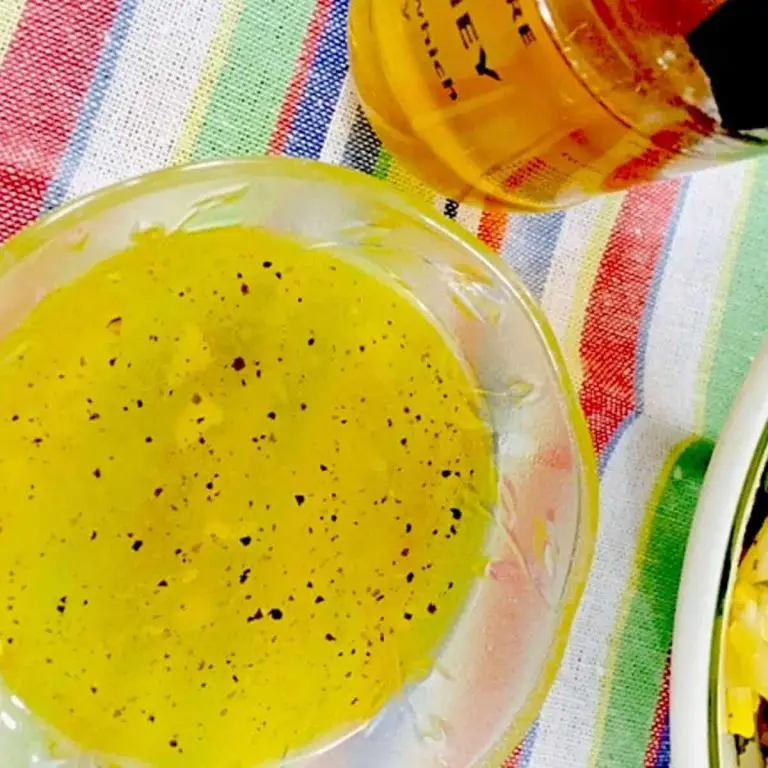 Strawberry Poppy Seed Dressing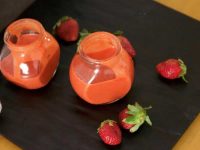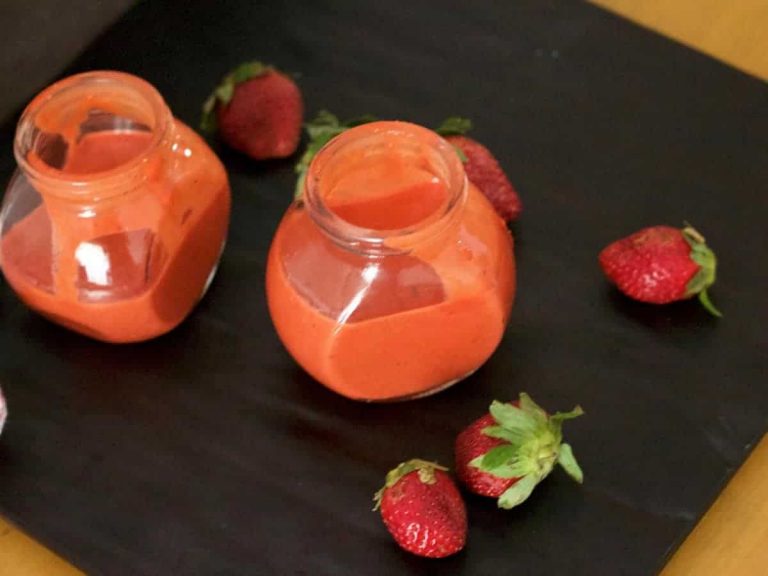 Other Salads You May Like From This Blog
Black Rice Salad with Cranberry Orange Dressing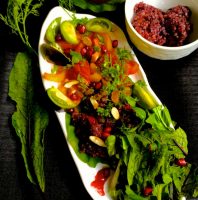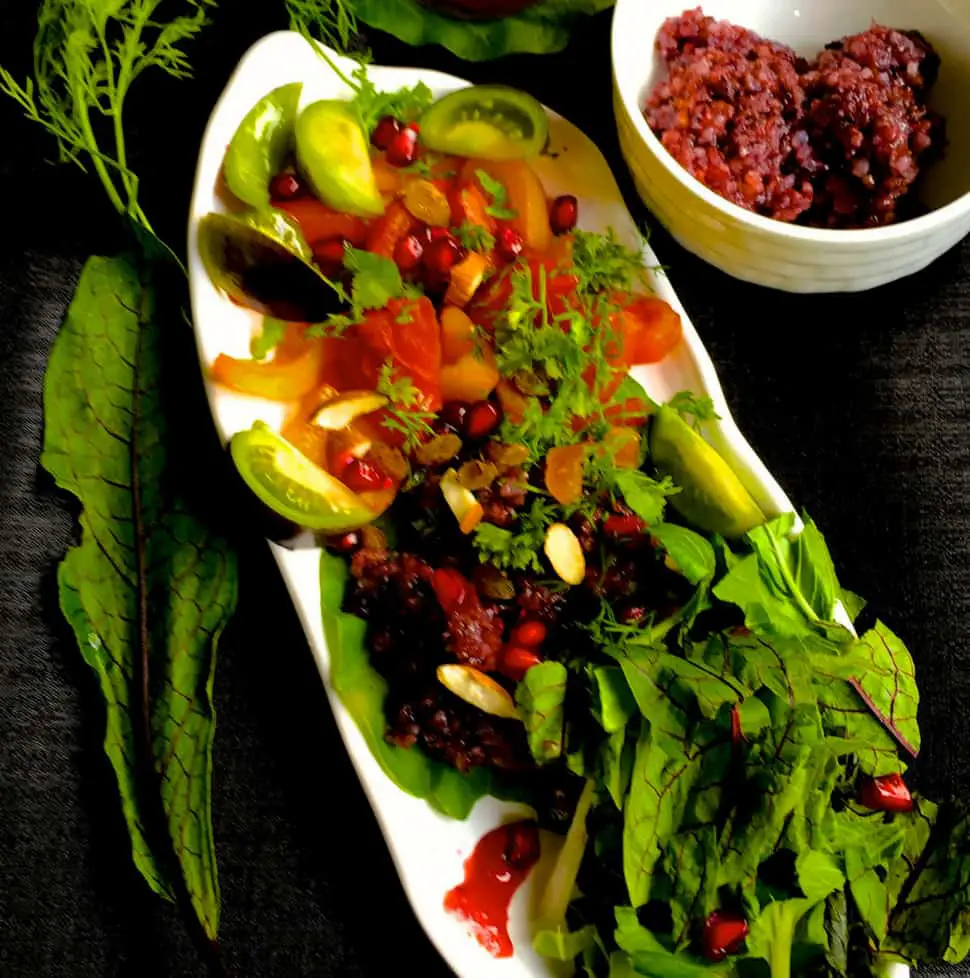 Barley Salad with Avocado, Tomato, Microgreens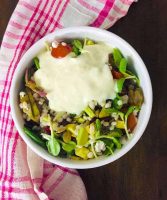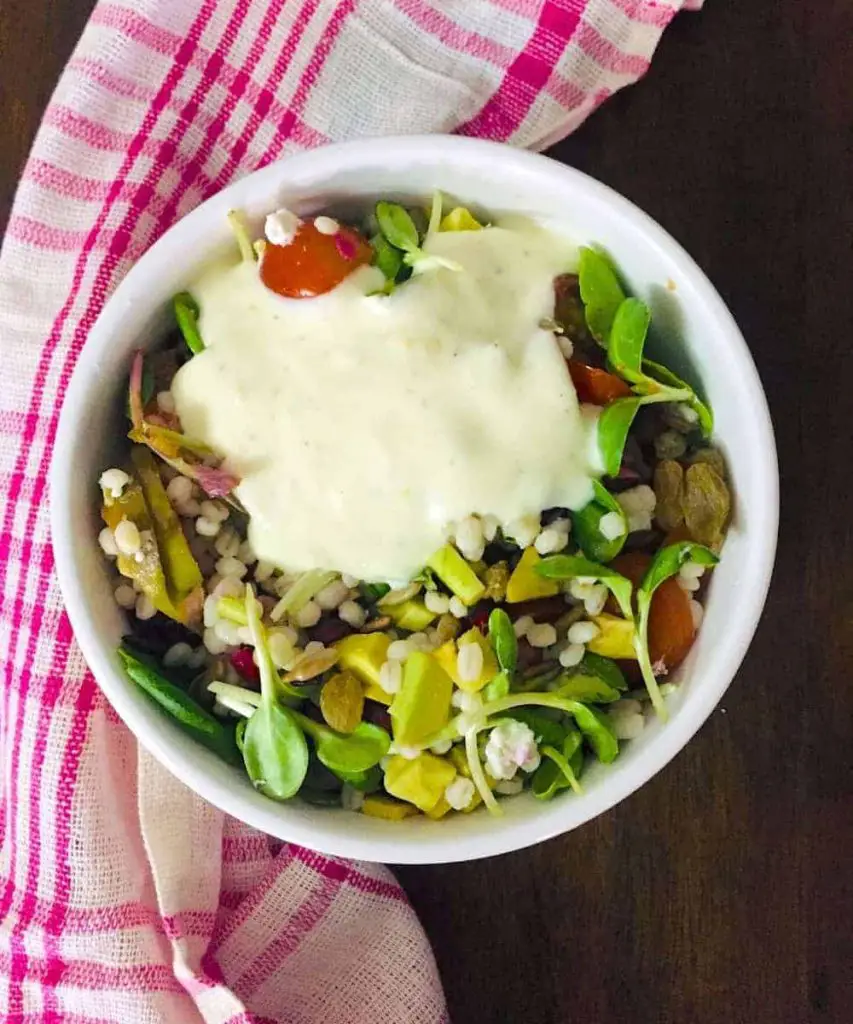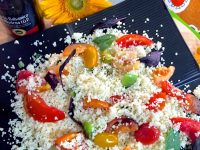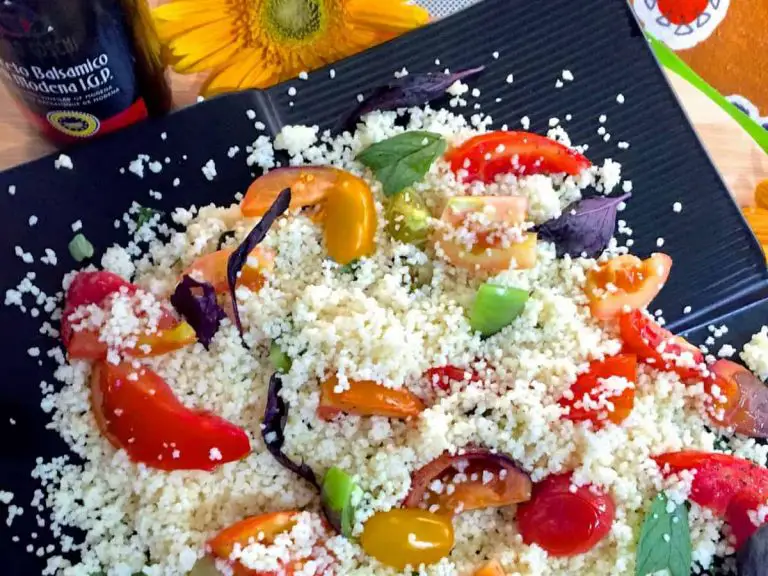 "Recipe"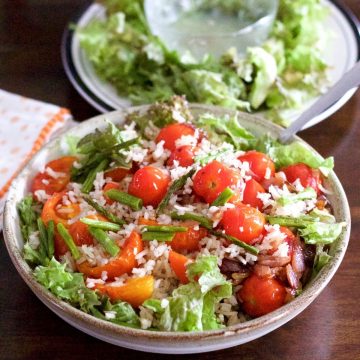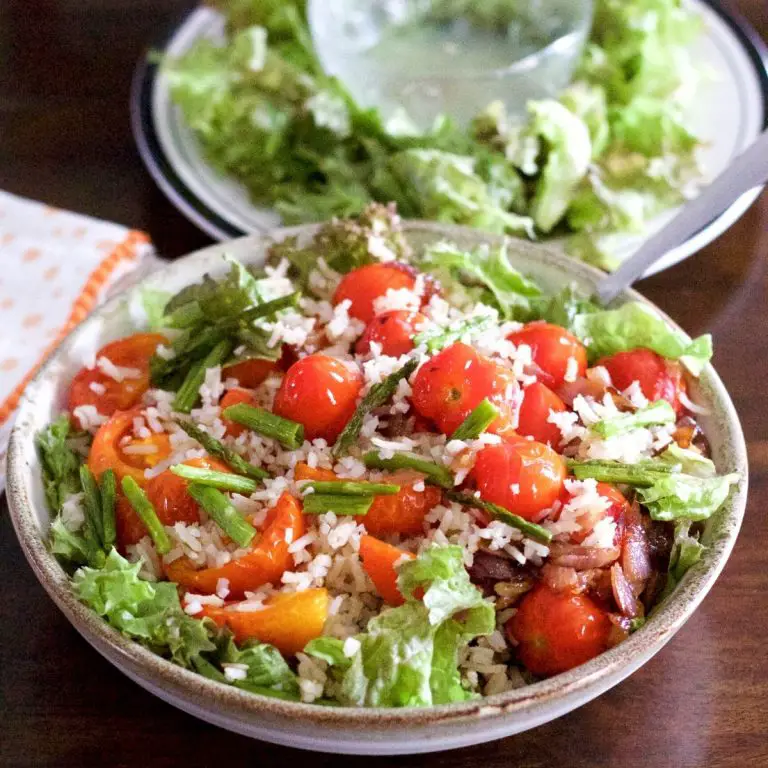 Brown Rice Salad with Roasted Vegetables
Delicious Brown Rice Salad with Roasted Vegetables. Tomato, Asparagus, Pumpkin, Carrot, any of them may be used. Vegan, Gluten free, easy to make for a refreshing lunch.
Ingredients  
To Roast Tomatoes and Asparagus
2

cups

Tomatoes

sliced

10

stalks

asparagus

1

clove

garlic

½

tablespoon

olive oil

or sunflower oil

½

teaspoon

sugar

brown or white sugar
To Cook Brown Rice
1

cup

Brown Rice

Long grained (quantity will increase after soaking)

1.25

cups

water

depending on variety of brown rice

½

teaspoon

salt

or to taste
To Saute
1

tablespoon

olive oil

or sunflower oil

½

cup

Onions

sliced

¼

cup

Spring Onions

scallions sliced -greens and whites separated

1

cup

Cherry tomatoes

halved or kept whole
To make the Dressing
¼

cup

Fresh lemon juice

1

fresh red chili

stalk and seeds removed by a slit to the side

¼

teaspoon

salt

or to taste

½

teaspoon

pepper

freshly ground
Other ingredients
2

cups

lettuce shredded

or other salad greens - optional
Instructions 
How to Cook Brown Rice
The time for cooking brown rice depends on the variety/ brand. Brown rice cooks faster when pre-soaked. Rinse and drain the rice 2-3 times, add 2 cups of water, and set aside for about 45 minutes. Soaking overnight would further reduce cooking time to about 20 minutes.

After soaking the rice as above, drain. Meanwhile bring 1¼ cups of water to boil, add salt. Add the soaked rice to the boiling water. When it begins to boil again, reduce the heat to a simmer, cover and cook for about 30 minutes. As cooking times can differ, after 20 minutes keep checking to see if the rice is done and all the water has been absorbed. Remove the pan from the stove so that it stops cooking.

Transfer the brown rice to a plate, spread it out to cool and for the grains of rice not to stick together
How to Roast Tomatoes and Asparagus
While the rice is soaking, pre-heat the oven to 425F (about 220 C).Snap-off the thick stalks of the asparagus. Slice the tomatoes into large chunks and sprinkle them with sugar and a pinch of salt. Sprinkle olive oil on the tomatoes, asparagus and garlic

Arrange the tomatoes cut side down on a baking sheet, leaving some space between each slice. Place the garlic on the sheet. Place the asparagus on a separate sheet if there is no room in this sheet.

Bake for 15 minutes and then remove the asparagus, transferring it immediately to a bowl so that it stops baking in the heat of the sheet. Slice the asparagus to one inch pieces. Increase oven heat to 450 F (about 230C) and roast the tomatoes for another 15 minutes. Transfer to a bowl.
How to Prepare the Other ingredients
Heat the oil in a pan. Add onions and sauté till translucent, about 2 minutes. Peel and add the roasted garlic. Add the sliced white part of the scallions (spring onions), sauté for one minute (set the scallion greens aside for use while mixing the salad)

Add the cherry tomato slices, sauté for 1 minute. Remove from the heat and transfer onion and tomato to a bowl.
How to mix the salad dressing
Add the sliced chili to the fresh lemon juice. Season with salt and pepper to taste, and whisk the seasonings in. Links to recipes for other suggested salad dressings are in the post above.
How to Make Brown Rice Salad with Roasted Tomatoes and Asparagus
On each serving plate, add a portion of rice, some salad greens torn into bite sized pieces, some roasted tomato, sliced asparagus, scallion greens.

Add some of the sautéed onion and cherry tomato mixture. Drizzle with the dressing and serve.
Nutrition
Serving:
2
cups
Calories:
541
kcal
Carbohydrates:
96
g
Protein:
13
g
Fat:
14
g
Saturated Fat:
2
g
Sodium:
917
mg
Potassium:
1198
mg
Fiber:
9
g
Sugar:
13
g
Vitamin A:
5215
IU
Vitamin C:
95
mg
Calcium:
105
mg
Iron:
5
mg