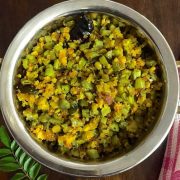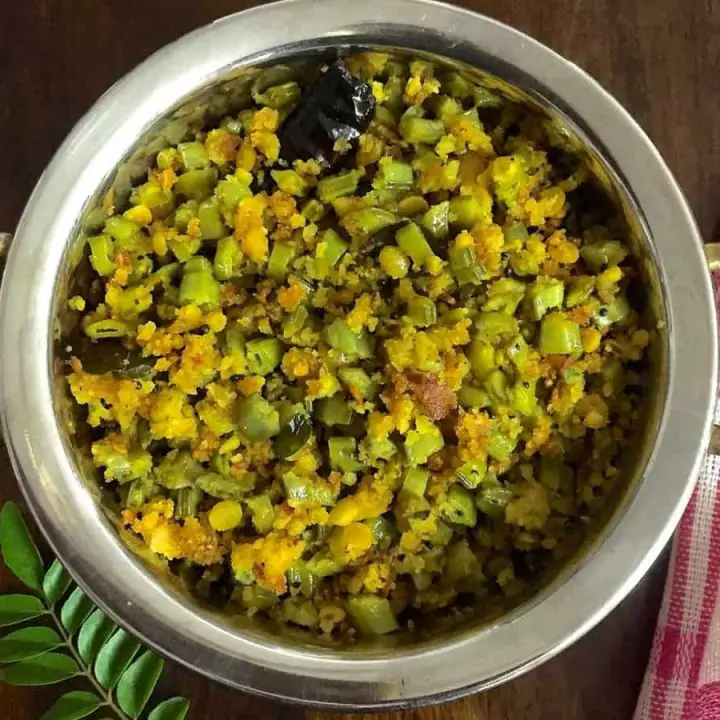 Print Recipe
Beans Paruppu Usili - Cluster Beans Dhal Paste Curry
Kothavarangai Paruppu Usili from a traditional Tamil Iyer Style Recipe. Cluster beans sautéed with tuar dal - chilli paste, tempered with mustard seeds & hing.
For Cluster beans Paruppu Usili
1/4

cup

Tuar dhal (thowarm paruppu) (Red gram lentils)

1

tablespoon

Channa dhal (kadalai paruppu) (Bengal Gram lentils)

1

cup

cluster beans (kothavarangai) slices

1/4

teaspoon

turmeric powder

To

taste

salt

2

dry red chillis

1/8

teaspoon

Hing (asafoetida)
To Make the Dhal Paste
Wash the thowaram paruppu and kadalai paruppu (tuar dhal and channa dhal). Soak the dhals together in one cup of water for 2 hours,

Drain the dhals after soaking as above. Grind the drained dhal along with the dry red chillies, a pinch of perungaiyam (hing) powder and 1/4 teaspoon of salt, to a coarse paste, without adding water.

Steam the dhal paste (and the sliced vegetables as below) in a steamer, or on an idli plate or other closely fitted plate in a pressure cooker or closed pan. Steam for about 10 minutes from the point when the water begins to boil and emit steam. The dhal paste may become a little stiff after steaming, and should be crumbled before adding to the tempering as below.
To prepare the vegetables
Select only fresh young and tender beans. Wash, top and tail the cluster beans (guar) by trimming the pointed ends of the beans and then the thick ends. You can hold a set of beans in a line, as in the image here, and then trim/ slice. If there are any strings, pull them down from the top and they will come away. Slice the beans finely, as small as you can. Add a pinch of turmeric powder, a pinch of salt and Steam for 10 minutes, as for the dhal paste above. Drain the steamed beans and set aside till required.
To make Cluster beans Paruppu Usili
Heat a pan and add sesame oil or the vegetable oil of your preference (sesame or gingelly oil will give the authentic taste). Temper by adding mustard seeds, add fenugreek (methi) seeds, split urad dhal (skinned black gram lentils), dry red chilli and shredded curry leaves, one after the other, giving each a few seconds to crackle/ sauté.

Add the steamed dhal paste after first crumbling it (it would have become stiff or caked after steaming), stir well into the tempering (about 3 minutes).

Add the steamed cluster beans after squeezing out any excess water. Stir briskly. Check and add salt to taste and stir again for about a minute. Remove from the stove and transfer to a serving bowl.