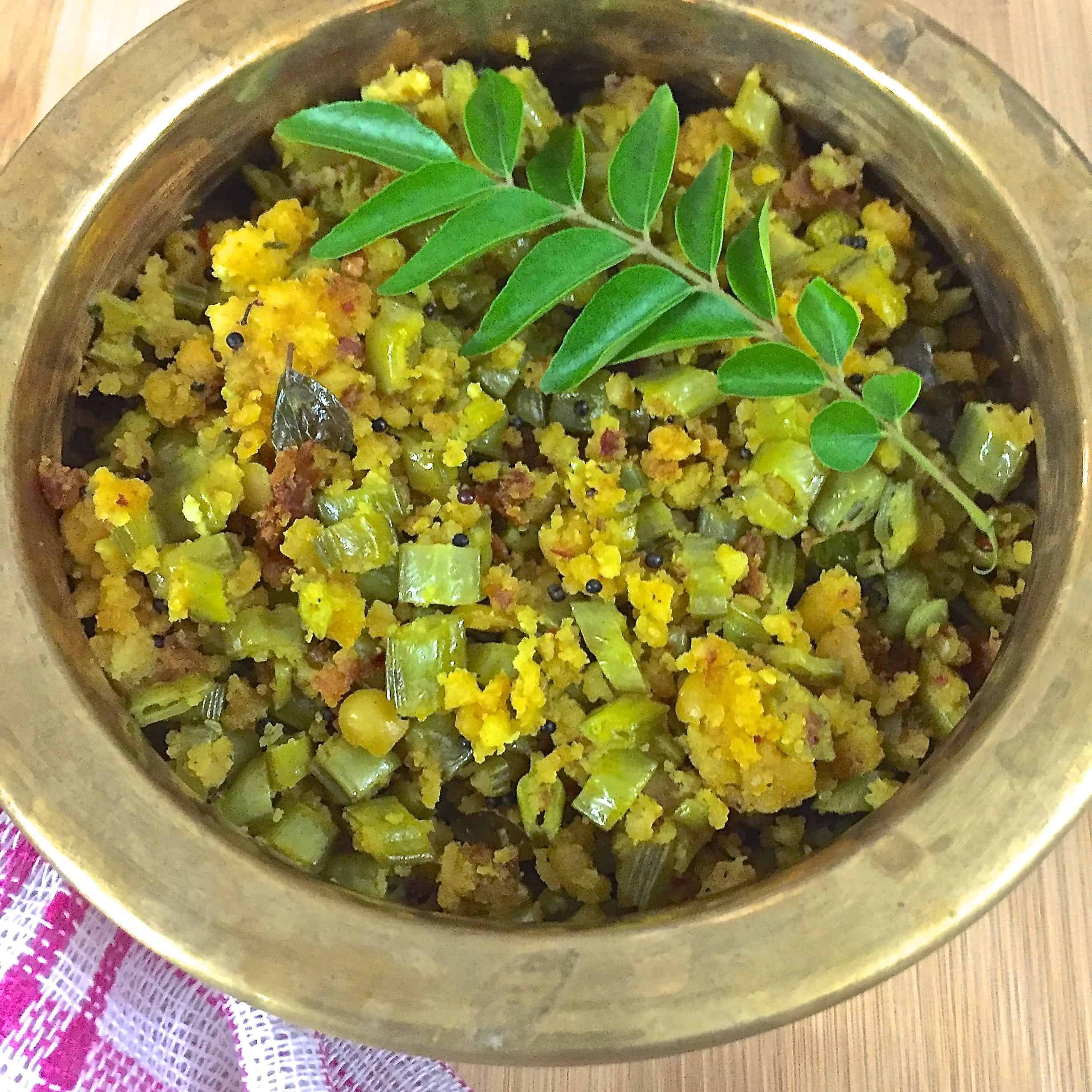 The Paruppu Usili is a simple dry curry which goes well with a kuzhambu such as a vathal kuzhambu (which I prepared today for lunch) or with sambar, milagu kozhambu or mor kuzhambu. It tastes good with rasam too. In fact you can have this curry with just about any South Indian style gravy (kuzhambu or rasam) or with chappaties and dhal.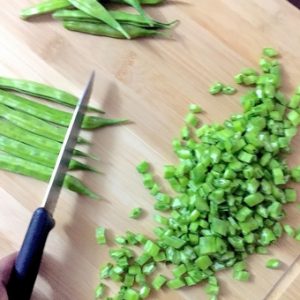 The Cook and See book suggests that the vegetable be cooked with water on the stove top. I prefer to steam the sliced vegetables. All you need is for the vegetables to be cooked well with a bite still remaining and not overcooked and soggy, and for the dhal paste to have the right consistency. Again, the cookbook does not suggest steaming the dhal paste, but I have seen my mother steaming it, and I preferred the dhal to be well cooked, so I have also steamed the dhal after grinding it to a paste.
Kitchen Tips for making Cluster beans Paruppu Usili:
I saved time by steaming the cluster bean slices and the dhal paste in the steamer container in my pasta cooker. Both need about the same amount of time so this was convenient. You will need 10 minutes after the water begins to boil, for the vegetables to cook.
An idli plate kept in the idli cooker/ pressure cooker, with adequate water for 10 minutes of steaming, and without the weight on the cooker lid, could be used. Alternatively, steam the paste and the vegetables on a plate fitted into a kadai or frying pan, again with sufficient water for steaming for about 10 minutes(from the time the water begins to boil).
After steaming the dhal paste, allow it to cool and then crumble it with your hand, as it would have caked after steaming. Crumbling will help stir it nicely into the cooked vegetables and the tempering.
This is a dry curry and moisture would impact the consistency and taste. Squeeze out any excess water from the cooked beans. Also,  grind the dhal -chilli paste without adding water to it.
Select young tender cluster beans as more mature ones tend to be stringy, fibrous and bitter.
The plantain flower paruppu usili is very tasty, but the process of removing the stamen from each little flower and then slicing the sticky blossoms is a little time consuming. Making paruppu usili with cluster beans, French beans, snake gourd, raw plantain (raw banana) cabbage or yam, is easier and faster.

Lunch today is something I  am looking forward to: kothavarangai paruppu usili, orange peel vathal kuzhambu (again my mother's recipe) and  hot rice with potato chips!
The paruppu usili tastes real good. Im wondering whether I can make a quesadilla with some of it. With a yogurt dip as an accompaniment. Will let you know how that goes!
SaveSave
"Recipe"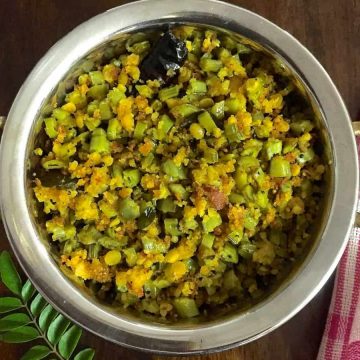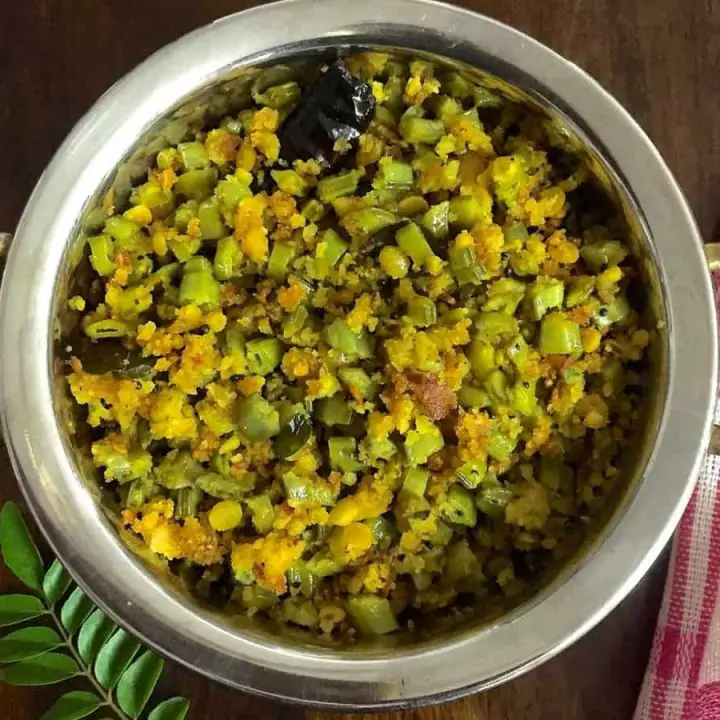 Kothavarangai Paruppu Usili - Cluster Beans Dal Paste Curry
Kothavarangai Paruppu Usili from a traditional Tamil Iyer Style Recipe. Cluster beans sautéed with tuar dal-chili paste, tempered with mustard seeds & hing.
Ingredients  
For Cluster beans Paruppu Usili
¼

cup

Tuar dhal (thowarm paruppu) (Red gram lentils)

1

tablespoon

Channa dhal (kadalai paruppu) (Bengal Gram lentils)

1

cup

cluster beans (kothavarangai) slices

¼

teaspoon

turmeric powder

To

taste

salt

2

dry red chillis

⅛

teaspoon

Hing (asafoetida)
For Tempering
1

tablespoon

Sesame/ Gingelly oil

or other vegetable oil

1

teaspoon

Mustard seeds

A

few

Fenugreek (methi) seeds

1

teaspoon

split black gram/ urad dhal

1

dry red chilli

A

few

curry leaves, shredded
Instructions 
To Make the Dhal Paste
Wash the thowaram paruppu and kadalai paruppu (tuar dhal and channa dhal). Soak the dhals together in one cup of water for 2 hours,

Drain the dhals after soaking as above. Grind the drained dhal along with the dry red chillies, a pinch of perungaiyam (hing) powder and ¼ teaspoon of salt, to a coarse paste, without adding water.

Steam the dhal paste (and the sliced vegetables as below) in a steamer, or on an idli plate or other closely fitted plate in a pressure cooker or closed pan. Steam for about 10 minutes from the point when the water begins to boil and emit steam. The dhal paste may become a little stiff after steaming, and should be crumbled before adding to the tempering as below.
To prepare the vegetables
Select only fresh young and tender beans. Wash, top and tail the cluster beans (guar) by trimming the pointed ends of the beans and then the thick ends. You can hold a set of beans in a line, as in the image here, and then trim/ slice. If there are any strings, pull them down from the top and they will come away. Slice the beans finely, as small as you can. Add a pinch of turmeric powder, a pinch of salt and Steam for 10 minutes, as for the dhal paste above. Drain the steamed beans and set aside till required.
To make Cluster beans Paruppu Usili
Heat a pan and add sesame oil or the vegetable oil of your preference (sesame or gingelly oil will give the authentic taste). Temper by adding mustard seeds, add fenugreek (methi) seeds, split urad dhal (skinned black gram lentils), dry red chilli and shredded curry leaves, one after the other, giving each a few seconds to crackle/ sauté.

Add the steamed dhal paste after first crumbling it (it would have become stiff or caked after steaming), stir well into the tempering (about 3 minutes).

Add the steamed cluster beans after squeezing out any excess water. Stir briskly. Check and add salt to taste and stir again for about a minute. Remove from the stove and transfer to a serving bowl.