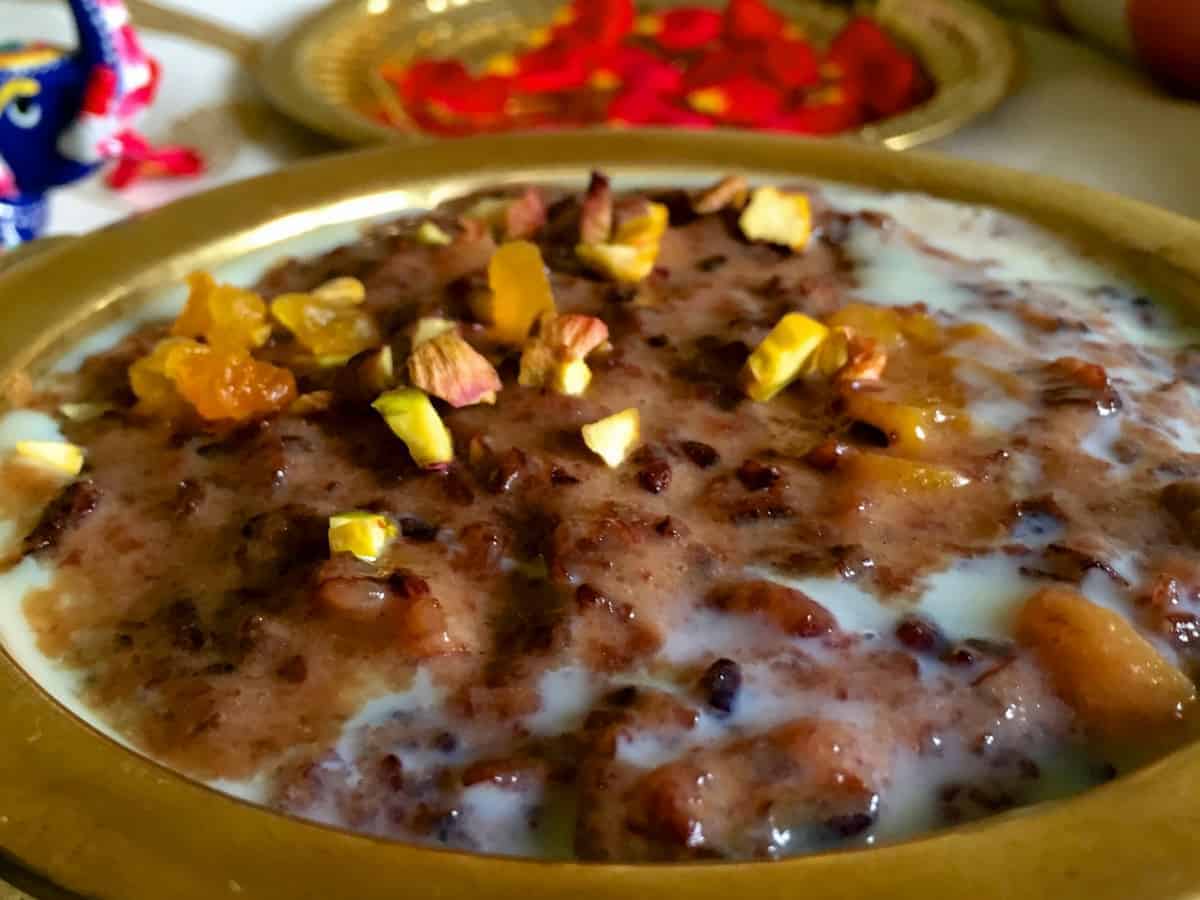 Print Recipe
Healthy Black Rice Payasam / Kheer with Vanilla and Apricots
Exotic Healthy Payasam /Kheer /Pudding of Black Rice, Vanilla, Apricots and Pistachio. The Black 'Forbidden Rice' is nutritious and disease fighting, fragrant and with a pleasant nutty taste. No ghee is used in this kheer.
For the Black Forbidden Rice Kheer
1

cup

black rice

2

cups

water

a Pinch

salt

2

cups

milk

OR 2 cups almond milk for a vegan version

1/4

cup

milk

(extra if required)

3/4

cup

jaggery

Powdered

1/4

cup

Dried apricots

2

pods

cardamom

(optional)

1/2

pod

vanilla

OR 1 tablespoon vanilla extract

2

tablespoons

Condensed Milk
How to Cook Black Rice (Time: Soaking 3 hours; Cooking 15 -20 minutes)
Wash the Rice as you would for any other Rice to be cooked. That is, rinse with potable water, drain, and repeat at least twice or till the water in which you are rinsing the rice, is clear.

Soak the rice in double its volume of water, for at least 3 hours, to reduce cooking time. Transfer the soaked rice along with the water, to a pressure cooker. Add a pinch of salt to the rice, and pressure cook on high for one whistle. Note: I have retained the water in which the rice was soaked, so that nutrients are not lost.

Lower the flame and continue to cook for 10 minutes or about 6 more whistles. Turn off the stove and let the cooker cool before opening it, so that the rice cooks completely under its own steam, and all the water is absorbed.
Preparations (Time: 5-10 minutes)
1. Slice the dried apricots into small pieces, the size of currants or half of a small raisin. Reserve 1 table spoon for the garnish. 2. Shell the pistachio nuts and Toast them. Slice into thin slivers or small pieces.

3. Crush the cardamom seeds keeping them in the pod, so that they can be easily removed whole, while serving.
How to make Black Rice Payasam / Kheer (Time: Cooking 35- 40 minutes)
While the cooker is cooling down, heat the milk in a thick bottomed pan. Bring to a boil and then allow to simmer on low flame for 10 minutes, stirring frequently, while it thickens. For a vegan version, substitute the milk with almond milk.

In another pan, melt the powdered jaggery on low flame, stirring frequently, for about 5 minutes or till the raw smell of the jaggery has disappeared. Crush any remaining lumps and stir so that the jaggery dissolves completely.

Add the jaggery water to the milk, stir it in. Add the apricots and cook on low flame for 5 minutes, stirring frequently so that it does not catch at the bottom of the pan.

Add the cooked rice, stir it in. Cook on low flame for 10 minutes, stirring frequently. If the payasam appears too thick, stir in 1/4 cup of warm milk.

Scrape the seeds from the vanilla pod and add, or add the vanilla extract, if using. Add the cardamom. Stir. The Black rice has a heady fragrance, so you may wish to omit the cardamom. Add the condensed milk, cook for 5 minutes, stirring frequently. For a vegan version, omit this step.

Serve hot, garnished with pieces of the reserved apricots, some slivers of pistachio and a dash of condensed milk (almond milk for vegans)
The Black Rice I used in this recipe was purchased and paid for by me. The reference to http://www.firstagro.com/ is only to help source the main ingredients for this recipe, and further, to acknowledge the zero pesticide, non GMO produce that they supply, which inspire the creation of recipes from unusual and exotic and healthy ingredients.

Save

Save