Ganesh Chaturthi is around the corner and Onam too, and we are all busy planning special sweets and desserts. Make your festival meals exotic as well as healthy, with this Black Rice Kheer Payasam of Forbidden Black Rice flavoured with vanilla and enriched with apricots and pistachio. The result is a delicious festival treat, truly fit for the Gods! As the rice cooks, the aroma wafting through the house has to be experienced to be described! The kheer (pudding) is cooked on low heat for about 40 minutes after the rice is cooked in the pressure cooker. No ghee is used in this recipe. For a vegan version, substitute almond milk for the  dairy milk in the recipe.
This recipe was created when I participated in fellow food blogger Teena Sunoj's mystery box Onam Payasam challenge. The ingredient I found in my mystery box, was Black Rice. I had already made salads using Black rice, and was happy for the opportunity to try out a Black Rice Kheer Payasam for our Onam round up, which was also published that week in the Deccan Herald.
The ingredients in this Black Rice Kheer Payasam are nutritious and healthy as well as delicious. Black Rice is used in Indian kitchens in the North East and in Chettinad cuisine as well as in Kerala. The variety of rice differs from place to place, with some varieties turning a dark purple hue when cooked. In this recipe I have used a Black Rice with purple, black and brown grains, a Heirloom variety from First Agro Farms  at Talkad, Mysore. Any sticky Black rice should give similar results though the taste and aroma of the Black Rice from First Agro is truly special.
A little time spent on the net gives interesting information: that Black Rice was first cultivated in China, some Ten thousand years ago, and for hundreds of years was reserved solely for the culinary pleasure of Chinese Royalty and noblemen: hence the name 'Forbidden Rice' or 'Emperors Rice', as its consumption was not permitted for the common people. The Rice was grown in limited quantities and the distribution carefully controlled.
Black rice may not always be Black, it could be pinkish, brown, purple, grey, or shades in between, and of course, black!. When cooked, some varieties may be glutinous and sticky, due to high levels of amylopectin ( a major component of starch, and made up of glucose units). The black colouring is due the abundant presence of anthocyanin, which is what makes for colourful purple grapes, blueberries, aubergine ... You get the picture? Perhaps these ancient Chinese Emperors knew a thing or two: that this Black rice that they reserved for themselves, was highly nutritious, fabled to increase both health and longevity, and in fact called 'tribute rice' or 'longevity rice' during the Ming Dynasty.
In India this rice is grown in Manipur, and is available in some gourmet stores and on online stores. If, like me, you are lucky enough to live in Bangalore, then you can get the Zero pesticide, non-GMO variety from First Agro Farms.
Black Rice Health & Nutrition: (information sourced from various online sites): Rich in disease fighting antioxidants, contains vitamins like B1, B2, folic acid; essential amino acids such as lysine, tryptophan; minerals including iron,copper, zinc, calcium and phosphorus; anthocyanin- said to help lower the risk of heart attacks by preventing plaques from building up in the arteries, as well as to fight cancer. Ongoing research is being carried out, to support the view that consumption of Black rice can prevent Alzheimer's Disease, Diabetes and even Cancer. Low in calories, high in flavonoid phytonutrients, and a rich source of fibre as well as Vitamin E.
Kitchen Tips:
Step by step instructions are given in the Recipe below on How to Cook Black Forbidden Rice
Soaking the rice for about 3 hours, reduces the cooking time. The rice could be soaked overnight, however for the variety that I used, 3 hours was more than enough for the rice to cook into a soft and yet chewy texture.
In this recipe for Black Rice Kheer Payasam, the addition of vanilla subtly complements the fragrance of the rice, and along with the Apricots, lifts an exotic ingredient to a delicious, aromatic dish. No ghee is used in the preparation, and pistachios substitute for the traditional cashew nuts. The cardamom is optional as the other ingredients give more than enough flavour and aroma to the sweet dish.
You may like to try out other recipes on this Blog:
Black Rice Salad, Cranberry Orange Dressing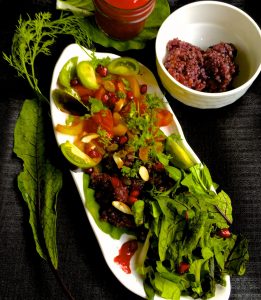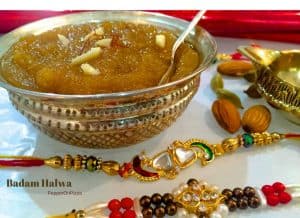 "Recipe"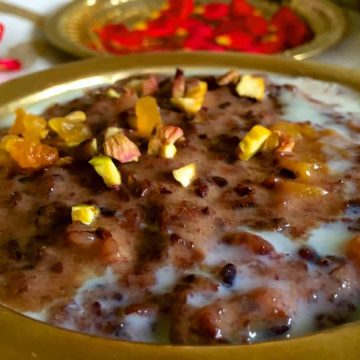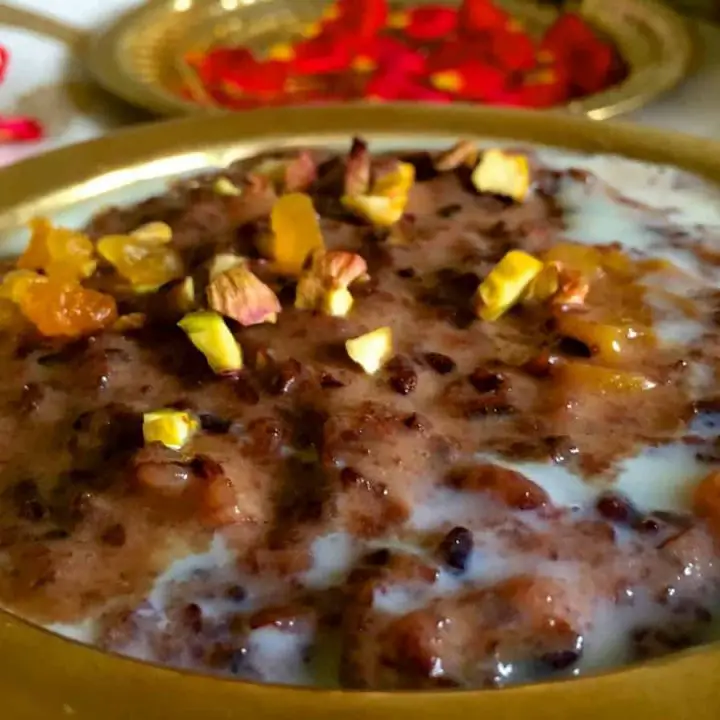 Healthy Black Rice Payasam / Kheer with Vanilla and Apricots
Exotic Healthy Payasam /Kheer /Pudding of Black Rice, Vanilla, Apricots and Pistachio. The Black 'Forbidden Rice' is nutritious and disease fighting, fragrant and with a pleasant nutty taste. No ghee is used in this kheer.
Ingredients  
For the Black Forbidden Rice Kheer
1

cup

black rice

2

cups

water

a Pinch

salt

2

cups

milk

OR 2 cups almond milk for a vegan version

¼

cup

milk

(extra if required)

¾

cup

jaggery

Powdered

¼

cup

Dried apricots

2

pods

cardamom

(optional)

½

pod

vanilla

OR 1 tablespoon vanilla extract

2

tablespoons

Condensed Milk
For the Garnish
2

tablespoons

Pistachio nuts

Unsalted

2

tablespoons

Condensed Milk

(optional)

dried apricot slices

Reserved slices from ingredients above
Instructions 
How to Cook Black Rice (Time: Soaking 3 hours; Cooking 15 -20 minutes)
Wash the Rice as you would for any other Rice to be cooked. That is, rinse with potable water, drain, and repeat at least twice or till the water in which you are rinsing the rice, is clear.

Soak the rice in double its volume of water, for at least 3 hours, to reduce cooking time. Transfer the soaked rice along with the water, to a pressure cooker. Add a pinch of salt to the rice, and pressure cook on high for one whistle. Note: I have retained the water in which the rice was soaked, so that nutrients are not lost.

Lower the flame and continue to cook for 10 minutes or about 6 more whistles. Turn off the stove and let the cooker cool before opening it, so that the rice cooks completely under its own steam, and all the water is absorbed.
Preparations (Time: 5-10 minutes)
1. Slice the dried apricots into small pieces, the size of currants or half of a small raisin. Reserve 1 table spoon for the garnish. 2. Shell the pistachio nuts and Toast them. Slice into thin slivers or small pieces.

3. Crush the cardamom seeds keeping them in the pod, so that they can be easily removed whole, while serving.
How to make Black Rice Payasam / Kheer (Time: Cooking 35- 40 minutes)
While the cooker is cooling down, heat the milk in a thick bottomed pan. Bring to a boil and then allow to simmer on low flame for 10 minutes, stirring frequently, while it thickens. For a vegan version, substitute the milk with almond milk.

In another pan, melt the powdered jaggery on low flame, stirring frequently, for about 5 minutes or till the raw smell of the jaggery has disappeared. Crush any remaining lumps and stir so that the jaggery dissolves completely.

Add the jaggery water to the milk, stir it in. Add the apricots and cook on low flame for 5 minutes, stirring frequently so that it does not catch at the bottom of the pan.

Add the cooked rice, stir it in. Cook on low flame for 10 minutes, stirring frequently. If the payasam appears too thick, stir in ¼ cup of warm milk.

Scrape the seeds from the vanilla pod and add, or add the vanilla extract, if using. Add the cardamom. Stir. The Black rice has a heady fragrance, so you may wish to omit the cardamom. Add the condensed milk, cook for 5 minutes, stirring frequently. For a vegan version, omit this step.

Serve hot, garnished with pieces of the reserved apricots, some slivers of pistachio and a dash of condensed milk (almond milk for vegans)
Notes
The Black Rice I used in this recipe was purchased and paid for by me. The reference to http://www.firstagro.com/ is only to help source the main ingredients for this recipe, and further, to acknowledge the zero pesticide, non GMO produce that they supply, which inspire the creation of recipes from unusual and exotic and healthy ingredients.

Save

Save